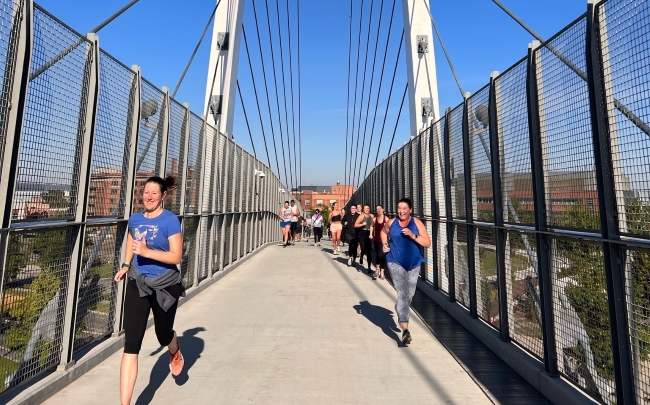 Today kicks off our 2023 #FGFMayMarathon! The goal is to complete at least ONE ☝️ cumulative marathon during the month of May. That's 26.2 miles, and there are 31 days, soooo 🎶A mile a day gets you a marathon in May🎶 … and you can even take some days off!
For those of you inclined to run, you can certainly do more, EACH cumulative marathon = 1 entry into a drawing for our Grand Prizes at the end of the month. BUT the goal is not to go pound the pavement for endless miles, and yourself into injury!
Instead, the goal is:
To Explore: This beautiful region we call home—get outside on road, trail, in a park, join a race or fun run! And all that YOU are capable of through awareness, good form, and a little extra accountability. If you missed our recent Run Clinic, check out THIS ONE from a couple years ago for tips on getting started, techniques for proper mechanics, and suggestions for warm-up and cool down.
To Connect: Grab a buddy and head out for a cool down lap after The Grind. Post a pic of your favorite running route to inspire someone else to step out. Search the #FGFMayMarathon2023 hashtag to find motivation. Comment on your fellow Farmgirls' posts to encourage them!
To Achieve: We believe that as humans, we were born to run – to move quickly and efficiently on 2 legs. Even though it's so accessible, so many of us dread it. Let's see if we can flip that perspective, one mile at a time…and then to relish in the accomplishment of a MARAHON…or 2. Little by little, a little becomes a lot! Here are your details:
🏃‍♀️Step 1: Go for a run.
This can include running in your daily Grind, or any additional running you choose at or away from the gym. If you're signed up for a race, fun run or walk, definitely count that distance!
Define 😏 "run": ANY pace counts, as long as it's an intentional decision to get out there and do it. So yes, that includes going for a walk or hike, but not just the # of steps you accumulate walking around your house during the day. We would prefer the walk/jog/run to be completed outside, but we'll count treadmill distances too in a pinch.
What about rowing: Not this time! We love rowing and it has a lot of great benefits, but for this focus specifically, we're saying no. With our above goals in mind, walking or a weighted carry does count…at any pace, and broken up as needed…make it work for you!
And what about ____: Unless you're asking about a specific accessibility option, the answer is NO! No biking, no skiing, no skateboarding, no rollerblading, no anything else you're trying to think of…all wonderful activities with their benefits, but not for purposes of our May Marathon.
✍️Step 2: Track your distance.
If it's during the Grind, we'll tell you the distance. If it's other, you will need to map your distance in advance, using a site like mapmyrun.com, or with a tracking app on your phone or watch. Here's a handy printable calendar for tracking your cumulative distance. Keep in mind:
1 Marathon = 26.2 Miles = 42km = 42,000 meters
📸Step 3: Post Pics!
Throughout the month using #FGFMayMarathon2023 to show us your progress and provide inspiration to your fellow Farmgirls. Tag us @Farmgirlfit on Instagram and/or Facebook – we'll be giving away goodies throughout the month to those who participate! Once you have completed a cumulative marathon, post a picture using #FGFMayMarathon2023 AND hashtag #marathonX, where X = the number of marathon it is for you this May. When you do your first one, it will be #marathon1, after your second = #marathon2, and so on. Each completed marathon will be an entry into our GRAND PRIZES raffled off in early June!
Happy running!