"I didn't feel myself at all until I walked into FGF and started talking to the coaches and some of the members. That was the first time I felt welcomed to my new home since moving and knew I could be myself around these women."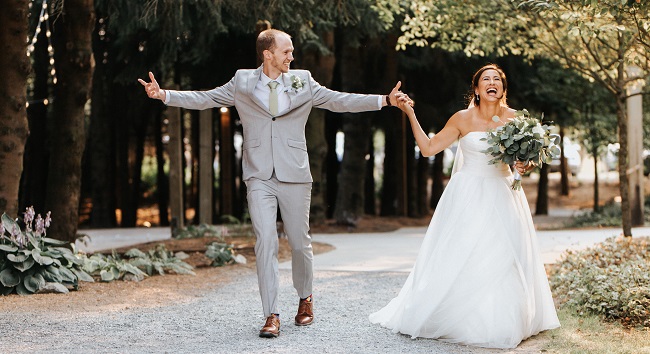 Member Of:
Farmgirlfit Spokane
Occupation:
Running Coach, Wellness Coach, Group Fitness Instructor and Full-Time Student 😅
Tell us about your fitness journey. How did you come to Farmgirlfit?
Growing up I was always engaged in sports; I was always the competitive one no matter what sport we were playing in school or in recess. I was born in Hawaii, so it was easy to do outdoor activities every day! I started with playing basketball, and in 8th grade decided to run for our track and field team and fell in love. I ran in high school and was varsity all four years for XC and T&F. I decided not to pursue running on the collegiate level because I wanted to travel instead. I traveled to Australia and New Zealand; coming back I then got into the longer distances of 10ks, half marathons, and now marathons. I have run in many races, the most recent was the Boston Marathon 2017.
My husband and I recently moved to Spokane in late August for me to go back to school, and I knew for me to meet people I needed to join a gym. I was part of a CrossFit gym in Seattle, and knew I wanted to join a similar type of gym setting. I found Farmgirlfit online and loved how it was catered towards many different fitness levels and women! I decided to try it out and felt welcomed for the first time since I moved to Spokane. I instantly knew I had to join FGF.
If you could tell your Farmgirlfit story in 100 words or fewer, how would it read?
I went into my first workout, not knowing anyone, shy, and very intimidated. Here I was in a new city, didn't know anyone, and am usually a very outgoing person. I didn't feel myself at all until I walked into FGF and started talking to the coaches and some of the members. That was the first time I felt welcomed to my new home since moving and knew I could be myself around these women. I remember Katie was the first person who really tried to get to know me, and it REALLY touched my heart. I will always remember that moment. I will always come to FGF knowing that I will not be judged; I can dump my frustrations, and workout my stress from the day.
What has been your greatest fitness/performance accomplishment so far?
Running the Boston Marathon in 2017 and winning the Negative Split 10k last weekend!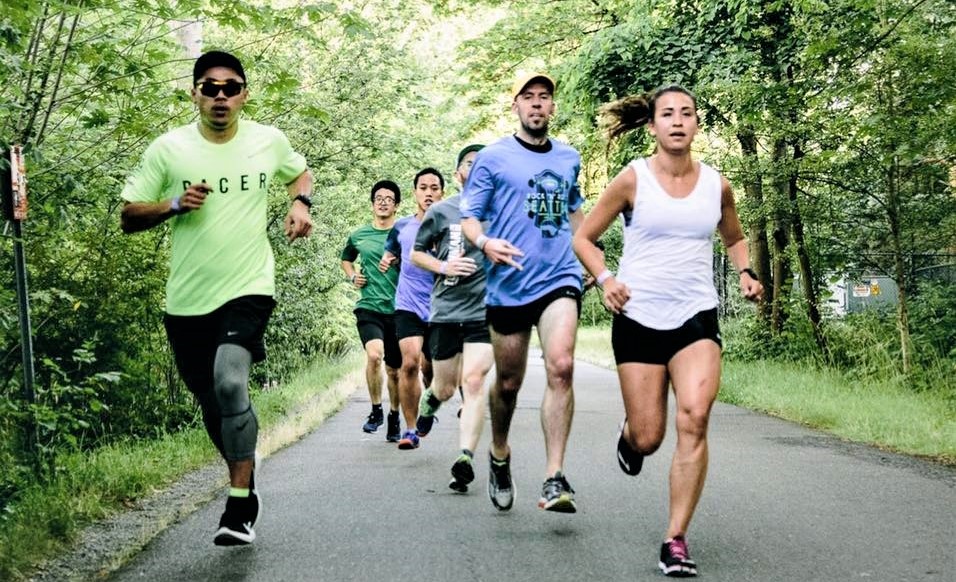 What are your next health and fitness goals?
Being able to do ONE pull-up, and to do push-ups consistently (I'm a runner, I have no upper body strength hah!)
Favorite workout song?
Turn Down For What!!!
Favorite exercise at FGF is? Least favorite?
I love love love power cleans and burpees and HATE any type of snatches or OH squat.
When the Grind is kicking my butt, I'm thinking…
Why the hell did I get out of bed? 😂
My favorite post workout meal:
Chocolate milk
My favorite thing about Farmgirlfit is:
The feeling of accomplishment when I think I can't do the workout, but I DO it! Also, meeting new Farmgirls and getting to know their story, and all the coaches! 😊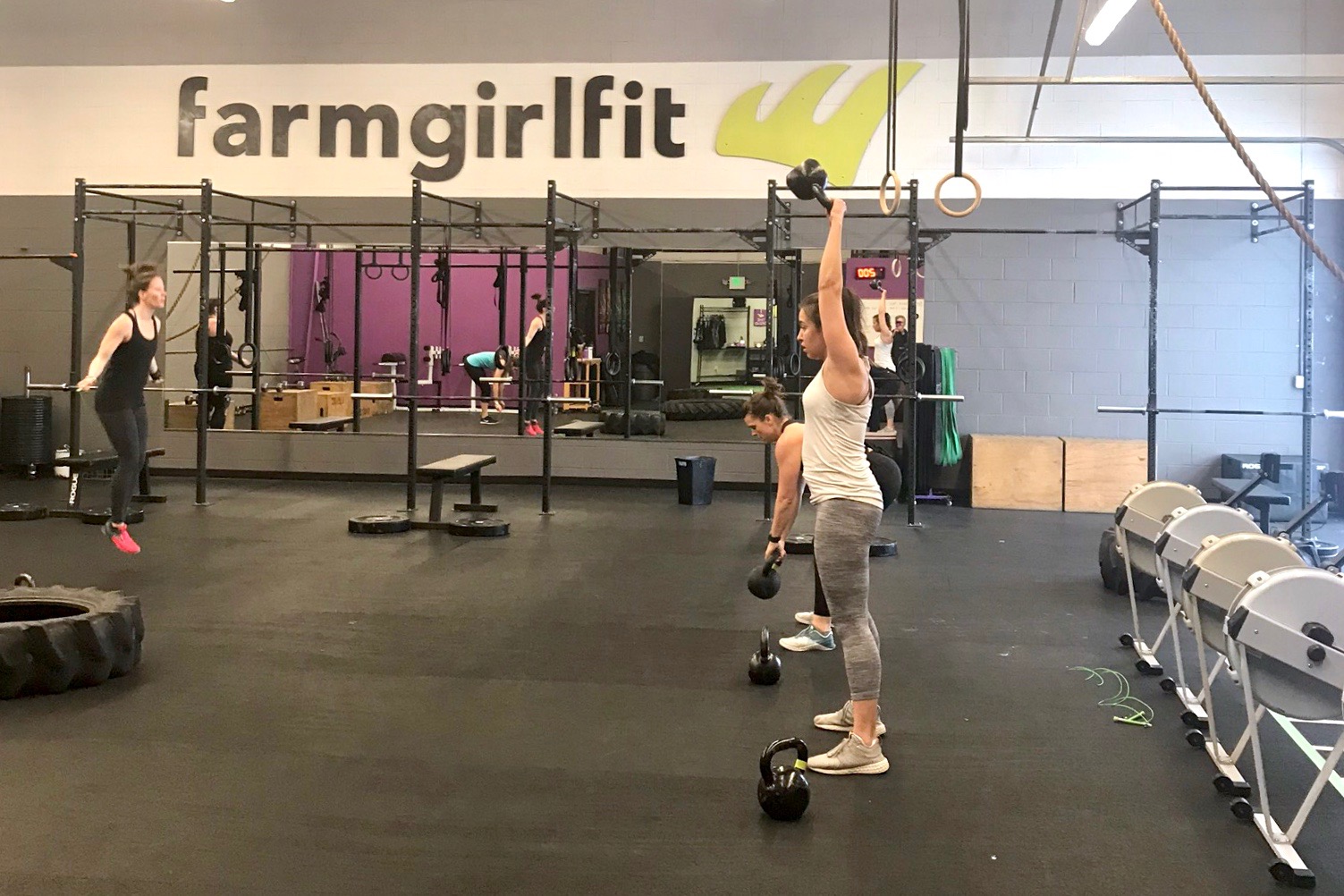 How has the rest of your life been influenced/impacted by Farmgirlfit?
I have never had confidence in my upper body strength ever, and have always been embarrassed about it. Coming into FGF, I know I have the strength to become better at it and know that one day I will accomplish my goals and that I shouldn't be afraid to meet new people!
When you're not pumping iron at FGF, what does the rest of your life look like?
I am a full-time student to become a PE teacher! I teach at the YMCA, am an online running coach, and also teach a running program at the Spokane fitness center. I have a pup named Bandit, and my husband is a physical therapist on the south hill! I love Lulu[lemon], love to cook, obviously workout, and most definitely love to drink wine and beer. Hit me up if you ever want to go brewery hopping or have a wine night!
My happy place is:
Hiking with my dog and husband.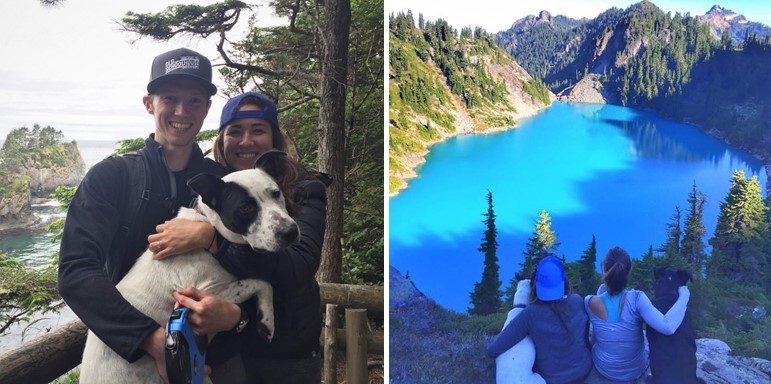 As a kid I dreamt I would grow up to be:
Honestly, a mailwoman. I loved writing to my penpals as a kid!
My hero is:
My father, he has gone through so many ups and downs, and I would not be the hardworking person I am today without him.
You might not know this about me:
I LOVE to go out dancing and love hosting parties!
My trademark dance move:
The grind, especially when I'm feelin' good. Haha!
Guilty pleasure:
All. The. Wine. 🍷🍷🍷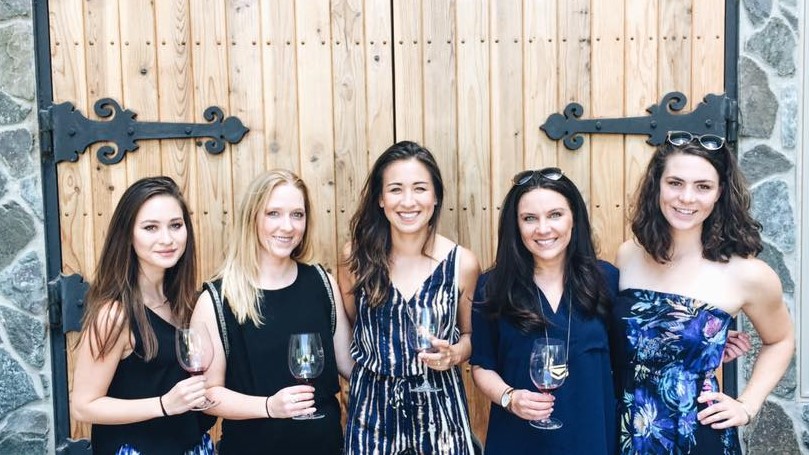 My healthy indulgence:
Nothing… I like all bad food. 🤣
Team I'm always rooting for:
HUSKIES! 💜💛
My favorite holiday and why:
Thanksgiving! I love ALL the food. Especially mixing mashed potatoes, gravy, and stuffing all together! Haha!
I'm proud…
Of who I am becoming as an individual and wife.
Any advice for new members or your fellow farmgirls?
Don't be afraid or intimidated to walk in, you will LOVE the atmosphere and empowerment of all these women working out together and enjoying it.