"When my life went so far left, and I was feeling all the emotions from so much loss that had hit our family so suddenly, I needed an outlet. Joining Farmgirlfit was the single most important step I took towards taking care of myself."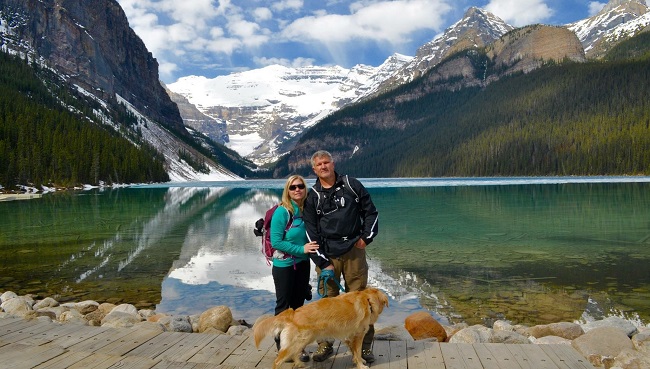 Member Of:
Farmgirlfit Cd'A
Occupation:
Management/Accounting
Tell us about your fitness journey. How did you come to Farmgirlfit?
Growing up I didn't have many fitness or nutrition examples, but we did always go camping as a family. I loved the peace and beauty of being in the mountains. I think that's why I'm always up for any adventure when it comes to the outdoors. It was the personal space of the gyms that would bring out my shyness and lack of self-esteem. I had been hearing about Farmgirlfit and thought, "Maybe…could this be what I need? At my age?" When my life went so far left, and I was feeling all the emotions from so much loss that had hit our family so suddenly, I needed an outlet. Joining Farmgirlfit was the single most important step I took towards taking care of myself.
Life happens and it's not always picture perfect. I KNEW that but, when my son was diagnosed with cancer at 21, I felt as if the world stopped in that moment…with those words. I cared for him through surgeries and treatments. It did not come easily for him nor my daughter Sami. She and her Dad were my rocks and it was hard being away from them so much. He is now "stable" and living his life with cancer. As a mom, though, the worry never goes away. I started to bike and run again finding it helped ease the emotions you bottle up when you care for a loved one.
Then I got the call that my Mom was in the hospital, diagnosed with terminal cancer, and they needed me to be her caregiver. I felt blessed to be able to spend her last days with her—it was heart-breaking, but I wouldn't have been anywhere else. During the next 6 months I had every excuse in the book. My emotions and heart were raw. I needed something. It had been years of caregiving and now, just me and my thoughts. I knew I didn't want to take my health or fitness lightly after watching my Mom suffer. I vowed to do all I could to keep myself healthy and fit for myself and my family.
I wasn't in the best place when I joined Farmgirlfit, with some extra weight and just mentally drained, but I found the courage…and a little push from my Dad helped me realize it was past time I took care of myself. The minute I walked in the door, there was Jeni D. with her huge smile and so full of positive energy instantly making me feel more at ease. Then she says, "It's just you and me!" Oh boy!!! 🙄 I only made it 4 out of the 8 rounds before I hit the bathroom. I had heard exercise can purge all the emotional baggage your holding onto…it worked!
The next day, well, I could hardly sit, but I felt good, I mean really GOOD! Every time I showed up to workout, even on difficult days, the outcome was such a boost mentally and physically. The peace it brings to my soul is an unexpected bonus. After that first day with Jeni, I found myself walking into FGF with my head held high and full of pride to be a part of such a wonderful family of strong women.
What has been your greatest fitness/performance accomplishment so far?
I would have to say not giving up! Showing up and making the most of where I am at physically on each particular day. Also, dragging my daughter, Sami, in for her first month while she said I hated her…haha, look at you now Sami girl!!! I love every workout and it's especially sweet when I get to have my baby girl working out next to me!!
What are your next health and fitness goals?
Drink more water!!! I would love to be able to join in a 5k someday, and would also like to walk the stairs in Seattle for Lymphoma research.
Who/what inspires you to be fit?
My hubby and my kiddos. I want to be the best of myself so we can continue to enjoy all the activities we love doing together.
Favorite exercise at FGF is? Least favorite?
Favorite would have to be Wall Balls or Slam Balls…as long as NOT with burpees!
Least would be DUs!! I'm an over-thinker and it gets me a whipping every time!
When the Grind is kicking my butt, I'm thinking…
I can do this its only __ more reps! Then I look around and get inspired seeing all the ladies kicking butt!
My favorite thing about Farmgirlfit is:
That loving feeling…All the amazing members and coaches because without each and every one of them it would just be another gym. The feeling of warmth, friendship, and support you get as you walk in the door, leaves everything else outside. The best part is being so uplifted by the time you leave that whatever you left outside, just isn't so overwhelming anymore.
How has the rest of your life been influenced/impacted by Farmgirlfit?
Pushing past what I thought was my breaking point! This has helped me in all the activities I love! Being more aggressive riding my dirt bike on gnarly single track. The ability to backpack into the backcountry mountain lakes, and getting back on my bike stronger after an injury.
Personally, I love the fact that my daughter has also found a place where she is comfortable, and she has just blown my socks off with how far she has come with her fitness. However, my husband could do without some of the healthier choices we now make, and has to go to the store himself for his junk food! ☺️
When you're not pumping iron at FGF, what does the rest of your life look like?
My husband and I run our own business and during the summer we are extremely busy. When we do get some weekend time, we get out-of-town and do some camping and riding our dirt bikes. We like to explore new areas hiking, and last year we did our first backpacking trip into Fault Lake. It was a beautiful place and the huckleberries were huge! So far we have hiked into 28 of the mountain lakes surrounding our area. This year we hope to check off some more.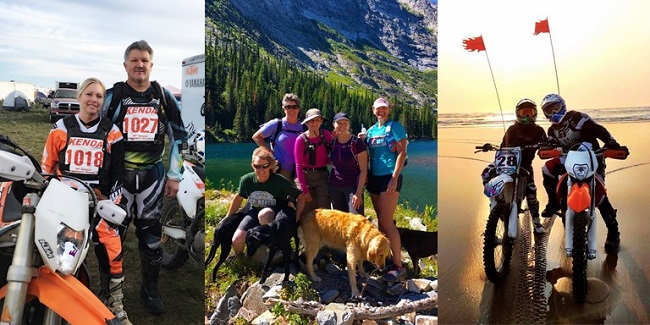 My happy place is:
Next to spending time in the mountains with family and friends, it would be working out next to my baby girl, Sami at FGF!
Words that inspire me?
Greatness while it usually displays itself on a platform in a stadium…It's born and nurtured in tough places, it acts in the eyes and hands and body and legs, but it lives in the soul…greatness has nothing to do about winning or losing.
Any advice for new members or your fellow farmgirls?
If you're thinking about it, JUMP off the fence! You will not be disappointed. Stick with it a full month. You will falter, you will get back up, and you will love every second…even the ones you think you won't make it through. Somehow you look over and see a sweet sweaty face smiling and saying, "We got this," and you tell yourself, "Yes we do!"…and the addiction begins!