"My entire life feels better since FGF! I am truly so much happier and just feel healthier. I can put the bike rack on the back of my SUV by myself and lift things I would never have considered trying to lift/carry by myself. My husband keeps wanting to help me and is shocked when I can do it independently."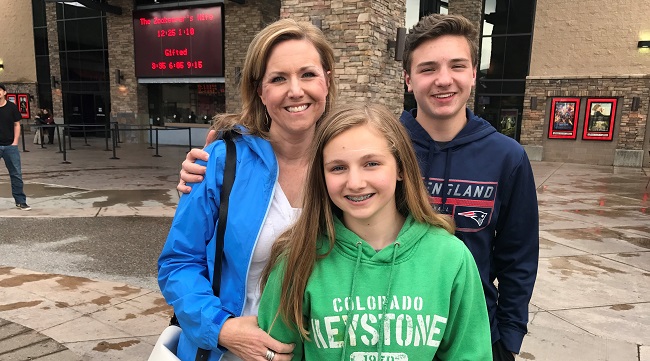 Member Of:
Occupation:
Certified Diabetes Educator at St. Lukes Rehab and Providence Physician Group
Tell us about your fitness journey, and how it lead to FGF@Home.
I historically have always been a runner and a cyclist competing in marathons and half marathons, running 30-40 miles per week and riding my bike 4-6 hours per week. I was always fighting injury, but considered myself to be in great shape. A neck injury in 2009 started a 2 year downward spiral in my fitness and emotional health as I sought answers for my pain and was misdiagnosed with everything from MS to a partial mid-cerebral artery dissection. I finally found a Dr. that actually listened to me and discovered what I had always suspected - I had a torn disc at C5-C6 that he then removed and fused two vertebrae. It was a long recovery and although I regained some fitness, I just never really got back to where I was before and had convinced myself that I would simply never be in great shape again. I took a job that required weekly overnight travel for almost 3 years and my fitness, eating and drinking habits continued to deteriorate.
This past Christmas, one of my very best friends who had been badgering me to join Farmgirlfit convinced my husband that he should get me a trial membership for Christmas. I begrudgingly started, but my work and kid schedule was still making it difficult to get there more than once a week and I honestly just felt SO out of my league and so discouraged by my lack of ability to do what others around me seemed to easily be doing. I emailed to cancel my membership, but Jaunessa and Jenni weren't having it! They convinced me to at least try the FGF@Home program, and so I agreed thinking I had just wasted more money for something I wasn't going to actually do. After the first week, I was hooked! Even though I could hardly walk the first couple of weeks – my legs felt like I remembered them feeling back when I used to run marathons! Within 3 weeks I had lost 5lbs, my clothes were fitting better and I could tell I was getting stronger.
What has been your greatest fitness/performance accomplishment, either with FGF or other?
Quite honestly, completing the Spring Session of FGF@Home. Doing every single Grind is probably one of my greatest all-time accomplishments. Mentally, I struggled with my mindset that "you can't lose weight or get in shape unless you do at least an hour of cardio a day PLUS strength training." I had reached an all-time low, and just decided I was going to commit to the 12 weeks and see what happened.
Who/what inspires you to be fit?
My kids and husband – I'm not getting any younger and they are growing up so fast. I want to be able to keep up with them and to participate in life. Superficially, I just want to look great and feel good about how I look.
What are your next health and fitness goals?
To look like Savhanna! LOL!! I would love to lose another 10-15lbs and continue to get stronger. Possibly a half marathon sometime this fall?
Do you have a favorite and/or least favorite exercise from the @Home program?
I love Squat Thrusters, Ice Skaters and Romanian Deadlifts. Not a huge fan of the Burpees, Mountain Climbers or Renegade Rows!
Favorite workout song?
I have several – but embarrassingly I'm a Pitch Perfect nerd and there are several favorites on the soundtracks from both movies. Pitch Perfect 3 is coming Dec 2017!! LOL
When the Grind is kicking my butt, I'm thinking…
Of my patients at the Rehab hospital where I work who have had amputations, strokes or traumatic spinal cord or brain injuries. When I start to think the Grind is too hard – I think about what it must be like to be in their shoes and suddenly I feel lucky to be able to do what I'm doing!
What has been your favorite aspect of the @Home program?
The efficiency of being able to roll out of bed, walk up to the bonus room and do my workout. The workouts take half the time of what I used to do and are at least twice as effective. I love the FGF@Home social network too – that has been a huge help to me!
What are you most looking forward to with Summer Session?
Becoming even stronger and improving my form. I've been searching for my new motivational quote for the summer session and since it will end in September, I'm leaning towards this one: "It's all fun and games until your jeans don't fit!" and/or "You don't have to like it, you just have to do it."
How has the rest of your life [the non-exercise part] been influenced/impacted by Farmgirlfit, if at all?
My entire life feels better since FGF! I am truly so much happier and just feel healthier. I can put the bike rack on the back of my SUV by myself and lift things I would never have considered trying to lift/carry by myself. My husband keeps wanting to help me and is shocked when I can do it independently. I also no longer feel like a hypocrite when I'm counseling patients with their diabetes self-management regimens.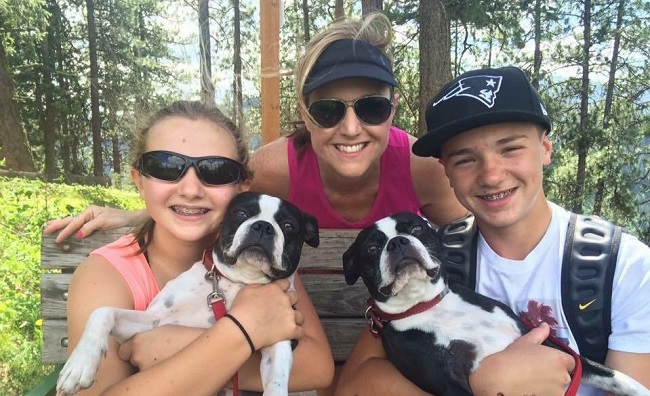 Besides the FGF@Home Program, what does the rest of your life look like?
Busy! I live in Cd'A, but work in Spokane 4 days/week, have 2 active, busy teenagers and two Boston Terriers that love to be walked and played with. I love to cook, read and spend time relaxing with family and friends.
My happy place is:
Summertime: backyard BBQ with my kids, dogs and husband. Listening to Pandora James Taylor radio with a great glass of red wine and playing games, throwing the ball for the dogs or having water balloon fights.
You might not know this about me:
I was born and spent a large portion of my childhood in England. My Mom is British, my Dad was in the Air Force and I have dual citizenship. We moved back to the States when I was in 6th grade.
My favorite holiday and why:
Christmas – I love having extra time at home with my kids and family, the decorations, the presents, the magic!
Words that inspire me?
"The only person you should try to be better than, is the person you were yesterday".
Guilty pleasure:
Cheesecake
My favorite post workout meal:
Egg white veggie scramble with turkey sausage
My healthy indulgence:
Skinny Cow Salted Caramel frozen yogurt bar
Any advice for potential members or fellow farmgirls?
Do your best and forget the rest. Each day will be different and not every day will be your best, don't beat yourself up – you are only human! Commit to showing up every day and just do the best you can, in a very short time you'll be surprised at how much you are doing!
Anything else to share?
To my amazing friend, Krista Criswell – here it is in black and white, "You were right!"