Katie is currently participating in her 4th FGF@Home session. "Balancing a full-time job, raising small children and taking care of myself is a lot. I started FGF@Home using 12lb dumbbells. Each session, I have slowly moved up and now nearly a year later, I have worked 25lbs into my workouts, which is something I never thought I would do!"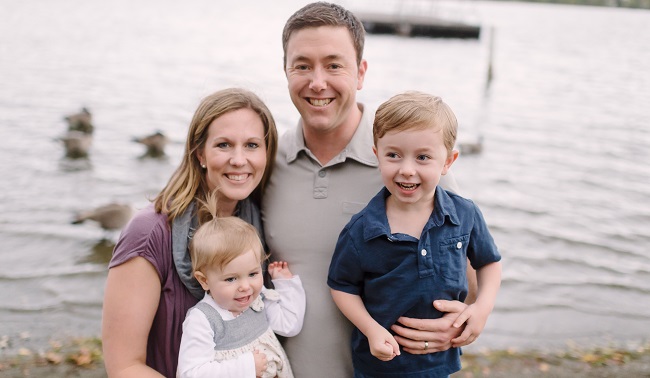 Member Of:
Occupation:
Program Manager/Attorney
Tell us about your fitness journey, and how it lead to FGF@Home.
Growing up I was engaged in athletics. I played college golf, so strength and conditioning has been a part of my life. Working out has always been a way for me to make time for myself and take care of my overall health. I have been on the roller coaster of working out during pregnancy to postpartum twice, and being constantly engaged in a workout routine has always been a key component to my life. We used to live in Spokane and while there, I had done some workouts at Farmgirlfit. My sister Kelsey was a member and loved it, but I never quite found my way in there full time. I already had a good routine going. When we all moved back to Seattle, I could not find a community of friends who cared about fitness like I did. I was losing some motivation. I knew how amazing the FGF gym was so when FGF@Home was advertised I was so excited! My sister Kelsey said she would do it with me. I had found my fitness community and I haven't looked back!
Please share your Farmgirlfit story/experience once starting FGF@Home.
Immediately I knew this program was the perfect fit for me and my routine. I was fresh off a half marathon and ready to dig into some strength training. Each workout continues to challenge me almost a year later. I've kept waiting to get bored or lose motivation. I've definitely had moments where Friday evening it is the last thing I want to do, but reading the Facebook posts, engaging with the coaches and other members keeps me pushing. I also started asking my kids and husband to do the workouts with me and they love it! Almost every Friday we have family workouts after work. I have a passion for helping women, including myself, feel empowered and I know I share that with everyone in this FGF community. That is what keeps me 'pressing play' every day.
Who/what inspires you to be fit?
I am inspired to be fit for myself but also for my kids. So they know that taking care of your body is the most important thing you can do for yourself!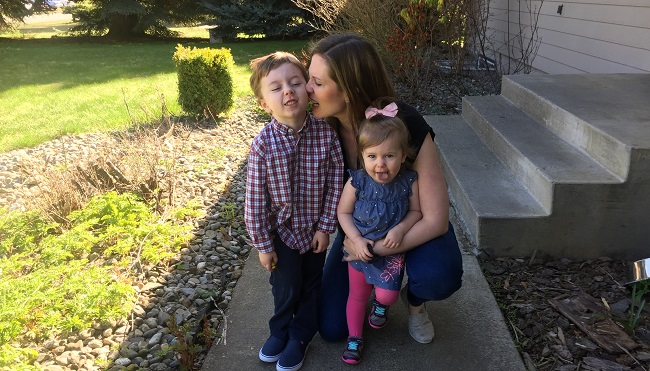 What has been your greatest fitness/performance accomplishment, either with FGF or other?
I have been working out in some capacity my whole life, I have run half marathons, and I have competed at the collegiate level. These are all great fitness and performance accomplishments. Yet, honestly, I would say my greatest performance accomplishment has to be the strides I've made after starting this program. Balancing a full-time job, raising small children and taking care of myself is a lot. I started FGF@Home using 12lb dumbbells. Each session, I have slowly moved up and now nearly a year later, I have worked 25lbs into my workouts, which is something I never thought I would do!
What are your next health and fitness goals?
This fourth round of FGF@Home I really wanted to see more muscle growth and definition. I know that the next step is tackling nutrition and how to properly fuel my body throughout the day. This is really a life goal, I have never felt this strong or excited to learn more about nutrition and how it fits with strength training. I'm so excited to be participating in The Underwire!
Do you have a favorite and/or least favorite exercise from the @Home program?
When the workout calls for Turkish Get Ups, I cringe, but I love when I see runs worked into The Grind. 🏃‍♀️
When the Grind is kicking my butt, I'm thinking…
The best thing for me is to take it one round/rep at a time. I am always thinking, "It is less than one hour of your day; you are worth it."
What has been your favorite aspect of the @Home program?
The workout routine keeps pushing me every day of the week, I love that. It keeps me coming back.
What are you most looking forward to with the remainder of the session, and beyond?
I am looking forward to seeing the intensity continue to ramp up as we get closer to the end. As always, I'm looking forward to the next round too!
How has the rest of your life been impacted by Farmgirlfit, if at all?
Since starting this program I have really made taking care of myself a priority, which means our family benefits. My energy level is maintained, even when I have been up all night with a small child. I am happier.
Besides the FGF@Home Program, what does the rest of your life look like?
My family of 6 (two goldens included 🐶🐶) are always my top priority. I really enjoy being active and since food is fuel, I love cooking and finding good recipes that are delicious and healthy. I started a new job back in February at Microsoft and the change has been amazing but the balance of time working vs time with family is tough! Working out is my favorite hobby to stay sane, but also keep my family healthy; they are right there doing The Grind with me.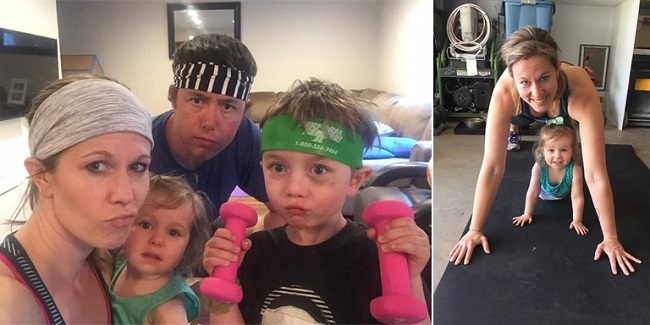 You might not know this about me:
I played college golf for Eastern Washington University.
Guilty pleasure:
Baking. I love to bake!
I'm proud…
I'm proud of my consistency with this program. I have never found anything that I couldn't see myself getting bored with. I am always looking forward to the next Grind.
My favorite holiday and why:
Birthdays aren't a holiday but they are your day. I love birthdays, not even just my own. They are a great excuse to celebrate being alive!
Any advice for potential members or fellow farmgirls?
My advice is to remember to make yourself a priority: listen to your body but most importantly take care of your body and it will make the rest of your life better, more balanced. I think my favorite part of this program is that no matter what, miss a day/week/month, there is a workout to pick right back up with. Keep starting over!