Member at:
Farmgirlfit Cd'A
Occupation:
Clerical staff for Idaho Dept. of Health & Welfare
Tell us about your fitness journey:
I was pretty active when I was younger. I played volleyball, basketball & ran track in high school. After having my first 2 kiddos at a young age I stayed active and worked out 4-5 days a week. Then life's challenges came along and with my second husband Matt, I had my 3rd baby and became lazy. I tried working out at a couple of the local gyms here in town. But with no real motivation or accountability, it was tough to stick with it.
If you could tell your Farmgirlfit story in 100 words or fewer, how would it read?
I enjoy this place so much. I signed up in October when it opened and haven't left. I appreciate all the coaches and the members more than I can even say. It's my "me time" and I couldn't ask for a better place. I love how everyone is so supportive and encouraging. It's fun, it's fitness, but it's so much more than a gym. Things like the nutrition classes, the running and bike clinics, our co-ed and holiday Grinds, all these little "extras" that don't cost anything extra, make this place really special. It's funny, I told Jeni recently that even if for some reason the gym needed to relocate or something, I still want to be an active member in 40 years!
What has been your greatest fitness/performance accomplishment so far?
Back in January, FGF gave us the opportunity to test our body composition using the BodPod. Then in May we had another opportunity. In those 4 months, I lost 4% body fat. The # on the scale only moved 3 lbs or so, so I wasn't sure if 4% was all that much. I have since been reassured that IS a big change, and I'm happy with it, especially since that change was just by being consistent and going to the gym at least 3 days a week, most weeks.
What are your next health and fitness goals?
Now, I want to work on my nutrition and fueling my body in a healthier way. I've been able to talk with one of the coaches and am excited about the Nutrition Classes with Darci.
Favorite exercise at FGF is:
All? None? I'm not really sure, but I keep coming back and know that whatever it is, I'll do it!
Least favorite exercise at FGF is:
Rope climb. It's not really my least favorite, but it's the one that I struggle with the most. I've been working on box jumps too.
When the Grind is kicking my butt, I'm thinking…
"Just keep moving, don't stop until you've finished."
My favorite thing about Farmgirlfit is:
Most certainly, the people: coaches and members. All are inspiring, encouraging, welcoming, and just fun to be around!
When you're not pumping iron at FGF, what does the rest of your life look like?
I'm a full-time mom to 2 boys: 10 and 19, and my daughter is 21 yrs old. Although my older two don't need me much, I LOVE being a mom. My family is what inspires me to be fit. My hubby and I enjoy hiking, camping, hunting, biking, kayaking, fishing, most anything outdoors, and we LOVE that we live in such a beautiful place to explore and enjoy.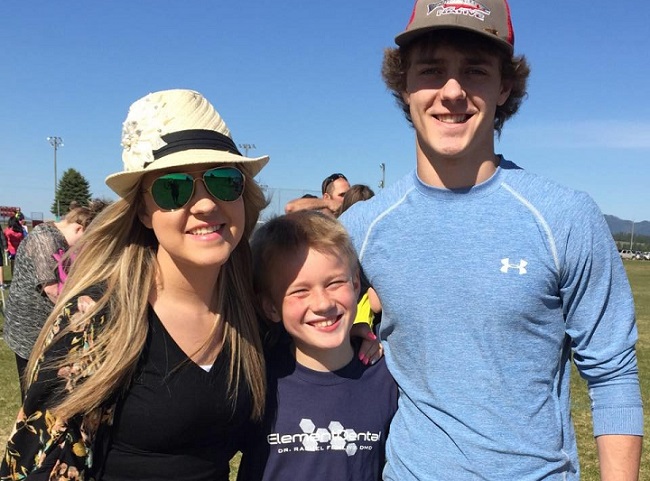 What advice do you have for new members?
Take it easy at first, you will be sore – it's just a given. But don't get discouraged!! It will all be worth it, and we're all there with you. Some days you might wonder, "Do I really do this voluntarily? And I pay for it?" But even on those days, you'll keep coming back for more. The progress and improvement, and yet constant challenge; the self-confidence and empowerment; and best of all, the incredible people to do it all with…all worth it!