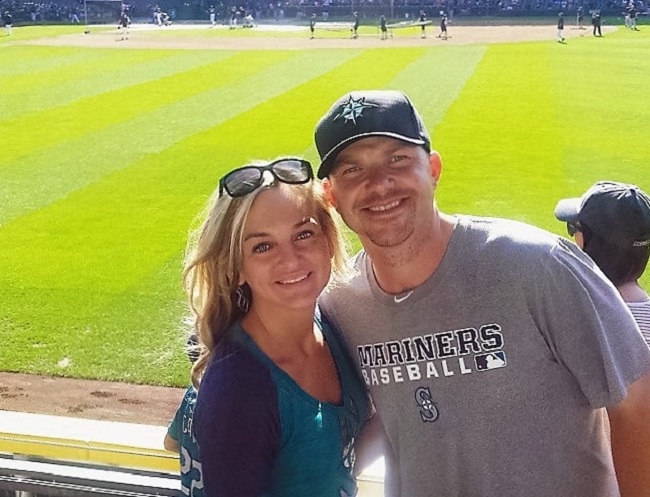 Member At:
Farmgirlfit Cd'A
Occupation:
Registered Nurse, Kootenai Outpatient Surgery
Tell us about your fitness journey. How did you come to Farmgirlfit?
Well, about a year and a half before joining FGF I had gained almost 30 pounds, 27 to be exact! I had never had to worry about my weight before. Playing volleyball and basketball growing up, and then club volleyball at Washington State, I just stayed in good shape. Even after, I was able to maintain…until I couldn't!
I came back from a trip to Hawaii where I felt super uncomfortable in my swimsuit, and realized something had to change. I initially lost 20 pounds with diet and cardio, such as running and the elliptical, and trying nearly every class at the "regular gym"… it took almost a year! But then I started getting bored and those last few pounds were stubborn. It wasn't just about weight loss, though, I wanted something new. A friend at work, said she had heard about Farmgirlfit and people were liking it…sooo literally the next week I came in, super nervous, and talked with Jenni N. and have been coming ever since.
I can honestly say that FGF gives you THE BEST workout, your body transforms! I love that it is NEVER the same. The energy just walking through the doors is so refreshing, it keeps you coming back for more. The community is fabulous, and feel as though each member and coach cares about your well-being, plus I think it's pretty awesome to be surrounded by a bunch of passionate, positive, strong women.
What has been your greatest fitness/performance accomplishment so far?
Being able to string together some kipping pull-ups..just figured it out last week! And climbing that rope. I remember thinking that I would NEVER be able to do either of those things.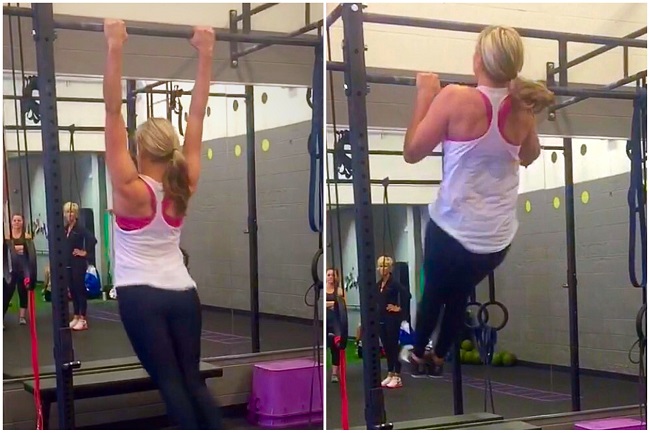 What are your next health and fitness goals?
Honestly, maintaining seems to always be a goal of mine. I also want to have kids real soon, so being able to be fit and healthy through pregnancy will be my main focus! As far as events go, I would LOVE to do a triathlon someday.
Favorite exercise at FGF is? Least favorite?
Anything with Tabata is great!! But honestly I think Bears are my favorite just because they work everything, and Overhead Squats are the least, I feel so dang uncoordinated!!!
When the Grind is kicking my butt, I'm thinking…
I am not….that's the best part! I can shut my brain off when I am working out, but also creates a problem of me being horrible at counting!
My favorite thing about Farmgirlfit is:
The community! I have met so many great people, including my best bud Brittany! This place is the whole package! The fact that they encourage balance by emphasizing lifestyle changes through nutrition, exercise, and relationships! And plus they encourage you to be the best you…I can be a bit silly sometimes!
How has the rest of your life been influenced/impacted by FGF?
I feel that FGF has created a lifestyle change for me, I am so much more confident, not just with exercise but with myself, I know that I am capable of anything I set my mind to! Make your life manageable, keep it simple, don't overcomplicate, get it done!
When you're not pumping iron at FGF, what does the rest of your life look like?
Spending time with my husband and family. Between my husband and I we have about 60 family members that live in the area, so we are usually running around to nieces' and nephews' sporting events or birthdays! I also love to do anything outdoors: hunt, camp, fish, you name it. My husband and I also love to golf, he works in turf management as an assistant golf course superintendent, so we are always looking for a new course to try!
You might not know this about me:
I am an Idaho Native, Born and Raised in Bonners Ferry and I worked in a Psych hospital as a Mental Health Specialist for 6 years before becoming a nurse
Team I'm always rooting for:
Seahawks and Mariners…DUH!
Any advice for new members or your fellow farmgirls?
Keep coming!!! You will be so glad you did! I remember telling Jeni D. after my first week (and not being able to turn in bed) that I was thinking of going down to 2-days/week instead of 3. She said, "You will be ok, just keep coming and it will get better!" And what do you know she was right! Also, if you don't know how to do something, just ask!