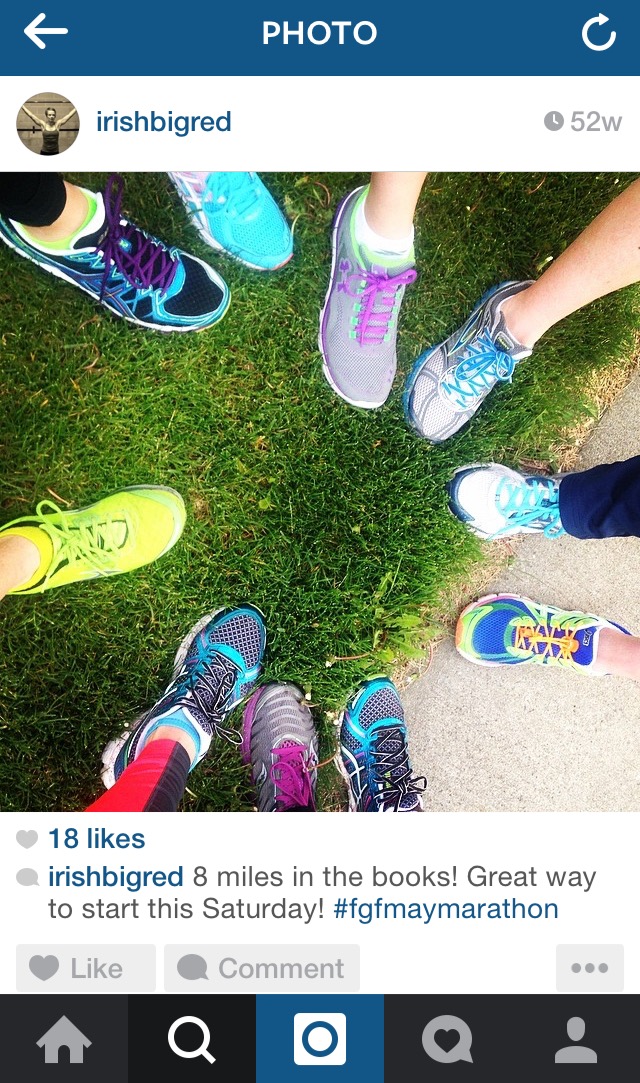 Back by popular demand, Farmgirlfit is kicking off a "Spring into Summer Running Challenge". Similar to last year, including a few updates, #FGFMarathon2015 is back and starts now! The challenge: to get outside and running with awareness, good form, and accountability. Each time you go for a run you will keep track of your total distance and time. When you reach a cumulative 26 miles you will enter into a prize drawing by posting a picture on Instagram and including the hashtag "#FGF(current month)Marathon2015" followed by your marathon (total) time. Along the way to your 26 miles feel free to stay connected with Farmgirlfit by using the general hashtags: #Farmgirlfit & #FGFMarathon2015. Make sure to only include the current month in your hashtag when you've completed ALL 26 miles!
At the end of each month we will do a random prize drawing from the month's entries. For a chance to win an awesome Prize (or prizes!) see the details below. Then, hit the ground running and get started on those first 26 miles!
#FGFMarathon2015
Who : ALL FGF members willing to run outside of the gym* and track their distance & time every time they go for a run. Of course we will require you to recall the Ready to Run Workshops and consider natural running form, body awareness, cadence, and create personal goals IN ADDITION to distance and time of course.
*If we do a 1 mile for time at the gym, it CAN be use this toward your tracked mileage!
What : You will keep track of total distance and time, every time you go for a run. Distances can vary. It could be the case that you complete the same loop around your house or wherever you enjoy running. There are many resources available to keep track of your distance and time: utilize a local school track and stopwatch, mapmyrun.com, running watches, and phone apps are all helpful and should be utilized!
Every time you complete a cumulative 26 miles, post a picture on Instagram with the hashtag #FGF(current MONTH)Marathon2015 followed by your total, cumulative TIME. For instance, if someone completed a marathon (we're saying an even 26 miles to keep it easy) you might post a pic of the trail you frequented with the comment:
"This trail kept me going on my quest to reach 26 total miles over the last 2 weeks! #FGFMayMarathon2015 3 hours 54 minutes"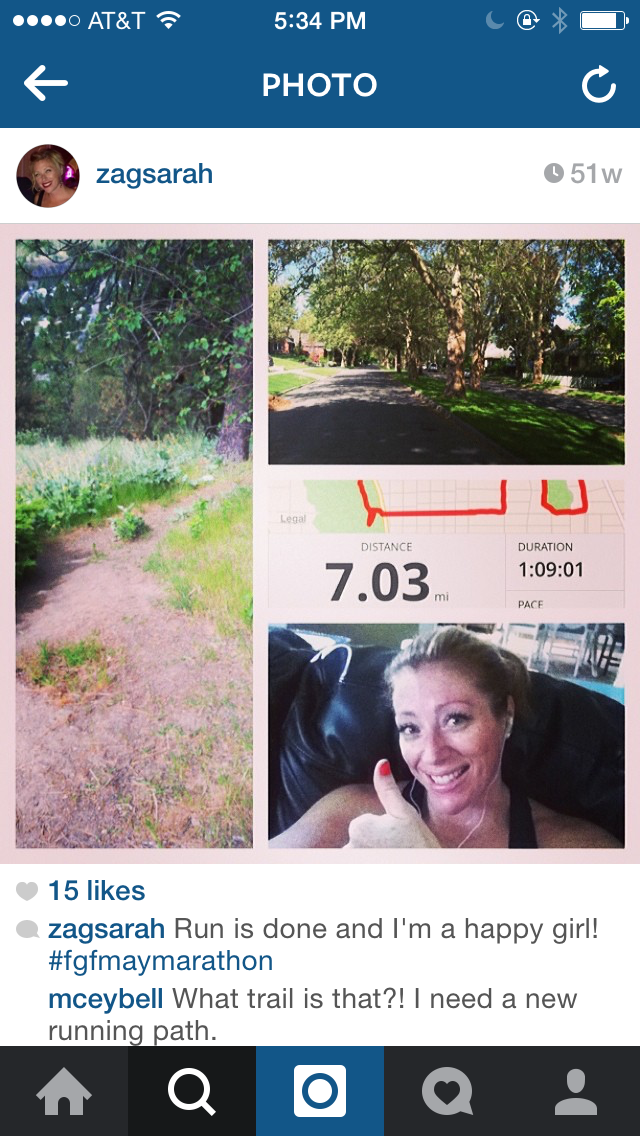 Additional participation hashtags that are encouraged to stay connected with Farmgirlfit and other runners participating in the challenge are #Farmgirlfit & #FGFMarathon2015 (no month associated). Again, ONLY entries into the drawing should include the current month in the hashtag. This is how we will pick the monthly winner(s)!
*In order to enter into the May prize drawing you will need to use the hashtag #FGFMayMarathon2015. That is the only way we will be able to see the entries. If your status is Private on Instagram, you will have to make sure that Farmgirlfit "Follows" you. Give us your username and we will request to follow you. If Farmgirlfit has ever liked one of your posts, then we already follow you and can see your posts! Last year we had a couple members that were able to get 2 marathons entries submitted within one month…. the more entries each month, the better chances to win a prize!
Members that don't have Instagram can submit their marathon times at the gym. Please include your Name, #FGFMayMarathon2015, date, & cumulative marathon time.
When : The challenge begins NOW and goes through the end of August!
Where : Run anywhere- just get outside! Miles can be accumulated on your own, or by participating in various, organized or local running events (Spokane Marathon, Dad's Day Dash 5K), triathlons (Trioka Tri, Ironman), and obstacle races (Color Me Rad, Spartan Race). Treadmills are HIGHLY discouraged!!!
Miles that are accumulated in one month DO continue to accumulate into the next month. You don't "lose" those previously accomplished miles if you didn't complete the marathon (or the 2nd one) for that previous month!
Why : We want all Farmgirlfit members to embrace the "running season" and utilize the tools you've learned in the Ready to Run workshops; increased body awareness, maintaining form, preparation through mobilization and consistency. Apply your knowledge and consider this a new beginning to your attitude toward running. Once you get going, create new goals for yourself that include a greater sense for your cadence, pace, and distances accomplished. No more mindless "jogging for 20 minutes". There may be a time and place for that particular stress relieving sweat session but this particular challenge wants you to focus a little more on being aware of your motion (avoiding injuries), moving with intention, and staying accountable for the work you are accomplishing… just like The Grind!
Stay social and connected with other participants by occasionally searching for the Farmgirfit hashtags on Instagram. Encourage fellow participants with comments on their posts too!
Farmgirlfit Coaches will also work to keep you motivated with prizes each month and by offering a group run schedule. Coaches will lead some "Sunday Rundays" or even offering group runs throughout the week. Group runs will accommodate all levels of running: offering out N' back runs, run loops, and pre-determined routes that everyone will be familiar with. We could occasionally lead you through a scenic trail or even plan to meet up at a café or pub afterward. Embrace the 2015 running season! Let us guide you and motivate you to enjoy running in its purest form, the way we are built to move!
Happy Running!