Our Sunday Rundays are open to members and non-members alike. Nothing too formal, just the opportunity get together with like-minded folks. To use our fitness for fun, exploring this beautiful landscape we call home.
Bring a friend, your significant other and/or kiddos, maybe your pup and join us each Sunday in a different location, at a different time for a different run/hike/walk/jog – the only constant is the guarantee of good company and a good time! See below the dates and details we have planned for August.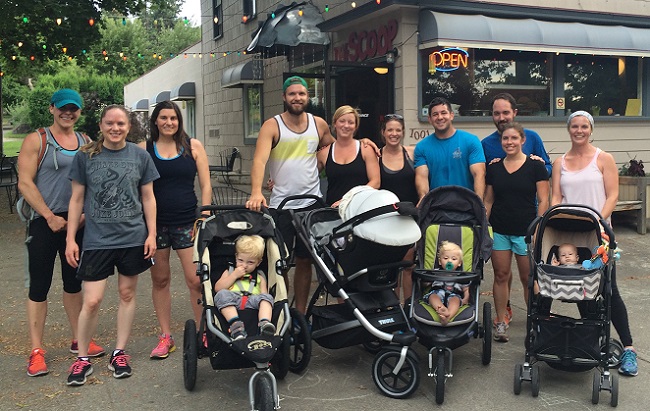 2nd: "Wine Down Your Weekend" (Plante's Ferry & Arbor Crest) with Jaunessa
Meet in the west parking lot of Plante's Ferry at 3:45pm – if you're headed east on Upriver, it's the 1st entrance. We'll warm-up, do a little out-and-back run (you choose the distance), and cool down. All ages welcome; stroller and dog (on a leash) friendly. Bathrooms available.
For those who would like, we'll do a quick de-sweat and change of clothes, and carpool up to Arbor Crest for the weekly summer concert starting at 5:30. Must be 21 years or older to attend, and cost is $8 per person. Snacks or a picnic are encouraged, but they have strict rules for beverages, check the link above.
9th: Fish Lake Trail "Under 40 (Minutes, Not Years)" Run with Jenni
Park and meet at the Fish Lake Trailhead parking lot of off Sunset Blvd on S. Lindeke St. at 6:30pm. If the lot is full, continue on S. Lindeke to the 4 way stop (about a half mile) and park along there. Bathroom available at the trailhead. Stroller, family, and dog (on a leash) friendly!
You'll need a timing device (watch/phone). Set your own pace - buddies and groups that want to run together are welcome and encouraged! With form and tempo in mind, we will run for 20 minutes along a scenic (paved) trail, covering as much distance as possible. Once you hit 20 minutes, immediately turn back. The goal is to return to your starting point in LESS than 20 minutes, for an "Under 40 Run." If you don't make it back under 40, you'll have to do 40 Push-Ups, 40 Squats, 40 Mt Climbers, & 40 Jumping Lunges. Person who covers the most distance overall (under 40 min) gets a prize, as well as the person who ran for the longest total time. ;)
16th: Scavenger Hunt on the Centennial Trail with Dani
Meet in the Centennial Trail Parking Lot near the Valley YMCA (off of Mirabeau Parkway) at 8:00am. We'll be doing a "scavenger hunt" along the running route…is that enticingly mysterious enough for you? If not, maybe the PRIZES will get ya! :)
23rd: Preview the "Happy Girls" 10k Course with Liz
The Happy Girls Run (5k, 10k, and Half Marathon) returns to Spokane for its 2nd year on September 26th. The scenic course includes a mix of challenging trails, groomed paths, and paved surfaces through Riverside State Park. Meet Liz at the Mukogawa Fort-Wright Institute to preview the 10k course. We know you'll love it so much you'll want to register for the real deal…if you haven't already! ;)
30th: Kendall Yards "Miles and Mimos" with Savhanna
Park anywhere in Kendall Yards. Meet at "The Nest" (where Cedar "T"s into Summit Parkway) at 10:00am. We'll utilize the Centennial Trail (bike, stroller, and dog-on-a-leash friendly) for an out-and-back run, ending back at The Yards Bruncheon. Refuel with a delicious brunch (and a mimosa or 2???) to turn this Sunday Runday into a Sunday Funday!