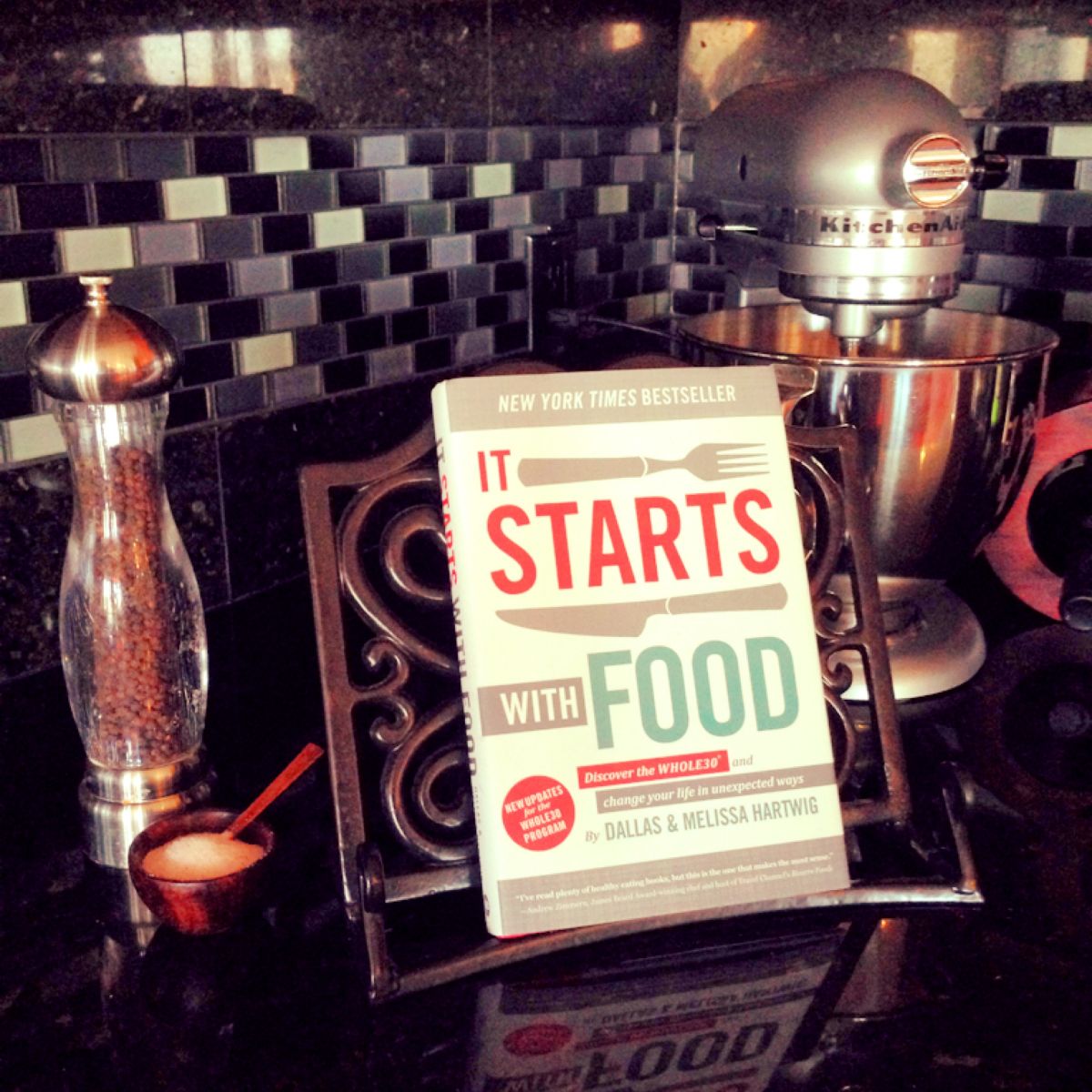 For the kickoff month of Farmgirlfit's Healthy Book Club, we picked up Joel Fuhrman, M.D.'s The End of Dieting — a book that asks readers to break free from the traditional confines of fad diets, from food addictions and overeating and focus solely on nutrients.
So, basically, the perfect post-Thanksgiving topics to discuss, right? (Dusts pumpkin pie crumbs off chest....)
Before we get to that, we'd like to announce the December Healthy Book Club selection, It Starts With Food, by Melissa and Dallas Hartwig. Pick it up at local libraries, bookstores or online and start reading/listening in the car, etc. And start talking about it as you read in our online book discussion.
Click Here to join our Farmgirlfit group at GoodReads.
(The book introduces the Whole30 plan, which we'll kick off on January.)
During the busy holiday weekend, a dozen ladies came out to discuss the The End of Dieting. If you weren't able to attend — here are some thing we discussed from the book:
— On "emotional eating": "Just as junk food weakens the brain, self-doubt weakens the will. The combination of healthy eating and healthy emotional habits can heal both."
— On fad diets: "... We all continue to get distracted by the latest fad diets — largely because the standard American diet is so markedly dangerous that even the most scientifically suspect diet looks better in comparison." Cycling through diets = BAD news for your body (see the section on "subcutaneous fat" versus "visceral fat.)
— In becoming "nutritarians," Fuhrman asks us to eat lots of anti-cancer, immune-boosting "G-BOMBS": Greens, Beans, Onions, Mushrooms, Berries, Seeds. (If you haven't picked up the book, you might take a look — there are TONS of really good looking recipes at the back to sass up salads and soups, among other things).
— There are three habits of health: nutrition, exercise and a healthy, positive mindset
Overall, the main takeaway from The End of Dieting was to get everyone thinking about food for what nutrients it offers, not how many calories, carbs and grams of protein it has. This is a book that preaches how food benefits you — not just how it gets rid of your hunger. Food should fuel us, not make us sicker. By giving up our goal of "losing weight" and seeking pain- and disease-free lives by putting good food in our bodies, we'll see more progress.
Fuhrman did plunk a controversial little elephant in our purple-and-green room, though: the whole meat-free or reduced meat thing. Fuhrman provides a lot of great scientific research that meat isn't always the best thing to eat. It's an idea that makes a lot of us uncomfortable — but the important thing is, Fuhrman's point is worth considering. Can we integrate a meatless day into our weekly lives? Would it benefit us in the long run?
The book group discussed our longstanding obsession with protein — how much is too much, how much is too little, and what's the necessary amount for people with super active lifestyles or high-impact workout routines? Feel free to continuing adding to this discussion in our Goodreads online book group.
We introduced this book to our members because much of it is in line with the simple message of Farmgirlfit — there are no shortcuts, no quick fixes, and you've got to put in the work to see results.
"I think the overall message of the book is not that everyone needs to avoid meat at all costs, but to really focus on educating themselves and making everything they stick in their mouths be more beneficial," FGF Coach Jenni Niemann says. "Veggies, beans, seeds, nuts he says over and over — I like the simplicity of his message. This is how I mostly try to eat, simple food."
But many Farmgirlfit members aren't doing this alone. They've got families to feed. The multiple roles we fill as women comes into play here: "Women get bombarded and then give up and go back to "what works" for their family or what's easy," Jenni says. "I like guidelines as opposed to "do's and don't's" and recipes are always helpful. Nutrition should be based more on what veggies and super healthy foods you can get creative with and enjoy eating."