Our approach to nutrition, the FGF way, holds that food should be thought of as fuel or nourishment for the body. Over the next 6 weeks, you will learn what it means to use food to fuel your body, your day, your healthy lifestyle. We'll help you create sustainable food habits for a lifetime of eating well!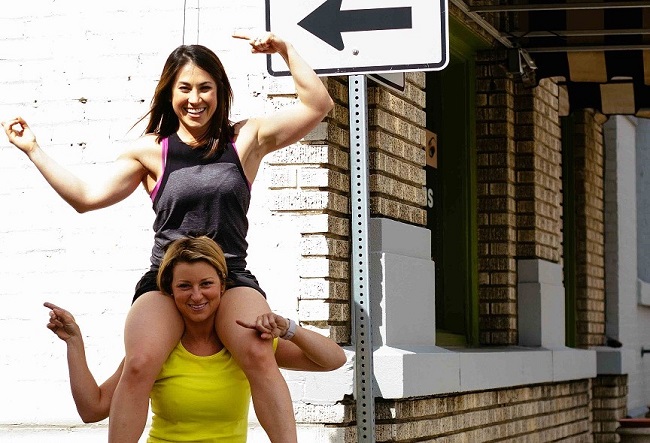 Starting May 1st, we are kicking off a focus on nutrition, i.e. using food to fuel your body, your day, your healthy lifestyle. This Food is Fuel Focus will run for 6 weeks, through Saturday June 11th. If you are coming to this later, we encourage you to start from the beginning at Week 1 and work forward for your 6 weeks.
Each week we will pose a FOCUS to you – ONE thing for you to focus on, to start making a habit of, and continue to build on in the following weeks. It's a progressive challenge that we believe everyone can accomplish, regardless of individual goals and most food restrictions. As we move past Week 4, you may pivot your direction, based on your specific needs.
As always, we will provide you with motivation and PRIZES along the way to keep you FOCUSED! It's a point-based system. As you progress through the 6 weeks, you will earn points. These points will earn you PRIZES…more on that later!
What we hope to accomplish:
1. Create sustainable food habits.
We'll focus on just one thing at a time for a whole week, until it no longer requires so much concerted effort. Our goal is to make it second nature, something you just do.
2. Abolish the "D" word.
We understand that you can break down nutrition to pretty much a cellular level, dissecting, counting, weighing. There may be a time and place for that, but this particular focus is NOT that. We may drop a little knowledge here and there (studies, fun facts) but we will not be pushing one "diet" over the other. We understand that everyone is different and requires different fuel. The world has many cultures, people maintaining healthy bodies consuming very different foods. There is no one perfect diet. In fact we hate the "D" word. We want to show you that by making a few key adjustments, and forming good habits, you can make positive changes that you can feel and maintain.
3. Take Responsibility.
There's a lot of noise out there when it comes to "quick & easy" diets, fads, food fixes. We hope to put YOU in the driver seat and fill up the gas tank. We're the back seat driver telling you to keep your eyes on the road. Just like we train you in the gym, you're going to have to do the work, while we keep you motivated and provide the course.
4. Connect with each other.
Like everything we do, we will stay connected. We can share different ideas, food preps, recipes, and tips that work for us. Please keep in mind that the FGF way is whole food based, no shortcut food products, gimmicks or supplements*. The FGF way is really based on eating REAL, nutrient dense, high quality food. Share your food prep and tips that save you time, not things that reroute the journey. Please no AdvoCare, Isagenix, or Shakeology.
*Supplements should be treated as supplements – certain ones have a place for certain individuals, but on the whole, we aim to get all of our nutrition from FOOD.
Commit to the Warm-Up:
Before we begin the 6-Week Focus, there are some things you should know and prepare for in advance. Above all, know that YOU'RE IN CHARGE; YOU'VE GOT DO TO THE PREP WORK!
Separation is in the Preparation:
Get the right gear: Get equipped with plenty of lunch containers, glass Tupperware, trays with separate compartments, lids, lunchbox, etc.
Food Prep: Plan, shop, prepare, and possibly package your meals, especially if you will be eating lunches at work or otherwise "on the go." This might be a "Food Prep Sunday" or possibly 2 Food Prep days, or just making extra to intentionally use for leftovers --> Cook once, eat twice…or 3 or 4 times.
Suggested make-aheads: Large portions of prepared meats, salad dressings, soups, stews, and chopped veggies.
This printable guide may be useful as you're getting prepped.
Perimeter Shopping:
Most of the good stuff is around the outside of the grocery store --> Fresh Produce, Meat, Eggs, Dairy if you eat it.
There are also some goods in the Frozen section (berries, veggies, some meat).
Treat the aisles as "hot lava" – you get 10 seconds to get what you need! There are some staples found in the aisles. EXAMPLES: Spices/Seasonings, some Condiments (oils, vinegar, mustard, coconut aminos), some Canned items (tomato paste, coconut milk, beans, certain veggies), Dry Goods (Rice, Quinoa, etc.), Nut Butters, Coffee/Tea.
Let's meet-up at the various Farmer's Markets around town. Buying fresh, local produce is budget-friendly, and you might be introduced to a new food item! We'll post at the gyms scheduled meet-ups, and encourage you to organize your own too!
3 Meals + 1 Afternoon Snack:
We encourage you to eat 3 solid meals + 1 snack (if you need it). If you eat on a different meal structure, and it works well for you, then continue with that. Our menu selection assumes 3 meals + 1 snack.
Breakfast - Choose from 6 options. This will be your Week 1 Focus.
Lunch - What you bring is what you eat. Leftovers and or other food prepped ahead of time. Same proportions as dinner.
Snack (OPTIONAL) – If you need one, choose from 5 options.
Dinner - Up to you, make good choices! We encourage a palm to flat hand amount of protein + at least double that amount of vegetables. Any rice, grains, or other additions are at your discretion. Dinner will be our Week 3 Focus.
The Itinerary:
Week 1 Focus = Breakfast:
You have 6 choices for Breakfast. Every single day, choose 1 of these 6 options. In this first week, you will also be perfecting your perimeter shopping, and your preparation techniques.
Week 2 Focus = Water:
This week your focus is on staying properly hydrated. Drink at least 80 ounces of water per day. Drink 8-12 ounces of water before you eat anything – it aids with digestion and helps you recognize when you're really full. Replace all those other drinks (soda, juice, sugared up coffee or tea) with WATER.
You will also continue with the 6 breakfast options, and with shopping for and prepping your meals.
Week 3 Focus = Dinner:
Besides continuing with one of the 6 breakfasts, and 80 ounces of water per day, this week your new focus is on dinner. Every night, your plate includes a protein, and at least 3 colors of veggies OR a "new to you" veggie. Try to get as many colorful veggies on your plate. Show us your rainbow! Consult the Dirty Dozen/Clean 15 for produce you should ALWAYS buy organic.
*Look for a BONUS point opportunity this week!
Week 4 Focus = NO Sugar:
Of course, we're continuing with 1) Breakfast, 2) Water, and 3) Dinner. This week our new focus is on eliminating processed food and sugar! Absolutely no processed food - if it's packaged, it's suspect! READ LABELS! Also, no added sugar or sugar-like products (why do you even have sugar in your house?) We will make an exception here for honey and REAL maple syrup, in minimal amounts.
Explore the wondrous world of spices, seasonings, and herbs. They truly do wonders! Sea salt, black pepper, and garlic powder are staples. Cinnamon gives the illusion of sweetness. Montreal Steak blend is excellent on any red meat. Fresh herbs we love include cilantro, rosemary, basil, thyme. Have you ever used tarragon, coriander, or curry powder? Try them out!
Week 5 Focus = Healthy Fat:
Continue your good habits from the last 4 weeks. This week we add the focus of eating healthy fat. Contrary to what you may have heard, fat is NOT the devil! Your charge is to eat at least a thumb-sized amount of healthy fat at each meal. Playing off last week, we especially want you to avoid items labeled as "nonfat" "lowfat" or "diet." Nonfat = more processed, lower quality. If you're doing it, go for the good stuff!
*Look for options for a second focus this week, depending on your individual needs/goals.
Week 6 Focus = Evaluate
In this final week, you're not quite done! Continue with each focus from the previous 5 weeks, but also take some time to reflect and evaluate. How do you feel? What has changed? Energy levels? What's the hardest part…or the part that you don't think you can maintain or keep up with? Anything surprising? Refreshing? What do you "miss" and WHY. What is working for you and what isn't? What are your specific goals now?
Points and Prizes:
Shop & Prep:
Shopping for and preparing your food earns you 3 points. You have up to 2 opportunities each week to earn these points (i.e. Up to 6 points/week)
Post:
We want you to share and stay connected with your fellow farmgirls. We ask you to post PUBLICLY at least once a week a picture of your shopping, prepping, or how you're achieving the weekly focus. Use the hashtag #FGFEatsRealFood and tag @Farmgirlfit on Instagram and/or Facebook. This post earns you 1 point/week.
Weekly Focus:
Each day that you successfully complete the weekly focus, you earn 1 point. In week 1, you have the opportunity to earn 1 point/day. Since this is progressive, in week 2 we continue with the week 1 focus, and introduce a new one – that gives you opportunity for 2 points/day. In week 3 it will be 3 points/day, and so on. Sorry, but no working ahead for points!
Evaluate:
In the final week, we ask you to evaluate how this Food is Fuel focus has worked for you. Completing this evaluation will earn you 10 points!
Bonus Points:
Be on the lookout for various bonus point opportunities over the course of the 6 weeks!
Prizes:
Every 10 points you accumulate earns 1 entry into our raffle drawing for prizes. Some prizes will be drawn weekly, so complete your entries as you earn them for the best opportunities to win. We will also draw for 3 Grand Finale prizes after the 6 weeks are up. Plus, EVERYONE who accumulates at least 50 points will receive a custom Farmgirlfit reusable shopping bag!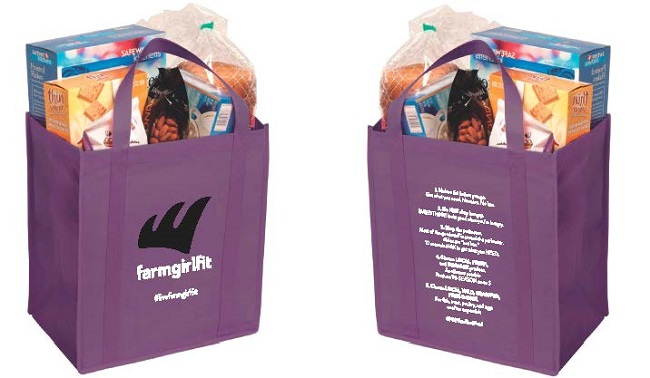 NOTE: You will NOT buy any of the items actually pictured in this bag, except maybe almonds. ;-)