"Everyone is amazing! When I came back from Alaska (I was gone for 6 months; more on that below), everyone was like "Tori! Welcome back. We missed you!" And it's one of those things that just makes you feel absolutely wonderful and warm on the inside."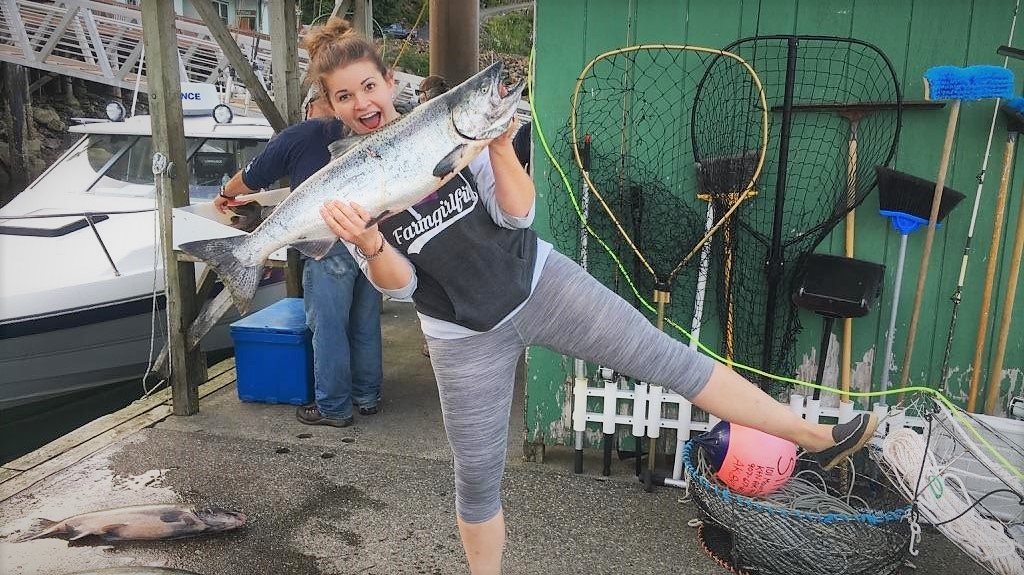 Member Of:
Farmgirlfit Cd'A
Occupation:
Currently, a little this and a little of that! Read more about what/why below!
Tell us about your fitness journey. How did you come to Farmgirlfit?
I wasn't really into "fitness." I did like the idea of being a runner when I was around 16, until I started running and realized I hated it. When I was 18 or 19, I realized that I should probably start working out because I was quite out of shape and could lose some weight. So, I started doing workout tapes at home but got bored of those quickly. I was looking at gyms to join and the typical gym just wasn't what I was looking for because I need structure, someone to tell me what to do and not just let me loose in a room of equipment. One day my mom came home and said, "Tori there is a gym opening on Government called Farmgirlfit -- you should look into it!" A little while later, I went by and did my "trial workout". I knew from that workout, Farmgirlfit was my gym!
If you could tell your Farmgirlfit story in 100 words or fewer, how would it read?
I saw, I came, and I keep coming back for more.
Who/what inspires you to be fit?
I never want to get old and not discover what my body is capable of. I don't want to look back and say, "Wow, I wish I had done that."
What has been your greatest fitness/performance accomplishment so far?
That I can climb the rope. It's just so cool to me!
What are your next health and fitness goals?
I really want to do a Spartan Race or one of the Train-to-Hunt races. They are like a Spartan Race but with an added archery component.
Favorite workout song?
The Next Episode by Dr. Dre #gangsterrap #handleit
Favorite exercise at FGF is? Least favorite?
Ohhh let's see, favorites include anything lifting, kettlebell swings, ice skaters, oh and tire flips! I hate wall balls, plate pushes, and believe it or not rowing. Any amount of time on the rower kills me. It is not one of those things I can pace myself on. [Editor's Note: maybe that's why you row a 3:37 1k and 1:38 500m 😲 … the faster you go, the sooner it's done!!!]
When the Grind is kicking my butt, I'm thinking…
Ok, as soon as this is over I can lay on the floor.
My favorite thing about Farmgirlfit is:
Everything. The people -- everyone is so invested in how you do. They cheer for you and they have your back! You miss a week? Better expect a phone call or text wondering why your butt hasn't been in the gym. Everyone is amazing! When I came back from Alaska (I was gone for 6 months; more on that below), everyone was like "Tori! Welcome back. We missed you!" And it's one of those things that just makes you feel absolutely wonderful and warm on the inside, knowing that these wonderful women are there for you. Also the workouts! They change every day, and they're never the same. What could be better than this?!
How has the rest of your life been influenced/impacted by Farmgirlfit?
How has it not? I go to sleep earlier because I know if I don't get enough sleep it's going to affect my workout the next morning. I eat better because I know I workout too hard and too much to be sabotaging my results by eating poorly. I'm happier all around because in the fine fine words of Elle Woods from Legally Blonde "Exercise gives you endorphins; endorphins make you happy, and happy people just don't shoot their husbands, they just don't!"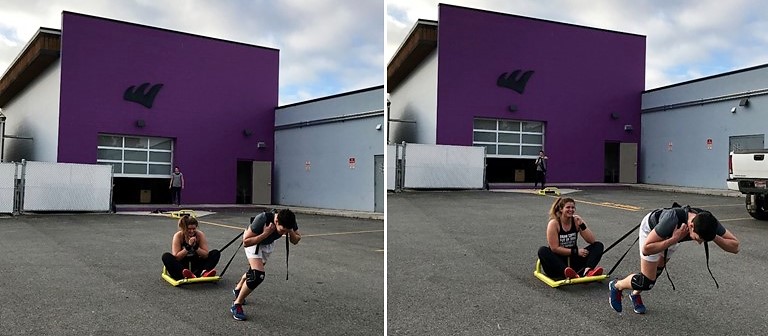 When you're not pumping iron at FGF, what does the rest of your life look like?
Before, I would have told you I work a solid 40-hour week, but since I came back 2 months ago from Alaska, I am getting to spend a lot of time with my family and friends and work on projects and do things that I wouldn't normally have time for.
My happy place is:
At the top of "Snob Hill" in Hayden. You can see all the way to Cd'A Lake and the town below, and it's absolutely breathtaking. After a long bike ride up that hill, it is just so much sweeter.
As a kid I dreamt I would grow up to be:
An actress or a barrel racer.
You might not know this about me:
I can wiggle my ears like a boss.
Words that inspire me?
Be the kind of women that when your feet hit the floor in the morning the devil says "Oh crap, she's up."
Guilty pleasure:
Cinnamon rolls
My hero is:
Jesus Christ
My trademark dance move:
I don't have one, but I love to dance, not a structured dance like ballroom. I dance like a toddler who hears music and just starts moving!
My healthy indulgence:
Dates, I can eat a lot in one sitting...
Any advice for new members or your fellow farmgirls?
Just walk in the door. As long as you can get in the door, the hardest part is done. Yeah the workout might be rough, but that is just an hour, less really. This is long-term. Just walk through the door and get 'er done.
Anything else to share?

My Alaska story in a nutshell: I worked and lived in Ketchikan, the most southern town in Alaska, for just about 6 months. I was a narrator on a tour boat. Tourists would get off of the cruise ship and take a bus to our location 30 minutes outside of town, get on our boat and we would go on a 1.5 hr tour of the southern part of the island. We would give anywhere from 1 to 7 tours a day. The tourists would get off the boat back at the lodge and eat Dungeness crab for an hour and a half. It was the adventure of a lifetime.
First all the employees lived together, all 20 of us, and we lived right above the dining room on the second floor of the lodge. I had 2 roommates and every room had their own bathroom but everyone shared the kitchen and 3 refrigerators. Let me tell you, when you sleep, eat, work, and play with the same people for 5 months straight, you can say that you can work with anybody. We worked 6 days a week anywhere from 6 to 14 hours a day, most of the time with no breaks. It was a blast, but not gonna lie, it was definitely challenging at times.
With my job, I pulled up Dungeness crab pots every time I went out on the boat, I got to tell people all about them, and show them how to properly hold the crabs without getting pinched. We saw bald eagles every day, fed them frozen herring and watched them swoop down 10 feet away from our boat to snatch them out of the ocean. We saw a humpback whale jump out of the water, flip 180 degrees and fall back in the water. He did it 20 more times. Black bears and black-tailed Sitka deer were commonly seen on the banks of the inlet. We also saw porpoises, orcas, and salmon jumping in the inlet as well.
I was able to go sea kayaking , hiking, zip lining, see the Misty Fjords National Monument, go salmon and halibut fishing, and meet amazing people from all over the world. I made friends that I know I will keep for a lifetime, and had experiences that I will never forget!