"I started 2 years ago, invited by a friend for Friendship Friday. The encouraging community, friendly faces, helpful trainers, and interesting workouts have kept me coming back!"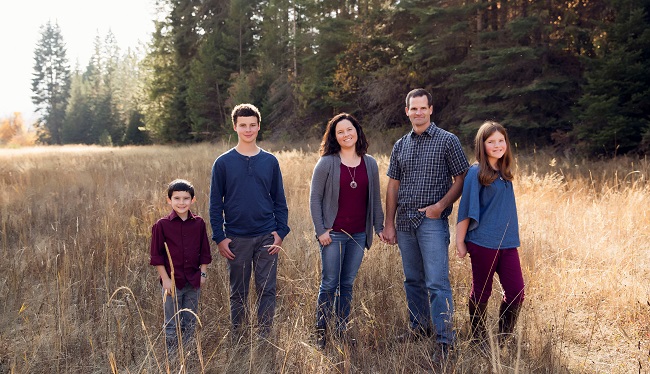 Member Of:
Farmgirlfit Cd'A
Occupation:
Mom
Tell us about your fitness journey. How did you come to Farmgirlfit?
For many years, I jogged and biked (road bike) to stay in shape, but did very little strength training. I had tried gyms in the past but always quickly lost my enthusiasm. The name "Farmgirlfit" intrigued me from the first day I saw it. I want to be strong like a farm girl! I was excited to find out that my friends, Krista and Tanya, go to FGF and could tell me more. Krista invited me to a class during Friendship Fridays, April 2017. I initially thought she was crazy to workout at 6:30 in the morning. Now I work out at 6:30 in the morning! The encouraging community, friendly faces, helpful trainers, and interesting workouts have kept me coming back!
What has been your greatest fitness/performance accomplishment so far?
I finally, finally can do a double under. Just one at a time though, because I get so excited, I forget to jump the next time.
What are your next health and fitness goals?
To work on my overall nutrition. I tend to think of food as an experience, which is ok, but I want to think of it more as fuel to keep me as healthy as possible.
Who/what inspires you to be fit?
My family – I want to be around a long time to enjoy them!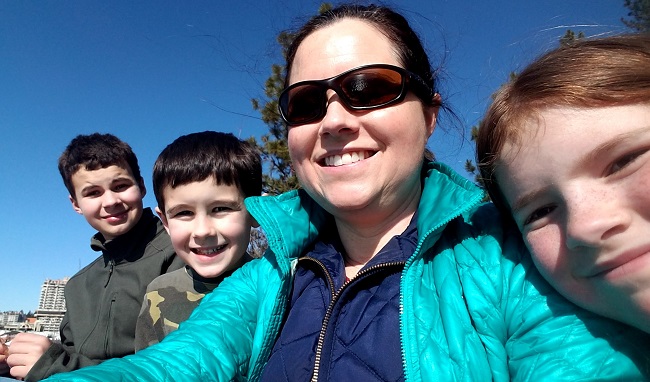 And Brooke! She is amazing and I want to be like her.
Favorite workout song?
"The Greatest" by Sia. The chorus goes, "Don't give up, I won't give up, don't give up…" It usually is playing about the time I am thinking about giving up.
Favorite exercise at FGF is? Least favorite?
Favorite: Any partner workout. When I first came to Farmgirlfit, the partner workouts intimidated me. I didn't want to slow anyone down. Everyone is so encouraging though, they have become my favorite days.
Least favorite: It's a toss-up between Burpees and Turkish Get-Ups.
My favorite thing about Farmgirlfit is:
The smiling, encouraging people. I stumble in bleary-eyed and yawning but am greeted by happy faces. I also love the feeling of accomplishment when I finish a workout.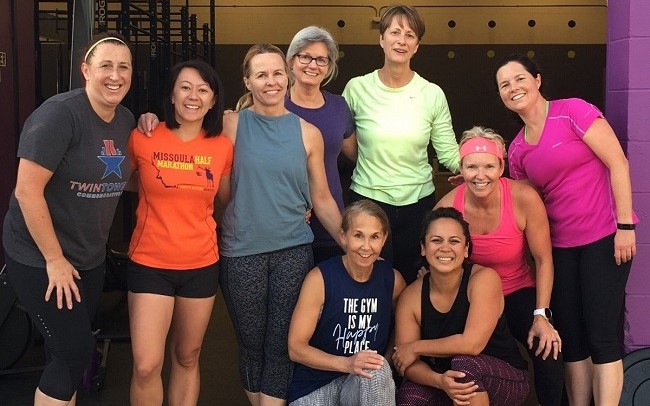 Do you have a funny Farmgirlfit story, or favorite memory?
Funny stories so far: I stole a workout "station." I got confused and started working out with all of the equipment someone else had laid out for herself. I didn't realize it until after the end of the workout! I also used someone else's water bottle once. Oops. It looked just like mine! And of course, I have worked out with my shirt on inside out (not just once). I have to leave the house at 6:00 a.m., so that is my excuse.
How has the rest of your life been influenced/impacted by Farmgirlfit?
I can pick up the bags of dog food at the store without getting hurt or asking for help. Seriously, I am stronger and can do things, like lift dog food. I can bench-press my 8 year old son, too.
When you're not pumping iron at FGF, what does the rest of your life look like?
I hope/strive for/desire my life to be about faith, family, and fellowship. Peace, hope, strength, and comfort come from my faith in Jesus. I am so grateful for that!
Family is so much of what I do right now. I am married to an amazing man who is so encouraging to me in my workout journey. We just had our 20 year anniversary last week! We homeschool, so I am usually rushing out of FGF to get my children started on school (ages 15, 12, and 8). My life also involves a lot of shuttling kids to activities. They do a variety of different things from art to robotics to volleyball. If I was an Uber driver and charged them for each ride, I would be rich! We live a little way out of town, so I get a lot of time to spend with my kids in the car. I especially like when I have a passenger in the front seat – time to hear what is on their minds. When we aren't running to activities, we enjoy snow skiing together in the winter, and time on the lake in the summer.
Fellowship – When I have time to myself, I think my favorite activity is having coffee (or sushi) with friends. Anyone want to go get a cup of coffee?

My happy place is:
Snowshoeing in the woods.
As a kid I dreamt I would grow up to be:
I wanted to be a park ranger when I finished school. I love being outside and teaching others about the amazing world around us, so I thought it would be perfect.
You might not know this about me:
My family is from east Tennessee. I love Tennessee, the beautiful Smoky Mountains, and the sound of bluegrass music.
Words that inspire me?
Whatever is true, whatever is noble, whatever is pure, whatever is lovely, whatever is admirable – if anything is excellent or praiseworthy – think about such things. Philippians 4:8
My healthy indulgence:
Okra. I roast it until crispy (with a little mineral salt and nutritional yeast) or blend it up straight out of the freezer for smoothies or even in soup (Shhhh, don't tell my family). Okra is a non-starchy veggie with a lot of fiber, Vitamin C, and beta-carotene. And you can buy it frozen for less than $2/bag!
Any advice for new members or your fellow Farmgirls?
Stick with it. The first day is the hardest. No, the second and third day after your first day are the hardest, because you will be sore, but so worth it!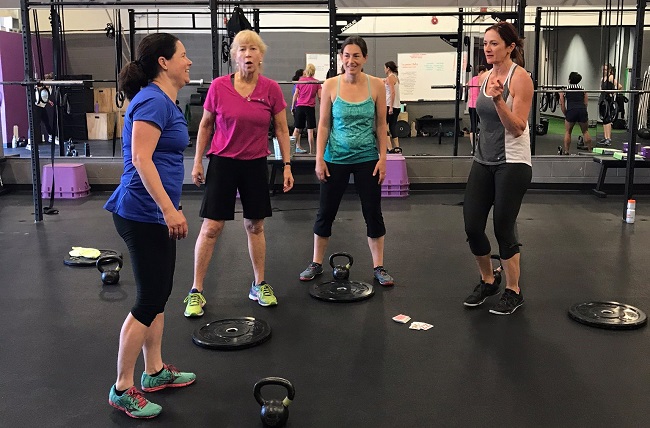 Anything else to share?
It is an honor to work out with such amazing women. I learn so much from the Coaches and friends - about working out but also about "grit," determination, consistency, and encouragement. Thank you!