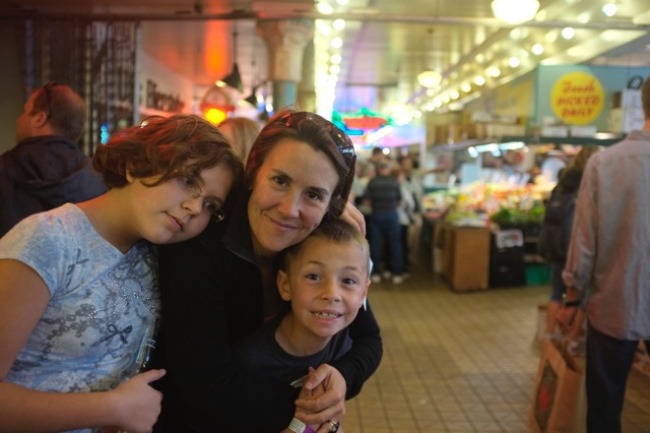 Name and age: Teresa Mullen, 43
Member at: Farmgirlfit Coeur d'Alene
Occupation: I am currently a Full-time mother of Elizabeth (13), Owen (11) and Daisy, our 5-year-old Golden Retriever. My previous occupation was a Registered Nurse in the Cardiac Cath Lab and Trauma unit in Portland.
Tell us about your fitness journey.
I had heard about Farmgirlfit a few years ago and secretly wished one would open in Coeur d'Alene. I have been a member of a few Crossfit gyms over the past 3 years. My most recent Crossfit gym closed in June so I took the summer to look for another gym to join. When I saw that Farmgirlfit was opening in Cd'A, I immediately became a Founding Member and most of my Crossfit girlfriends also joined.
I'm inspired to be fit by: my friend and Farmgirlfit member Brandi O'Brian. She is the most amazing athlete. We love to workout together and plan our workout schedules every week.
You might not know this about me: I turned 21, got married, graduated from college and followed my husband to medical school all within two months of each other. I also weighed 210 pounds. I have lost 70 pounds!
What has been your greatest fitness/performance accomplishment so far? Do you have a performance goal?
My greatest fitness or performance accomplishment has been PULL-UPS!!! The Pennies for Pull-ups challenge forced me to work on my pull-ups every day. I have become so much stronger. My next health and fitness goal is to run the Portland Marathon. Fifteen years ago I ran the Portland Marathon with three of my best friends. We all agreed that we would meet in Portland and have a Portland Marathon reunion. We decided that October 2015 is our year to run the marathon and beat our previous finish times.
My favorite exercise at FGF is: Kettlebells. I love swinging them. I am always amazed at the incredible core and endurance workout I get from them.
My least favorite exercise at FGF is: I have a love hate relationship with Turkish Getups!! They are a huge challenge for me. I have almost dropped the kettlebell on my head many times.
My favorite thing about Farmgirlfit is: EVERYTHING!!! I look forward to the Grind everyday! The coaches are amazing and the programing is brilliant.
When you're not pumping iron at FGF, what does the rest of your life look like?
I am driving my kids to all of their activities. Swim team, scouts, afterschool clubs — just to name a few. Somedays I spend more time in the car than not.
My happy place is: at home in my favorite chair drinking a wonderful cappuccino that my husband will make me. He has made me a cappuccino every morning since we have been married (23 years).
Any advice for new members, or your fellow Farmgirls?
Keep coming and don't give up. We were all new members at one time. I remember when I first started this style of training, I could barely hang from the pull-up bar and all my Olympic lifting was done with a PVC pipe for months. I'm proud of myself for maintaining this form of exercise and always showing up, even if the workout looks hard!