Sue was one of the inaugural members of our FGF@Home program, and is continuing with us for the next 12-week program. "I'm motivated to keep going with FGF because I'm finally feeling good about myself. I'm feeling stronger, more fit and healthier, but best of all, I don't feel sad all the time anymore."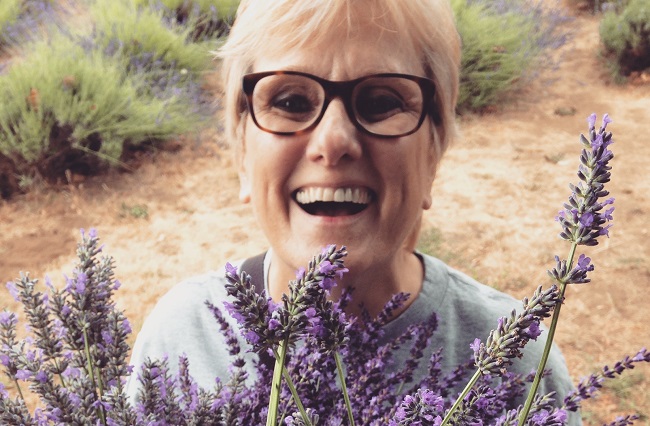 Member Of:
Occupation:
Manufacturing Master Scheduler - I put together the entire manufacturing plan for the company in order to meet their revenue goals.
Please share your Farmgirlfit story/experience.
The last eight years have been tough: I've watched my mother be diagnosed with Alzheimer's, and not know who I am. I was diagnosed with MS, my sister was diagnosed with cancer and my Dad had a stroke. Having to handle all of their estates (with my other sister), I have dealt with more sadness than I thought possible. Going to work ended up being a blessing because for 8 hours a day I could forget some of what was going on. During this time, I became more sedentary both in my job and at home, I gained weight and really wasn't motivated to do anything. I knew I needed to do something, but didn't know what it was or how I should get started. FGF@Home came along at the right time for me.
I've tried gyms several times and lost interest, then I tried a trainer a couple years ago. That worked well until she quit and went back to nursing. I'd go to the gym, but couldn't remember what I should be working on. My daughter, Leah, loved FGF when she lived in Spokane and called me as soon as she heard about the online program, encouraging me to join with her. Working with her has been great - she's a great partner! I'm motivated to keep going with FGF because I'm finally feeling good about myself. I'm feeling stronger, more fit and healthier, but best of all, I don't feel sad all the time anymore.
Who/what inspires you to be fit?
My kids. Leah is an inspiration with how dedicated she is to exercising and how well she feels when she works out. My son works out with a trainer twice a week and plays indoor soccer twice a week. It makes me happy to see how fit they are and thinking about their health.
What has been your greatest fitness/performance accomplishment so far?
At the beginning of the 12 weeks, I started out using 5# weights, moved up to 8# and now I'm at 10# weights.
What are your next health and fitness goals?
In the next 12 weeks [with FGF@Home 2.0], I'm looking forward to continuing the progress I've been making with feeling fit and stronger. My goal is to reduce & tone up my belly area. I think I need to work on my portion sizes, eat more veggies and eat better planned meals overall.
What has been your favorite aspect of the @Home program?
I love being able to work out at home, that's the best part for me. It's also so good to hear, either from the Facebook group and/or from Leah, that the workout was really hard, then I know it isn't just me!
Do you have a favorite workout song?
I don't play music when I work out because I'm outside most of the time at 5:30 AM — I'm too busy counting reps!
When the Grind is kicking my butt, I'm thinking…
Just a few more and I'll be done & able to say I did them all!
How has the rest of your life been influenced/impacted by Farmgirlfit?
I gained weight over the last few years and really had struggled to lose it. This program has been very good motivating me to work out again and made me feel better overall. I feel stronger physically and mentally, and more willing to take on new challenges. An added bonus for me has been going through this program with Leah. She's a great promoter of FGF and all of its benefits!
Besides the FGF@Home Program, what does the rest of your life look like?
I've been married for 43 years and have 2 kids, both married, and 2 dogs, Ruby (very active Australian Shepherd) and JoJo (very non-active greyhound). I work full time and will be retiring the end of January. I was nervous about retiring because I like being busy, but now I'm looking forward to it. It'll be good to do all the things I haven't had time for and to travel without worrying about work. I've always wanted to go to Europe and we're going for 2 weeks in April. I'm not sure what I'll end up doing, but I'm sure I'll be active.
I'm proud…
Of where I am today. I'm about to retire and feel good about what I've accomplished in my career. Even though I started older in my field, I felt I had to work harder to get ahead faster. I've accomplished what I wanted to do and am now ready for the next chapter.
My happy place is:
Home. I love coming home from work and being with my husband and 2 dogs.
As a kid I dreamt I would grow up to be:
A movie star, unfortunately I couldn't sing, dance or act.
You might not know this about me:
I grew up in the country in upstate New York. I had to shovel a lot of snow, pile a lot of firewood and worked in our family's garden all the time. Our family moved to Oregon 26 years ago. I took college courses on and off for many years before I got serious and then graduated with honors when I was 46 years old. It was the same year my son graduated with his bachelor's degree and Leah graduated from high school.
Guilty pleasure:
I love licorice!
Team I'm always rooting for:
Portland Timbers
My hero is:
My father. He quit school in 8th grade during the Depression to work on a farm away from his family, and he worked hard all his life. Even in his nineties, he didn't want to stop accomplishing something every day. He continued to walk at least a mile every day when the weather was good, even after moving into an assisted living facility. I hope I can be like him and keep moving.
My trademark dance move:
Kitchen dancing. Our family is big on dancing while we cook!
My favorite post workout meal:
I have a smoothie every day for breakfast after I work out. My usual one is an orange, yogurt, kale, cashew milk & blueberries or strawberries.
My healthy indulgence:
I love blueberries - I pick them in the summer and freeze them, but usually they're all gone by mid-fall.
Any advice for potential members or fellow farmgirls?
Stick with it and if you're struggling with the exercises, ask how to modify them. Jaunessa was great at helping me modify some of the exercises when I was struggling. I had rotator cuff surgery a few years ago and still have issues with my shoulder, but she helped me modify the exercises until I got stronger. It's all good as long as you're moving and trying your hardest! That's true for working out or anything else. We all go through struggles, it's how we get over the hurdles of life and what we learn along the way. That's what makes us stronger.