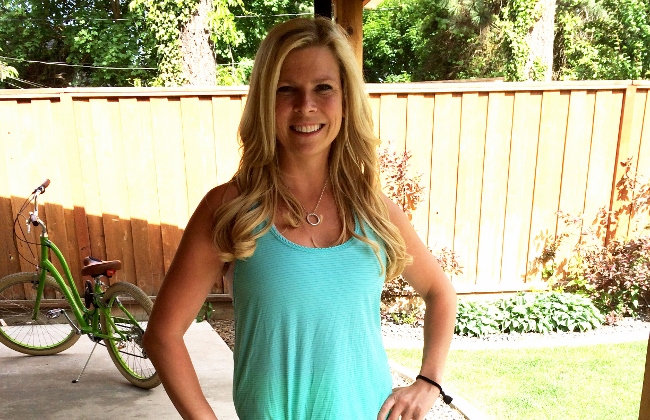 Name and age: Stephanie Hern, 40
Occupation: High School Counselor, and girls assistant cross-country coach.
Tell us about your fitness journey.
I have always been a runner in some sort of capacity. I became addicted to half and full marathons before I needed something more. It's my mother who actually inspired me to do triathlons. So about ten years ago I started with sprint triathlons and eventually moved up to the Ironman in 2009. After my last Ironman in 2011, I became disinterested in working out. Period. I lost complete interest. That's when I found Farmgirlfit. I knew I needed to do something, but it wasn't going to be the grueling hours of time I had devoted to distance activities.
If you could tell your Farmgirlfit story in 100 words, how would it read?
Farmgirlfit restored a significant part of my life. Everyone fights battles every day that no one else knows about, and even on the worst days, I would make myself go. There is something about feeling a part of something with others, who you know nothing about, but maybe they have had a hard day too, and you're there together ... all women trying to accomplish the same thing regardless of fitness level. You find everyone is your friend, every trainer is awesome, and you feel accomplished when you leave. For me, it's more than exercise, it's therapy.
What has been your greatest fitness (performance) accomplishment so far? Do you have a performance goal?
My greatest fitness accomplishment is that I'm still active in it. Ironman was great, but I think the day Jenni told me that I WAS climbing the rope, when I didn't think I could is a good second. Performance goal? I'm kind of waiting for someone to call me out on not yet doing a kipping pull up. But shhhh, so far they haven't noticed :)
How has FGF helped you become more healthy / When it comes to your health, what goals do you have?
I think I have always been pretty active and healthy. But now I feel strong. Physically, and mentally. Goals: to continue making progress.
My favorite exercise at FGF is:
I like it when running and any kind of sit-up is involved.
Least favorite exercise:
I never look at the workout ahead of time because if it includes box jumps, rowing or T-push ups, or wall balls I'm probably not going.
My favorite thing about Farmgirlfit is:
What I like the most is a hard thing to identify, it's the whole package. The ladies, the fun, and the sweat.
How have you integrated the Farmgirlfit mission outside the gym?
I spread the word. The other day when I bought an air conditioner at Lowes, they asked if needed help carrying it. I said no, they made me deadlift at level four yesterday ... I can get this myself!
When you're not pumping iron at FGF, what does the rest of your life look like?
When I'm not there, I am the busy mother of two teenagers trying to get it all done.
Any advice for new members, or your fellow Farmgirls?
My advice is pretty simple. Give it a chance. I am an introvert who hates group exercise, and I was only brave enough to join with a friend. Now it's just a part of my routine I can't live without :)