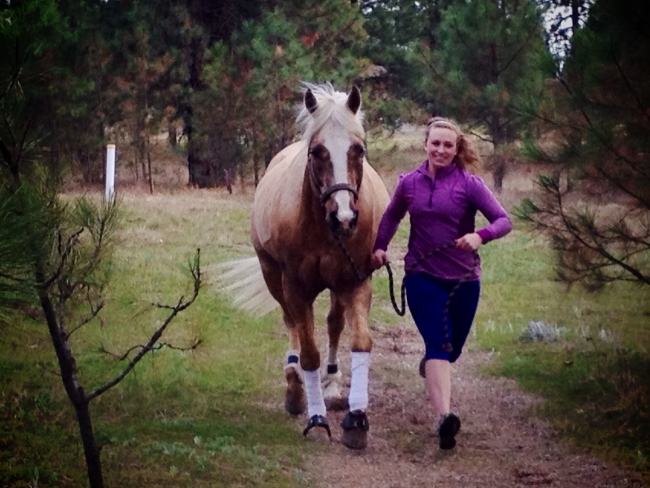 Name and age: Stacy Meredith, 31
Member at: Farmgirlfit Spokane
Occupation: Graphic Designer/ Regional Yearbook Director for Dorian Studio
Tell us about how your journey led you to Farmgirlfit?
For those who knew me before I joined Farmgirlfit knew I was not a gym girl and would never be caught breaking a sweat for the sake of fitness. I never really "worked out" more that I just "played" outside a lot. My husband, Scott, and I are very active in the outdoors, sharing many adventures mountain biking down rock and root-covered trails and ripping telemark turns at our local mountains in the winter. It was my true passion, equestrian show jumping and dressage that lead me to Farmgirlfit. Entering my 30's I became more aware that my core was weak, my balance was dreadful, and I would fatigue when riding. In order to improve my riding I needed to get out of the arena and into the gym to reach my equestrian goals. Farmgirlfit was the answer.
What has been your greatest fitness/performance accomplishment so far?
I'm thrilled that I've beaten both my Deadlift and Power Clean PR's from high school gym class. However I will have to say greatest accomplishment is that I have stuck with Farmgirlfit. Since joining last December I haven't missed a Grind. Farmgirlfit is different and I want to come back as I'm happier, healthier, and more confident.
What are your next health and fitness goals?
April's "Mile for Time" challenge and completing my first 5K this summer has made me believe that I could do a 10K in the future. For 2015, I plan to compete my horse, Riley, in dressage and show-jumping competitions. It would be great to make it to the westside of the state for championships!
Favorite workout song?: Ellie Goulding "Burn" (I imagine fat calories bursting into flames).
When the Grind is kicking my butt, I'm thinking…: At least I'm not the only one…. ;)
Favorite exercise at FGF is: I'll go with my top three. #1: Power Cleans ("So fresh and so clean clean.") The fluidness of the shrug, to the loading of the weight, I feel so strong throughout the movement. #2: Box jumps. They are just fun! Enough said. #3 Deadlifts. Lifting more than my body weight is incredibly empowering.
Least favorite exercise at FGF is: Wall balls. I don't know why we can't get along.
My favorite post workout meal: Eggs and Chocolate milk!
My favorite thing about Farmgirlfit is:
My favorite part of Farmgirlfit is the camaraderie. Every morning, I'm greeted by sleepy-eyed smiling faces, all of us ready to get our Grind in for the day. The amazing coaches are always ready to lead us in proper form, inspire to get in one more rep, and keep us accountable when we are feeling lazy. We all laugh, grimace, sweat, (sometimes cry) and cheer each other on when a PR is made. I may not have anything in common with all the girls outside the orchid-and-green gym, but one thing is for sure: we find our unity and strength together as Farmgirls.
When you're not pumping iron at FGF, what does the rest of your life look like?
I married the love of my life three years ago and am thankful to have such a handsome and handy husband! Between buying our new home and selling our older house (built in 1929) there have been many unexpected projects. When home improvements are at bay, I can be found at the barn riding my horse, Riley, and helping out with barn chores. I'm also an expert at bucking hay bales, cleaning horse stalls, chainsaw/ chipping trees, etc. as my parents have several acres of land and my entire family takes ownership in caring for it. My work life is pretty fun as a graphic designer. I specialize in yearbooks, which keeps me on my toes when helping teenagers design their school yearbooks. It's a super rewarding career to be in and I can honestly say that I LOVE MY JOB!
You might not know this about me: I taught winter survival for the Border Patrol in the winters of 2009 and 2010. Ten days in the backcountry camping with 16 dudes … in comparison it makes the Farmgirls smell like roses after a sweat soaking grind.
What advice do you have for new members?
Just go. Swallow your fear, shake off your nerves and backhand your excuses. Walk through the glass doors and into the vibrant orchid and grass green gym and know that this is the first day to a healthier, happier you. Keep it up and know all the Farmgirls are rooting for you. You will never regret it!