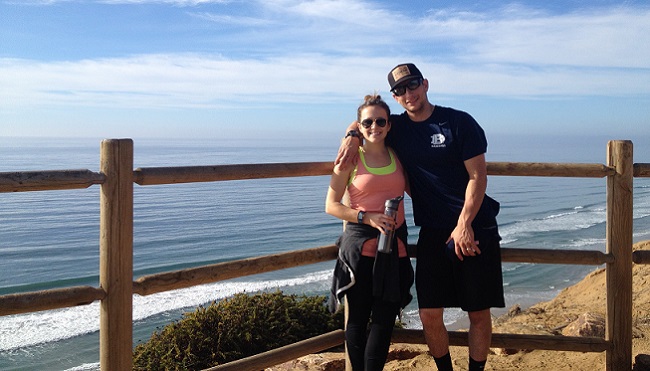 Member at:
Farmgirlfit Cd'A
Occupation:
Preschool Teacher
Tell us about your fitness journey, and how you came to Farmgirlfit:
I played competitive soccer through college, so when I graduated I struggled finding a consistent workout. I dabbled in Crossfit/lifting with my husband but I was lacking the community and team aspect that I loved about soccer. We moved here last year from California, and when FGF was opening I would drive by it on my way to work every day and eventually mustered up enough courage to try my first class. Now I'm addicted! It's the perfect combination of what I was looking for.
I began with the goal to get back to my soccer shape, and maybe meet some people in a new town. I was pretty timid, but once I got some muscles back, it became a competition with myself that I love. Now I try to improve/accomplish something every time I show up. And I've met some amazing women and workout partners along the way. It's way easier to push yourself when you aren't alone!
Who/what inspires you to be fit?
My job is an insight into what having kids will be like, so I want to have energy for these kids now, and mine in the future. Also, my husband works out more than anyone I know so he is a constant reminder that I should probably workout a little bit.
What has been your greatest fitness/performance accomplishment so far?
There have been a lot of small victories! Sticking with it consistently is huge for me. Also, getting my first ugly kipping pull-up, handstand push-ups, and winning the novice division of the Negative Split Fitness Games was so fun!
What are your next health and fitness goals?
I would love to compete in a high level Crossfit competition. First step is to nail down more of the gymnastics movements so I'm not just swinging around.
Favorite exercise at FGF is:
Cleans, handstand push ups, box jumps, anything with squats.
Least favorite exercise at FGF is:
Rowing…I'm 5'2. And thanks to a recent workout, wall balls.
When the Grind is kicking my butt, I'm thinking…
No one else is stopping…just 10 more, 9 more….
Favorite workout song?
Anything with a beat! Right now, "Hey Mama" by David Guetta/Nicki Minaj
My favorite thing about Farmgirlfit is:
Definitely the community and atmosphere. I look forward to every class knowing I'll see friendly faces, and leave feeling productive that day. The coaches know your limit so I love that they help us surprise ourselves with what our bodies can handle. I also love how the effects carry over into other aspects of life. I have more energy and confidence.
I'm proud…
Of every PR, and every unfamiliar movement I practice over and over until it clicks.
When you're not pumping iron at FGF, what does the rest of your life look like?
I spend most of my time chasing 3 year olds around at work which I love! That's my other workout. I also have a small hand lettering/calligraphy business on the side. My husband and I love hiking, taking lake trips, church and having BBQs.
My happy place is:
On the couch with a cup of coffee and some calligraphy. Or on the lake with a big drink. :)
My hero is:
My mama! My example of sacrifice and grace.
Guilty pleasure:
Dark chocolate anything. I justify it with the idea that it's good for your heart or something? Kind of like red wine? I could be making that up.
Team I'm always rooting for:
Westmont, my tiny little college in California! Go Warriors!
What advice do you have for new members?
I would encourage you to be consistent for a few months. Nothing happens overnight, unfortunately, but if you stick with it you will shock yourself with the progress your body and mind can make! Every woman here is rooting for you!