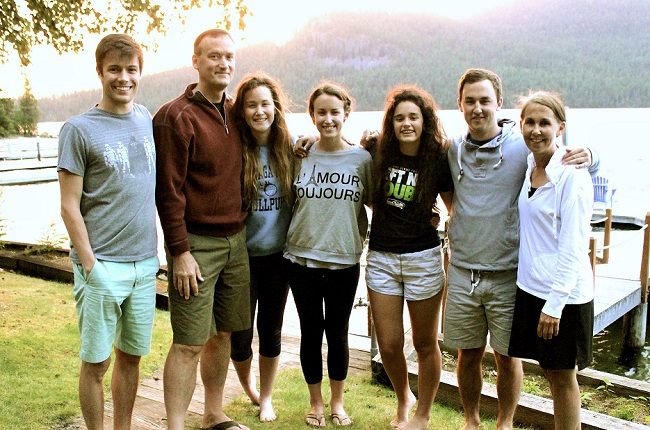 Member at: Farmgirlfit Coeur d'Alene
Occupation: Nurse and attorney by education (only licensed in Minnesota) and now work as a medical office manager part time and a domestic engineer part time
Tell us about your journey with Farmgirlfit: I have always been fairly fit and active, but was growing a wee bit frustrated with my overall lack of strength and loss of range of motion from a shoulder injury a couple of years ago. I also had a bone scan when I turned 50 and was diagnosed with osteoporosis. Me, a long time runner who has always been fairly fit and active and ate well!
My sweet husband, gave me a membership to another gym for my birthday last June. That place never opened (fortunately, he didn't pay in advance), so I was looking for something new and wanted to try Crossfit, but I was a little intimidated and didn't like the competitive feel and intensity of the other gyms I had looked into. About that time, I saw Farmgirlfit's Founding Member deal on Facebook for their new Cd'A location. Not one to resist a deal, I instantly responded.
Now, nearly 7 months into it, I realize that everything you read is true -- all the running, swimming, biking and cardio are great, but we as women really, really need and benefit from strength training!!! FGF does a tremendous job of teaching and coaching strength training as part of a healthy lifestyle. I am truly motivated by my deep desire to maintain my health and enjoy many good moments with family and friends each day.
What has been your greatest fitness/performance accomplishment so far?
My mom recently saw a picture of me from behind and was impressed with my muscles!! I feel myself getting stronger and have high hopes of getting beyond level one someday soon. Prior to FGF, my biggest accomplishment came a few years back when I wanted to join the sprint tri craze. I had to learn to swim, and fortunately had a very patient friend who held my hand back and forth across the Kroc Center pool many times before I was convinced I really wasn't going to drown in the middle. I literally started crying the first time I finished an open water swim in a race in a very tight wet suit (even if it was just floating down the river in the Race the River Tri). I was just so darn happy to be alive! My sister-in-law and I then swam across Priest Lake (1 mile in the deep dark lake) -- I felt like a little kid learning to ride a bike! Then, in 2012, I completed the Cd'A Olympic Tri, truly a thrill!
What are your next health and fitness goals?
Pull-ups without a band, climbing the rope and ringing the bell at the top, and doing down dog with my heels on the floor and my shoulder not aching. Also, I have run half marathons on and off over the years (the last was the Nike Women's in San Francisco in 2013 -- totally worth the Tiffany's necklace presented by the handsome men of the SF Fire Dept. at the finish line), and would like to do a few more without any shoulder and hip pain.
Favorite exercise at FGF is: They are all my favorites when I have a friend to do them with -- so love and appreciate the amazing coaches and members at FGF who are always there to encourage me, laugh with me, and make it all worth it. I love the balance The Grind [the daily workout] provides every day; the variety keeps it fun and challenging. I love the yoga, something I have tried on and off over the years, but have always been frustrated by. I have finally been able to work through that frustration to a place where I really enjoy the practice of yoga and appreciate all it is adding to my life.
Least favorite exercise at FGF is: I have never been a fan of plate pushes and box jumps, and used to cringe when I saw them in The Grind, but now love the challenge of them as much as I still hate them. There is such a sense of satisfaction and accomplishment from learning and doing new things I never thought I could do, especially things I would not choose to do on my own.
My favorite thing about Farmgirlfit is: Oh man, where do I start??!! Definitely the sweat, tears and laughter shared every day. The coaches are the best! Each has a different approach, but they are all there because they care and are committed to helping each member succeed. Knowing I can always do The Grind at some level. I used to check the schedule and think, "Man, I can't do that!" Now my next thought is, "Yes, I can, I just have to figure out how," and I always know there will be a great coach there to help me do that.
My healthy indulgence: Lulu's Famous and Fabulous Green Smoothie = kale or power greens, almond milk and vanilla protein powder juiced in the Blendtec, which I NEED to have daily and which my family refuses to drink at all!
When you're not pumping iron at FGF, what does the rest of your life look like?
A wonderful husband (he grew up in Spokane and we moved here 15 years ago to be close to his family), 4 kids -- 2 (Emily and Peter) out of college and off the payroll, 1 of those married (Emily - a grandpuppy, but no grandkids and I'm ok with that), 1(Isabel) graduating and headed to college and 1 (Grace) at home for a couple more years. A lab-shepherd mix, Oka, with endless energy, and a fat cat, Holly, with not much energy at all.
I manage my husband's office part time and our family the rest of the time. We spend as much time as possible at our cabin on Priest Lake and love our time spent on the water and in the mountains. I love to read, quilt, cook and grow a few tomatoes in my lovely little garden. I love nutrition and am constantly trying to be healthier...despite my addiction to really good chocolate!