It took a little prodding for Lisa to check us out. "I really didn't want to go. I'd never attended a group workout class before, and was perfectly happy working out at home, but I decided to try it...just 1 class, for Krista."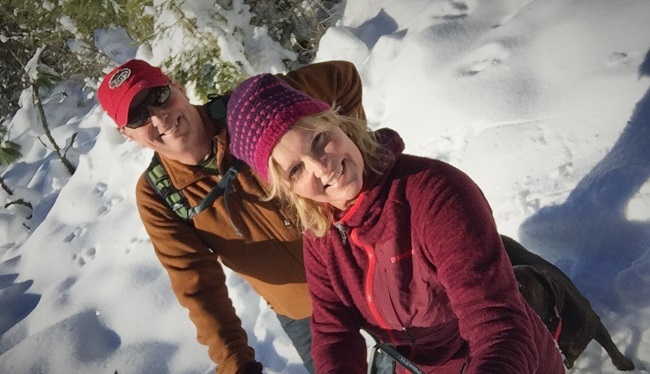 Member Of:
Farmgirlfit Cd'A
Occupation:
Dental Assistant
Tell us about your fitness journey. How did you come to Farmgirlfit?
I've always been into fitness. I played basketball and softball through school, and in high school I fell in love with weight training. It's something that has stuck with me, that I enjoy doing. I actually worked in the fitness industry for 10+ years and enjoyed doing the bike leg for a number of team triathlons. I ride my bike to work 6 to 7 months out of the year now. For the past few years, I was done with going to the gym and was happily working out at home. That was until Krista Raybell (my niece by marriage) invited me to try Farmgirlfit in January.
I really didn't want to go. I'd never attended a group workout class before, and was perfectly happy working out at home, but I decided to try it…just 1 class, for Krista. It was a little intimidating, and very much out of my comfort zone, but I liked it. So, ok Krista, 1 more class but that's it! Hmmm, like that one too. Maybe this will be a good way to kick start my new year, to join for a couple months and then that will be the end of it…or so I thought! Almost a year later, I can't imagine not going. I'm so thankful to be here. And I love all the awesome strong women that I've met. The varied workouts are great. And even though I don't really like running/cardio, I'm glad it's part of the program.
What has been your greatest fitness/performance accomplishment so far?
Box Jumps - they freaked me out!
What are your next health and fitness goals?
Rope Climbs and Handstands are on the list. And just continuing to improve on my form on all the strength movements.
Words that inspire me?
In your imagination you never miss.
Favorite exercise at FGF is? Least favorite?
Favorite - Clean & Jerk
Least Fav - Running…did I say that already! ;)
Favorite workout song?
It's a Long Way to The Top (If You Wanna Rock 'n' Roll) – AC/DC
My favorite thing about Farmgirlfit is:
Definitely the coaches. A good variety of leaders and motivators.
Do you have a favorite Farmgirlfit memory?
Solo workout with coach Melina. I got to pick my music and had the best time powering through to AC/DC blasting away and coach Melina cheering me on!
How has the rest of your life been impacted by Farmgirlfit?
Definitely positively. My strength and mobility have improved. And my confidence is up. Plus, I am more aware of making the right choices nutritionally Also, I have a coworker who is a Farmgirl and we are always comparing notes and excited to talk about the latest Grind.
When you're not pumping iron at FGF, what does the rest of your life look like?
I work as a Dental Assistant 3 days a week in CDA. In the summers you'll find my husband Peter and I enjoying the local lakes on our boat with friends and family. Priest Lake and Lake Pend O'Reille are our favorites. We also play tennis in the spring/summer, and this time of year we are out hunting together. The winters are spent snow shoeing in this beautiful area. Our now 11yr old chocolate lab Maggie is always a part of all our adventures.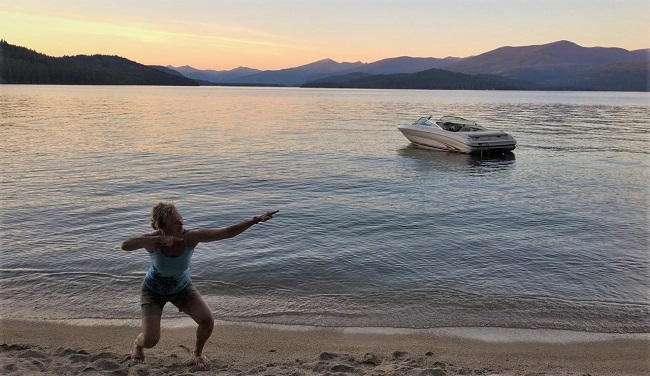 My happy place is:
The beach
Favorite holiday and why:
Thanksgiving. Family, football, and food. And my Dallas Cowboys always play on Thanksgiving.
Guilty pleasure:
Starbucks americano and an old fashioned donut.
My spirit animal and why:
Tiger: beautiful, confident & strong. How I hope to be.
Healthy indulgence:
Bath bombs from Mountain Madness Soap Company. Peter teases me that I didn't take a bath the past ten years. Now I find myself enjoying a bath at least once a week. It's a great way to remedy sore muscles from being a Farmgirl. And I enjoy the indulgence of candles and light jazz music too!
Any advice for new members or your fellow farmgirls?
New members - stay with it! I still have a bit of anxiety each time I go, but once class starts I'm fine.
Fellow Farmgirls - thank you! I am truly inspired each time I attend! You girls rock!!