"FGF@Home is awesome. I have never felt this strong in my whole life. I love that I can get a good workout in at home. Each week provides me with different workouts, so I have never gotten bored."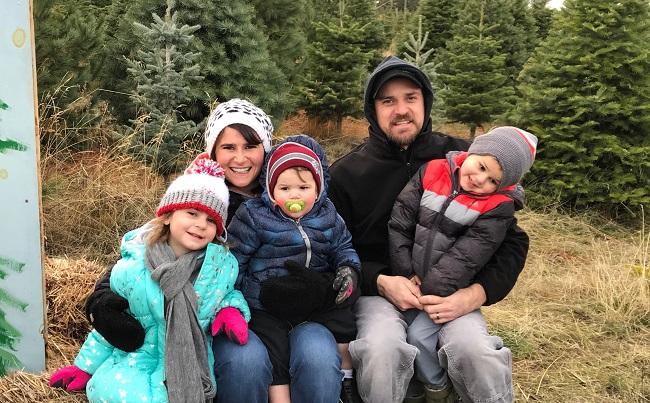 Member Of:
Occupation:
Teacher
Tell us about your fitness journey, and how it lead to FGF@Home.
Fitness has always been a big part of my life. As a kid, I played all kinds of sports, not very good, but it was fun to participate. I think this is what led me to my love for fitness. Before I joined FGF@Home, I would do different at home video programs. It's really hard for me to get to the gym because of my three small children. Working out at home is really the only way. My good friend Jen was the one who motivated me to join FGF@Home and it was the best decision I have made.
Please share your Farmgirlfit story/experience once starting FGF@Home.
FGF@Home is awesome. I have never felt this strong in my whole life. I love that I can get a good workout in at home. Each week provides me with different workouts, so I have never gotten bored like I did when I use to push the play button on my workout videos.
What has been your greatest fitness/performance accomplishment?
Before FGF@Home, I could not run a 8-minute mile. I would run, but very slowly and since starting FGF@Home, I've shed minutes…MINUTES…off my mile time.
What are your next health and fitness goals?
I would love to run a half marathon, but I think I am too chicken to sign up. Somedays I think I could do it 🤨 and then other days I think I must be absolutely crazy. 🤪😂
Who/what inspires you to be fit?
Absolutely my children - I want to live a long life to watch them grow into their own.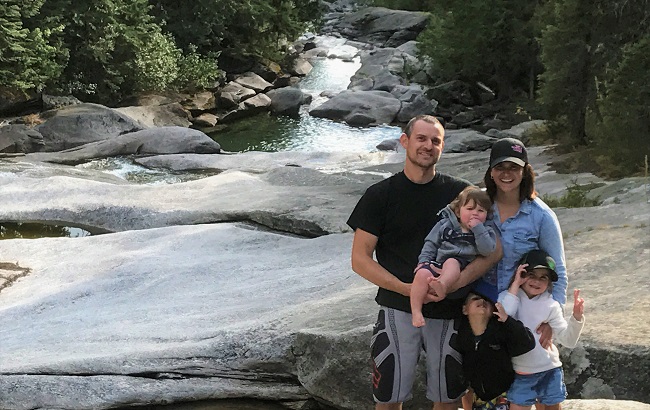 Do you have a favorite and/or least favorite exercise from the @Home program?
My favorite exercise is either Woman Makers or TGUs. My least favorite is Squat Cleans - for me they are a killer!
When the Grind is kicking my butt, I'm thinking…
"Only ____ more rounds to go. I've already done so many; I can finish it out!"
What has been your favorite aspect of the @Home program?
I never get bored! Each week I am faced with new challenges and I love seeing what I can do and what I need more work at. The community is also amazing, the ladies give me the motivation I need to get my workouts in, even at 4:45 in the morning. Even though I am not good at posting within the group, I still read what others are doing. It sure keeps me on track!
What are you most looking forward to with the remainder of the session, or in the next session?
I am looking forward to getting outside and running, as I didn't do much of it this last session. I am not a big fan of being cold! 😂
How has the rest of your life been influenced/impacted by Farmgirlfit, if at all?
FGF@Home has given me more energy to chase around my three kids. It has also helped me have more patience, and when life gets stressful, I know that getting a good sweat in will make things better!
Besides the FGF@Home Program, what does the rest of your life look like?
I have a great family and job. As a family we love to be outside, we spend a lot of our time at Priest Lake boating, swimming, paddle boarding and soaking up the sun during the summers and snowmobiling in the winters. When I am not playing, I teach 7th and 8th graders at a Catholic school. Being able to help students learn and grow on a daily basis is truly the best job ever.

My happy place is:
Priest Lake, ID and Pullman, WA - love going to cheer on my Cougs!
Guilty pleasure:
Wine! I am a sucker for a good glass of wine!
I'm proud…
That I have not missed one Grind in the last 4 sessions. I may not have done them on the right days, but I did get them all in!
Team I'm always rooting for:
I am a die-hard Coug! Grew up cheering on the Cougs, went to WSU for college and have never stopped loving them! GO COUGS!
My favorite holiday and why:
Christmas, I absolutely love seeing the Christmas spirit through my children's eye. It's the best!
My healthy indulgence:
Right now, it's avocado on toast with an over easy egg. My husband thinks it gross!
Any advice for potential members or fellow farmgirls?
Just do it (sorry Nike). I was worried about not being able to complete the workouts because they would be too hard, but there are many levels you can pick to always challenge yourself. FGF@Home is awesome and I would recommend it to anyone!