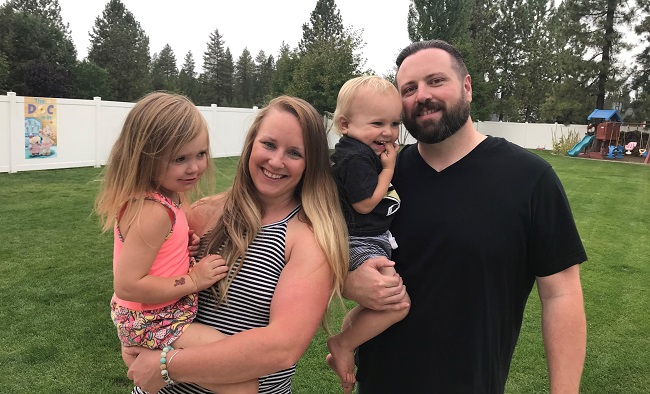 572...The number of injections I've taken to keep my body quiet, functional. In 2006 I was a senior in nursing school. I felt strong and healthy; finishing my 3rd year pole vaulting in college and training for a marathon. And my left hand was numb. I "pinched a nerve" I told myself. I went to the chiropractor for 3 months and no changes prompted more testing. I had an MRI. I had a lumbar puncture. I had some vision tests. I had some blood tests. I had a birthday. And at age 22 I was told I had multiple sclerosis. And I was scared. But I told myself I would never let the disease define my soul or my determination to remain strong and active.
I've taken muscular injections once a week for the last 13 years (minus 2.5 years during pregnancies). The side effects are chills, aching muscles/ joints, and headaches for 36 hours. And my smoldering monster , the MS, stays quiet. Life goes on.
MS is so frustrating because how I feel and how I look don't always match. Sometimes my hands and forearms are numb. Sometimes I'm really tired. Sometimes I have a hard time stringing words in a sentence, mashing words into one or completely forgetting a word. My left heel has been numb for over 2 years since the birth of my son. I trust my body, despite the numbness, to stay strong, lift heavy weights, and run without tripping. And still it smolders. I am always amazed, if I can get over the mental hurdle, how capable my body is despite the buzzing, numbness, annoyance. And still it smolders.
MS has given me the power to feel. Feel angry and frustrated that my body is failing from such a young age. Feel overwhelmed that these drugs dictated the timing of pregnancy, miscarriage and pregnancy. Feel anxious that stress can cause my symptoms to "flair". Feel thankful that my body is still capable and strong. Feel empathetic for patients and families as they navigate chronic illness, insurance companies and drugs with horrible side effects. Feel strong despite having numb hands or "heavy" arms. Feel thankful that I am reminded daily that life is fragile and unpredictable and beautiful. Feel like I belong at Farmgirlfit to keep my body strong when my mind and heart are tired and want to give up.
Here I am. Grinding it out with amazing women. Working hard until my body tells me no more. I'm one stubborn mother...and I hope to see you under the purple beams for years to come. I am blessed to be part of this amazing community.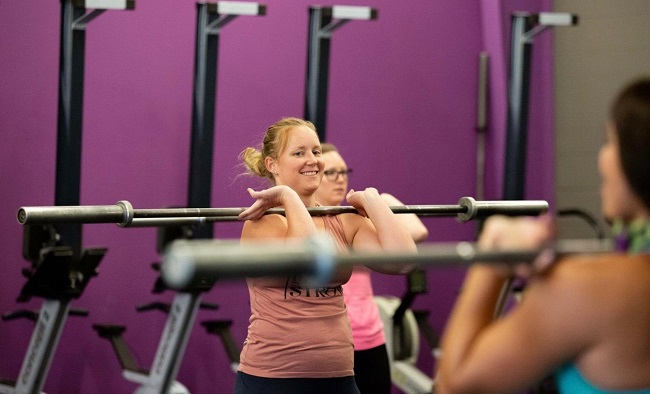 Please join us in support of Kirsten, fellow Farmgirl Galina, and all those battling MS. We'll be walking on Sunday, April 14th as Team 'No MSing With Us' and would love to have YOU join us. Registration is free – you can do so here: http://main.nationalmssociety.org/goto/NoMSingWithUs2019
And please, get to know Kirsten a little better below:
Member Of:
Farmgirlfit Spokane
Occupation:
Registered Nurse
Tell us about your fitness journey. How did you come to Farmgirlfit?
I've loved the community and competition of sports and team since I was little. As a child I played soccer and t-ball. High school brought volleyball, basketball, tennis and track & field. College continued with 2 humbling years of volleyball and 3 years of pole vault and hurdles. I always had a coach to yell at me to go faster, lift more, jump higher.
Farmgirlfit fills my soul with community and my mind with competition to lift more than I did last time. It's the perfect mix of challenge and encouragement and consistency.
I heard about Farmgirlfit but was working night shifts and always tired. Switched to a day job and finally stopped making excuses and have been showing up for myself since!
I love that the coaches encourage me to work hard and to add a little more weight. I love the energy of all the women who show up for themselves and in the process encourage me!
If you could tell your Farmgirlfit story in 100 words or fewer, how would it read?
You are enough. Show up, let your (Mom)body be how it is, work hard, make friends, encourage others and take care of yourself. A place to pick up heavy weights. A space for physical release of the pressure, pain, anger, failure and frustration. A home to come in broken and leave stronger (even if you can't walk straight the next day).
Shirts optional and you're welcome for the stretch marks. Thanks kids.
What has been your greatest fitness/performance accomplishment so far?
315lb deadlift, ran a marathon, did a heptathlon in college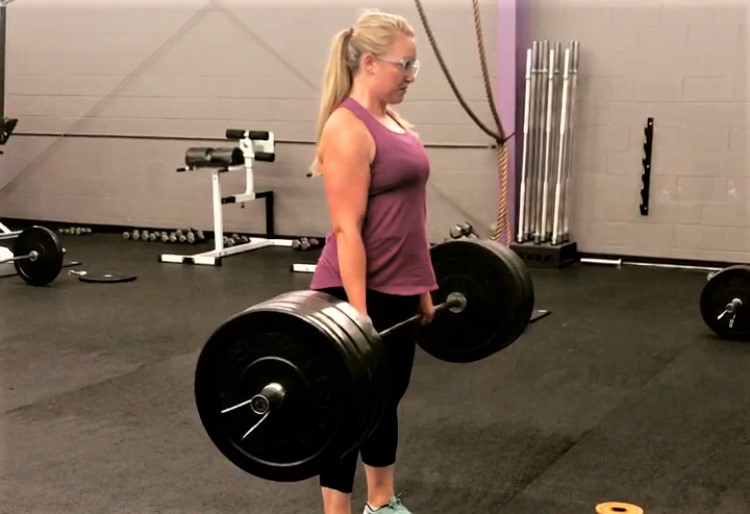 What are your next health and fitness goals?
Stress management and intentional choices with food, activity and relationships. Living a meaningful life. And to continue to sculpt this mom-bod! I want to set a strong and healthy example for my kids about fitness, body image and good nutrition, and I'd love to do a triathlon!
Favorite exercise at FGF is? Least favorite?
Fav: Lifting heavy. I love deadlifts and push press. Least: Snatch.
When the Grind is kicking my butt, I'm thinking…
Just pick that shit up.
My favorite thing about Farmgirlfit is:
Community. FGF fosters a culture of encouragement and belonging. Come as you are. Do what you can. Leave encouraged, empowered. These women are AMAZING!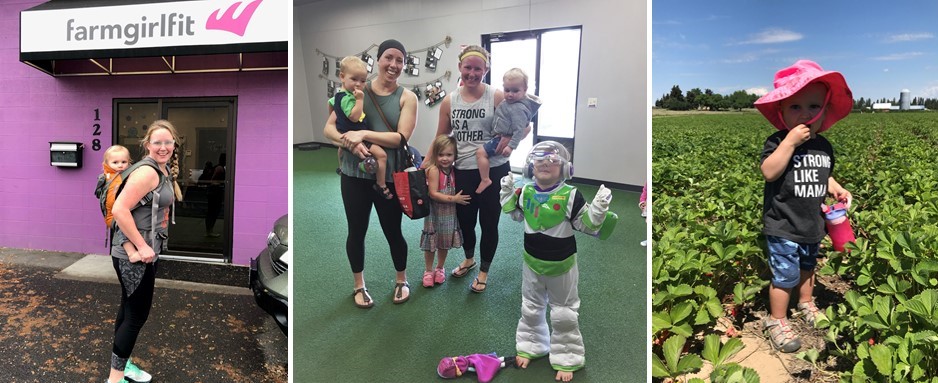 Do you have a favorite Farmgirlfit memory?
First successful double under when I was 32 weeks pregnant!!
How has the rest of your life been influenced/impacted by Farmgirlfit?
Functional fitness in motherhood allows me to take my kids on so many fun adventures. I'm constantly packing them around, tossing them up, chasing them, etc. Kids are also helpful for weighted plate pushes and occasionally jogging around the block on your back! Burpees and jumping jacks work great to tire toddlers out before bedtime too!

When you're not pumping iron at FGF, what does the rest of your life look like?
Spending time with my family Tom (husband),Claire (age 4), Noah (age 2) and our German short hair dog Olive. Cleaning the kitchen after my husband cooks some amazing meal. Sorting endless laundry. Trying to find an activity daily so my kids take a good nap after. Spending time with friends. Anything outdoors and active.
I also work part-time as Pediatric sedation and recovery room nurse. I have been a pediatric nurse for 12 years. I love working with kids and families!
Proud mom moment:
"Look miss Jill! I can do a burpee!" -Claire, age 3, day 1 of ballet...doing burpees in class!
My happy place is:
Outside, especially at the lake.
You might not know this about me:
I did 4-H horse for 8 years as a kid and grew up on a grass seed farm. I was tossing hay bales and 50lb sacks of grass seed as a kid. I am the OFG. (Original Farm Girl)
Guilty pleasure:
Trader Joe's extra dark chocolate, a few dried coconut strips, and a good dark beer!
Words that inspire me?
"Courage starts with showing up and letting ourselves be seen." - Brene Brown
Advice for my Farmgirls:
Don't calculate the weight on the bar until you are done lifting... you will constantly surprise yourself with how strong you are!