Member at:
Farmgirlfit Cd'A
Occupation:
Development Coordinator at the Vanessa Behan Crisis Nursery, outdoor enthusiast, animal lover.
Tell us about your fitness journey, and how you came to Farmgirlfit:
I have always been active and involved in sports or fitness of some kind. I played hockey when I was young which led me to short track speed skating while I was in college. Now I love to hunt and fish and find myself working out so I can pull more weight on my bow. I moved to Post Falls last summer and needed a place to work out since I had moved away from where I went to school, EWU (Go Eagles!)
I had heard about FGF and figured that since my family owned a farm, I'm a girl, and like to stay fit, why not give it a try! Little did I know how important FGF would become in my life not only to be healthy but also because of the relationships I've made with other members and coaches. FGF really is one big family! I have met some of the most inspirational/real people, pushed my boundaries, become healthier, happier and more confident, learned a lot about myself and just become a better me!
Who/what inspires you to be fit?
I have big dreams about having a family and I want to be fit and healthy for my husband and kids.
What has been your greatest fitness accomplishment so far?
Last summer I competed in the Miss Washington pageant (through the Miss America Organization, my title was Miss Tahoma 2014) and part of the competition is swimsuit… on stage… in front of a lot of people. It took a lot of preparation and guts to get up on stage and do my thing!
What are your next health and fitness goals?
I would like to compete in a Train To Hunt Challenge. It's sort of like a biathlon mixed with Crossfit with a dash of crazy thrown in. All with a bow, arrows, and a weighted pack on your back.
Favorite workout song?
For someone who lives on country music, I get so pumped up when rap, rock, tehno (anything other than country) comes on during the Grind. As long as it's loud and has a good beat I can squat/rep to, that's all I need. :)
Favorite exercise at FGF is:
I have honestly never come across a workout I didn't like, but I really love when we get to do anything with the bar like front squats, snatches, etc. I also love handstand push-ups and just being upside down.
Least favorite exercise at FGF is:
Kettlebells. I hate them.
When the Grind is kicking my butt, I'm thinking…
I honestly don't really think during the Grind. I am just happy to be there and know I am better for it! Also, I love when the coaches bring their dogs to the gym—I feel like I get a better workout because the pups keep me distracted from being tired.
My favorite thing about Farmgirlfit is:
Do I have to choose one thing? There are so many! I think above all I love how much it feels like family when I'm there. It doesn't matter if I'm with my usual group or at a random time. I have never met someone with a bad attitude while at FGF. It almost feels like I am coming to hang out with friends and we just end up working out. :)
My healthy indulgence:
I love to cook and enjoy finding new healthy recipes. My favorite is after hunting season when we get to eat fresh deer, elk, etc.—so good and soooo much healthier than anything from the store. Plus it feels great to see the full cycle of the food I put in my body!
Guilty pleasure:
I really love the lavender short bread from Madeleine's in Spokane. Then again I like most pastries from just about anywhere…
As a kid I dreamt I would grow up to be:
A veterinarian, or librarian, or actress, the list goes on and on… I clearly wanted to do a lot of things, which has lead to living a life full of awesome experiences.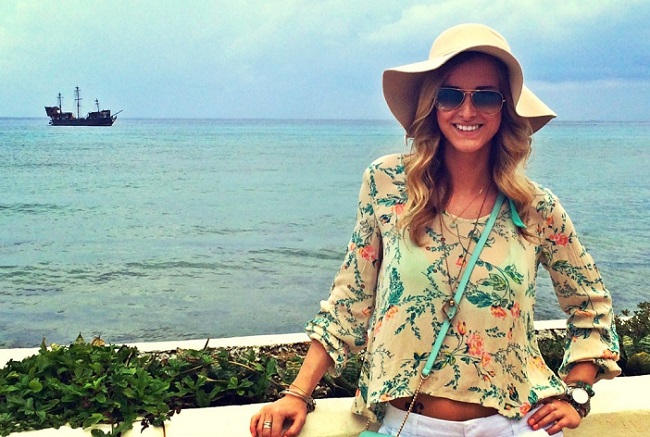 My hero is:
My grandpa, Pawpaw. He flew bombers in WWII and lived an incredible life.
I'm proud…
To be an American. But seriously, I love America, and will root for Team USA in literally anything!
What advice do you have for new members?
Don't give up and embrace it all, even the hard stuff…especially the hard stuff! Just get through the first few workouts (tell your body you can do it, because you CAN), embrace the FGF lifestyle, and you will be hooked!