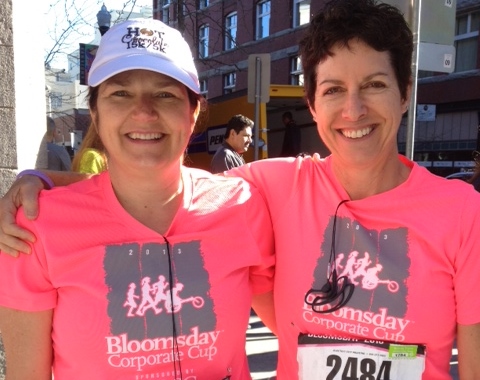 Name and age: Gina Bademian, Age 53
Occupation: Business Analyst
Tell us about your fitness journey.
I didn't do any sports or activities when I was younger. I started running in my early 20s as a way to start losing weight and I have been running off and on ever since (I always seem to go back to running). I'm not fast, but I can run long distance. Over the years, I have run 30+ half marathons and 1 marathon (when I turned 50). I also love relay runs like Hood To Coast. They are a blast! I also cycle and have done a few long rides like Reach The Beach, Gourmet Century and 8 Lakes Leg Ache (say that one fast!). Right after my marathon, I severely injured my back and I thought, that's it, but I slowly started getting back into running first by walking and then building back up to running. I did 3 half marathons last year!
If you could tell your Farmgirlfit story in 100 words or less, how would it read?
My friend, co-worker and running partner (who is 20 years younger than me BTW) talked me into trying FGF. I thought, "I am too old to be doing weights and I will look ridiculous out there with all those young things." It is actually recommended for women over 50 to lift weights to help with bone density so I figured I would give it a shot. I still only do Level 1-2, but I feel myself getting stronger each time I go.
What has been your greatest fitness/performance accomplishment so far? Do you have a performance goal?
My greatest accomplishment is just feeling more confident and comfortable with the lifts and more confident with adding a little more weight each time. My goal right now is to consistently be able to do a Level 2-3 for every workout.
How has FGF helped you become more healthy? When it comes to your health, what goals do you have?
I recently went on a long bike ride around Lake Tahoe. There are some steep climbs and in years past I most likely would have had to get off the bike and walk up the steeper parts. I mentally and physically could not push myself through it. This time; however, I did not have to get off that bike on any of the climbs. I was so excited! I surprised my younger brother and son. They couldn't believe I did it. My goal is to be healthy and strong. I want to be one of those really old ladies you still see out there running along.
My favorite exercise at FGF is:
I really like doing slam balls (there is just something about them). I also really like AMRAP and EMOM workouts. I think they are fun!
My least favorite exercise at FGF is:
Pull-ups! I always feel like such a wimp, even though I know I'm getting stronger!
My favorite thing about Farmgirlfit is:
the camaraderie, support and empowerment from everyone there, especially the coaches. Also, the push and help you get from the women you are working out with, every time, is phenomenal.
How have you integrated the Farmgirlfit mission outside of the gym?
I am really trying to improve my eating habits and I am making sure I get some exercise in every day.
When you're not pumping iron at FGF, what does the rest of your life look like?
I have been a single mom to two wonderful boys and this year they both graduated from college and got good jobs. Yay! I have a wonderful job with Group Health and just celebrated my 25th anniversary there. I love working out and going out with my friends and family. I'm a 'foodie' and love trying new places or creating fresh meals at home.
Any advice for new members, or your fellow Farmgirls?
I keep telling my friends you have to just try it. You will love it and get addicted! To my fellow farmgirls, 'thank you so much for all your support!
---
To stay in the loop, subscribe to FGF Stories & Info. Or, if you are interested in joining Farmgirlfit Cd'A when we open the doors this Fall, check out how you can become a Founding Member here.