Galina has always been active, and so her recent MS diagnosis came as quite a shock, but she's determined to not let it take away her active lifestyle. "While I have had my good and bad days since the diagnosis, one thing that has been made clear is how amazing my support system is."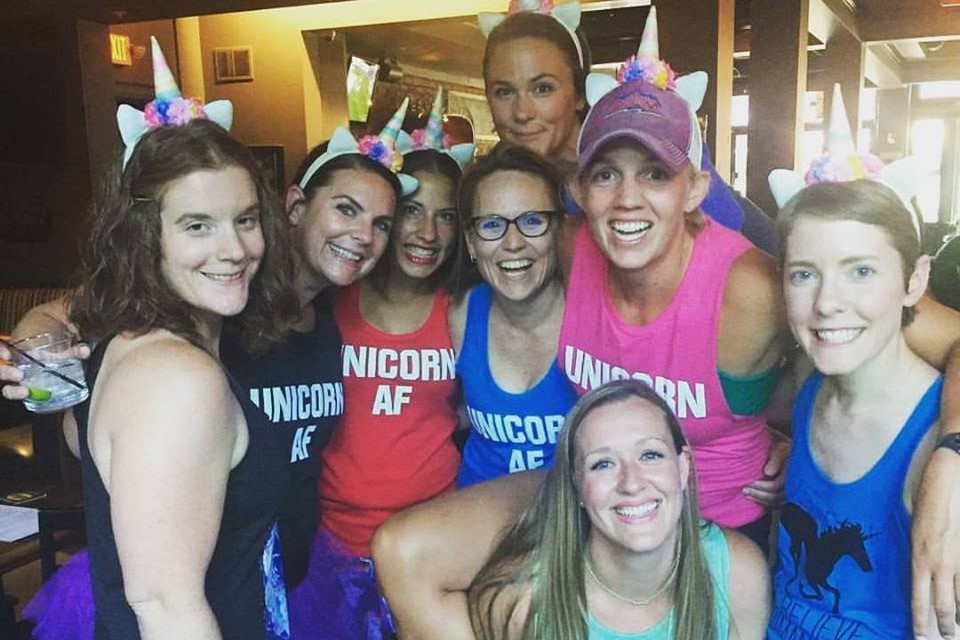 Member Of:
Occupation:
Spin Instructor at The Union, full-time mom hustle!
Tell us about your fitness journey. How did you come to Farmgirlfit?
I grew up playing sports in a very active family. Playing basketball was my main activity, I still remember being a little freshman at LC, walking in and seeing Heather Bowman dominating in the gym. Needless to say, I'm glad she wasn't so muscular at the time, and I was apparently cool enough to be her friend after some time. 😉 I moved down to Arizona to attend Prescott College which is where I met my husband coaching soccer. Kept pretty active in Arizona with hiking, running, and coaching youth sports, even after we had our first daughter, Abby.
We moved back up to Spokane after we found out we were expecting again. I knew I needed something to supplement my running after Collins (aka CC). I didn't want to go to some CrossFit gym, and after years of team sports, I just can't motivate myself. I Googled "all women's gym" and there popped up Farmgirlfit. I tried my free class when CC was about 5 months old; Abby made it clear that she wasn't going for it as she cried on the bench like a winner the entire time. I left, discouraged but came back 3 months later and we both felt better about it.
FGF has become so much more to me verse just being a gym. I have met some of my closest friends while working out and have tried different activities I couldn't have thought about trying 5 years ago. Without FGF, I probably would have never tried The Union, and now I work there. Had I not done the Spartan Races, I probably would haven't met Lauren when I did and pursued Windsong which has been life-changing for my sensory troubled Abby Lou. Those purple beams have done much more for me verse just giving me traps. It has a piece of my heart. 💜
What has been your greatest fitness/performance accomplishment so far?
Climbing the Grand Teton. Thanks to my time at the gym, the guide and I hold her fastest time up to the summit.
What are your next health and fitness goals?
My current goal is to just keep my body moving. As many know, a couple of months ago I was diagnosed with MS (Multiple Sclerosis). While this came as a shock, I wasn't about to give up my active lifestyle. After learning about so many people struggling in the area with it as well, I was confident in my ability to push forward with life. While I have had my good and bad days since the diagnosis, one thing that has been made clear is how amazing my support system is. There was a workout a couple weeks ago where I just felt tired, my muscles hurt, head was foggy and I was beyond frustrated with the fact two months prior I would have been moving faster and lifting more. Mid workout my partner, who knows all the signs, kept me moving and at one point I remember looking up at Sav who was coaching. I also thought to give her the "I quit" signal but before I could do so she gave me some weird Sav look, as she does, and I just got back down for a burpee. Taking back that mental control has been key. I may be moving a bit slower some days but at least I get there. For now, I will accept my power clean isn't where I want it, but maybe next month.
Favorite workout song?
Depends on the workout. Sometimes I need to be able to talk and other times I need really loud aggressive music.
Favorite exercise at FGF is? Least favorite?
BEARS. Deadlifts. Power cleans. Pretty much anything with a heavy bar.
Overhead squats and woman-makers I could do without.

My favorite thing about Farmgirlfit is:
Besides yelling at Tina about the fan, 😘 the people. Some days for me it's more just for a social hour of fun verses a workout.
How has the rest of your life been influenced/impacted by Farmgirlfit?
I'm not afraid to try new things or just put myself in a situation I could fail. I used to play things a bit more on the safe side. Now I will jump at an opportunity to just go do something new. You never know until you try, and often times you'll surprise even yourself!
When you're not pumping iron at FGF, what does the rest of your life look like?
If I'm not at Farmgirlfit and I'm not at The Union, I'll be cruising around with Collins trying to get her to listen. I love my garden in the warmer seasons and the mountains in the cold, and all about Priest Lake summer life. Priest Lake is my happy place!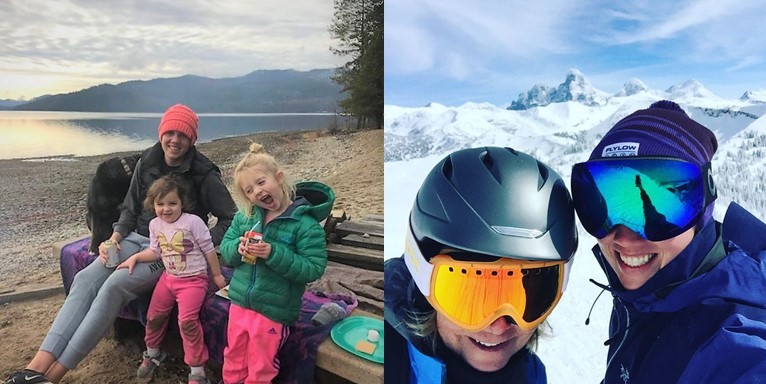 Who/what inspires you to be fit?
Always doing it for the kids. My mom always kept up with us and ran so much even the dog refused to go with her sometimes, I want to be like that.
My healthy indulgence:
Beer. That's healthy right?
Words that inspire me?
"It's not the strength of the body that counts, but the strength of the spirit." ~ J.R.R Tolkien
Any advice for new members or your fellow farmgirls?
Keep coming and don't be intimidated by the women who lift heavy, they didn't walk in on their first day doing that. And do NOT look at The Grind (the workout) the night before if you won't come. That was the best advice I got from Jenni when I first started. I look at it now because I'll show up either way, and I have to know if I need double under pants or not.