Member at:
Farmgirlfit Cd'A
Occupation:
Keeper of the Peace…Housewife
Tell us about your fitness journey, and how you came to Farmgirlfit:
Fitness has always been a part of my life but more so as an adult, whether I am in a club, on my own, or with friends and family. I was introduced to Farmgirlfit by a segment on our local news a few years ago and boy did it get my attention. Sadly at the time, they only had the one location in Spokane, so when I heard they were opening a facility in Cd'A, I had to check it out! And I'm sooo thankful that I did! Of all the gyms I've been involved with, this place is by FAR the greatest experience: positive, non-judgmental, and encouraging at every workout.
What has been your greatest fitness/performance accomplishment so far?
One wall headstand by myself, aaaand I haven't done one since…makes me nervous!
What are your next health and fitness goals?
Continue what I am doing and try to lose that pesky 10 pounds I have fought with forever. Maybe another headstand…
Favorite exercise at FGF is:
Deadlifts, plate pushes, anything with the kettlebells, wall balls….just about all of them really. Well, except…
Least favorite exercise at FGF is:
Jump rope (we know why), and Bears (too many steps and I'm all screwed up)
Favorite workout song?
Anything the coaches are playing. No matter the different styles, they all make you want to keep moving!
My favorite thing about Farmgirlfit is:
Oh goodness, so many things! First, the coaches. These ladies are beautiful inside and out, all bring something different to the gym, and all have awesome advice and sincere care for the members. Second, the members! I have met some of the nicest ladies and young ladies at Farmgirlfit Cd'A—all I would consider friends, all on a fitness journey of some degree, and all "get it"…we're ladies, we understand each other!
When you're not pumping iron at FGF, what does the rest of your life look like?
Since I don't sub at the school district anymore, I keep busy with my family, friends, and a lot of volunteer work. I love to be involved.
Words that inspire me?
Only faith concerning the past and hope concerning the future will allow one to genuinely love in the present.
Team I'm always rooting for:
Go Hawks! Is it football season yet?
I'm proud…
Of my daughter Ashley who finished her first Ironman last weekend (June 28, 2015) with a 4th place podium finish, and ALL she has accomplished in her 23 years.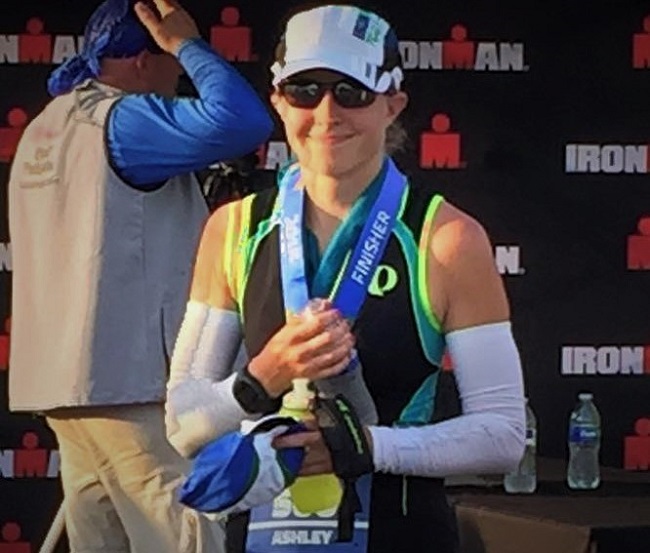 What advice do you have for new members?
Just do it…I promise you'll be hooked and want to come back for more. You will see ladies who are at a competitive level, and ladies who have never done anything fitness-related, but all are on a journey, and we're in it together…with a plethora of encouragement!