Dana has never considered herself an athlete. She joined FGF with her daughter since, well, they do just about everything together. Even after Kelsey moved away, Dana kept with it, turning a Saturday morning workout into workout + brunch with girlfriends. This last year, said girlfriends convinced her to take on the Cd'A Half Ironman in its inaugural year.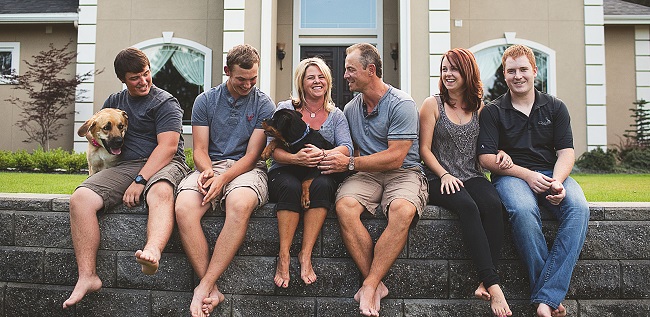 Member At:
Farmgirlfit Spokane
Occupation:
Paralegal
Tell us about your fitness journey. How did you come to Farmgirlfit?
I have never considered myself an "athlete" and didn't participate in any sports growing up. I was the girl that was picked last for every event in P.E. class. My daughter, Kelsey, was never interested in sports growing up either…and then she was introduced to Farmgirlfit! She became an instant FGF addict. Since Kelsey and I tend to do almost everything together, I joined immediately.
If you could tell your Farmgirlfit story in 100 words or fewer, how would it read?
FGF is much, much more than simply a place to work out. The atmosphere created by the coaches and members is so uplifting and positive. Everyone is supportive of each other, which makes even the most difficult Grinds really FUN!
What has been your greatest fitness/performance accomplishment so far?
While I have never really enjoyed running, I have done several half marathons and 5Ks, mainly because my girlfriends roped me into them. Last year, yet again, my friends persuaded me to do a few sprint triathlons, even though I could barely swim and didn't even own a bike. By the end of last year, they convinced me to register for the 2016 Cd'A Half-Ironman.
Training for IM70.3 was very time consuming. My husband and some friends were also training for it, so we tried to plan longer workouts together. Initially, I couldn't even swim one length of the pool without stopping. I hadn't ridden a bike since childhood, and crashed when attempting to "clip in". I could barely even put on a wetsuit, and the first attempts at open water swimming were filled with tears and anxiety attacks. In the 2 weeks before the race, I couldn't sleep and was literally sick with worry. Even on the morning of the race, I was still unsure whether I would actually start. To say I was terrified is an understatement. My husband held my hand on the beach that morning and told me to just do my best.
I made it through the swim (with only 3 minutes to spare). FGF gals were my loudest cheerleaders as I headed to the bike transition. Although I thought biking was my strongest event, I didn't make the time cutoff and was pulled from the course at mile 54.36…of 56! L While extremely disappointed in myself, I was excited to be able to hug my husband as he crossed his first 70.3 finish line. I conquered so many fears and challenges in the months leading up to the race and definitely on race day! While my pride still hurts a bit, I am trying to stay focused on all the positives…I never thought I would be able to actually will myself to start such a daunting race, let alone open water swim 1.2 miles and bike over 50 miles!
Words that inspire me?
Sent to me just after the IM70.3 — I'm told this hangs on the wall of the Cd'A location: Take pride in how far you have come and have faith in how far you can go.
What are your next health and fitness goals?
I'm training for a few more triathlons this year. Plus, my daughter, Kelsey, is moving home from Arizona in August, so I'll have my work-out partner back with me at FGF again soon —YAY!
Favorite exercise at FGF is? Least favorite?
I love the floor press/wiper combo. Least favorite is probably box jumps—my head can't convince my feet to leave the floor at the same time—and I've seen other girls' war wounds on their shins!
My favorite thing about Farmgirlfit is:
Definitely the coaches and members...such incredibly kind, caring, motivating women!!! I also love the way I feel after I finish a Grind….so accomplished and energized!
How have you integrated the Farmgirlfit mission outside of the gym?
FGF is all about community. Being small business owners ourselves, my husband and I try to support small businesses as much as possible. We also try to volunteer at local events…I will be catching athletes at the Ironman finish line in August!
When you're not pumping iron at FGF, what does the rest of your life look like?
My husband and I work together, managing a law firm filled with awesome people. Although we are "empty nesters", we try to spend as much time as possible with our kids—they are our favorite people! We love being active, especially outdoors…golfing, running, biking, swimming. Of course we also enjoy balancing out all that activity with dining out with family/friends, enjoying great food, company, and spirits. J
My favorite post workout meal:
Brunch with the girls after Saturday morning Grind.
Any advice for new members or your fellow farmgirls?
Stepping outside your comfort zone and trying something new can be really scary…but so rewarding. You will be challenged, but will feel so great about yourself and your continued accomplishments.