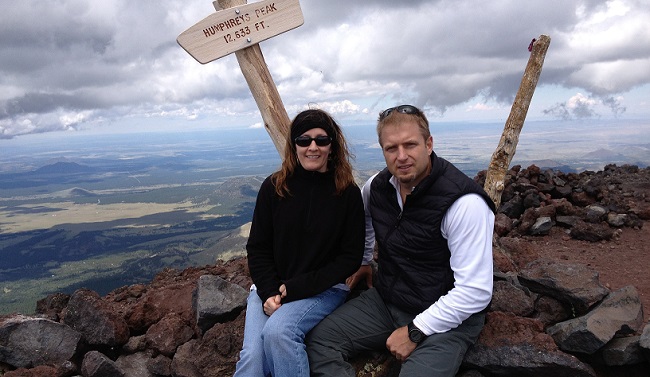 Name and age: Cindy Dehnel, 45
Member at: Farmgirlfit Spokane
Occupation: Architectural Drafter
Tell us about how you came to Farmgirlfit: My husband had been trying to get me to go to his Crossfit gym for years. I just did not see myself going there, but when I started gaining weight I knew I couldn't get fit on my own. He told me about this all girl gym that did exercises similar to Crossfit, and so I checked it out. I didn't love it at first but have grown to love it. It's actually fun!
What has been your greatest fitness/performance accomplishment so far?
I feel stronger. Fitter.
Who inspires you to be fit?
My husband, Troy
What are your next health and fitness goals?
Getting rid of those pesky love handles, eating right.
Favorite exercise at FGF is: I like the workouts that consist of five or six different exercises. For example: AMRAP of: 10 Turkish get ups (each side of course), 20 Kettle Bell swings, 20 Box jumps, 20 Oblique twists, 25 Air squats. Topped off with an 800 meter run. If I have to choose just one exercise, Bears are probably my favorite.
Least favorite exercise at FGF is: Do I get two? I have two: Pull-ups and Overhead squats.
When the Grind is kicking my butt, I'm thinking… "I can't breathe! I can't do this! Oh crap, what number was I on? Oh, and now it's done? That wasn't so bad, but really what number was I on…just make one up, or ummm, smiley face!"
My favorite thing about Farmgirlfit is: The people. The trainers and all the girls that go, they make it fun.
When you're not pumping iron at FGF, what does the rest of your life look like?
I'm mostly a home body, however, a couple of years ago my husband and I decided we were going to climb all the state high points. Well… he volunteered to climb the cold, snowy ones for me. Yay! So far I've climbed Wisconsin (1,951 el.), which is actually a lower elevation than my house. No problem! Arizona (12,633 el.). Last year we climbed Nevada (13,147 el.) and California (14,505 el.) in two days. I never could have done that if I hadn't started working out at FGF.
My happy place is: Sitting down for morning coffee & jumping into bed at night.
You might not know this about me: I went to a two-room country school growing up. There were 4-5 grades in a room and only 3-4 people in my class including my (twin) sister and I. Occasionally, we would ride our horses to school.
What advice do you have for new members?
When I first started it was so difficult for me. Every month I thought I'm going to quit this month. I can't do it. Then I would put it off another month. This happened every month until I started to think, this isn't so bad. I can do this. Don't quit!