"I feel stronger and more confident in my ability to do hard things…I am able to participate when a friend suggests a spur-of-the-moment run or bike ride. Also, I can now carry in all my groceries in one load." 🤗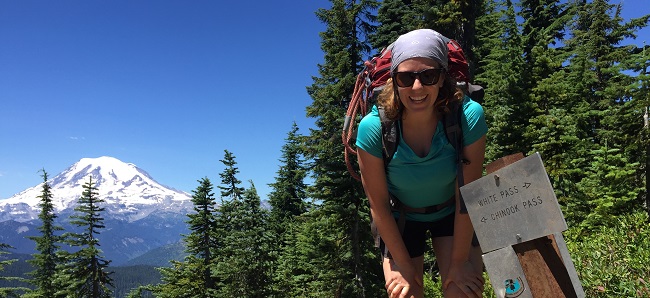 Member Of:
Farmgirlfit Spokane
Occupation:
Nurse Midwife/Women's Health Nurse Practitioner
Tell us about your fitness journey. How did you come to Farmgirlfit?
You know those people who are just inherently athletic? They make physical activity look way easier than it feels. My family is full of 'em—my mom in particular, who is an ultra runner and long-distance triathlete. This "natural athlete" gene somehow skipped me (thanks mom), and I floundered in the fitness world for a long time. I eventually started running but never found my niche. Then Emily Farness, a friend from nursing school, suggested I try Farmgirlfit. I balked at first—no way I could keep up with a workout of that caliber. I eventually relented and gave it a try, and though at first I wasn't sure I was actually going to live through that first workout, I never looked back. Here I am, 2 years later and so grateful I found the courage to come on that first day.
If you could tell your Farmgirlfit story in 100 words or fewer, how would it read?
Afraid of failing, convinced to try, purple beams, butt kicked/thought I was going to die, oh-my-god-I've-never-been-so-sore-in-my-life, went back, butt re-kicked, decided I loved it, lather rinse repeat.
Farmgirlfit has completely changed my perspective—before joining, working out felt like a punishment. I was frustrated with what my body couldn't do, and thus couldn't enjoy the process. Now, I am able to appreciate all of the things my body can do and work to improve on the things that are challenging. I never loved working out (and never stuck with it) until I joined Farmgirlfit. Now I leave every workout thankful, encouraged, and a little bit stronger than I was the day before.
Who/what inspires you to be fit?
My mom! She's a serious bad-ass and always making me do hard things. She's currently training for a 40-mile trail race around Mt. St. Helens.
What has been your greatest fitness/performance accomplishment so far?
A handful of half marathons and the ability to leave Farmgirlfit without feeling like I'm going to collapse in the parking lot.
What are your next health and fitness goals?
I just started training for the Portland Marathon in October. I have no time goals other than to finish the race—this will be my first full marathon! I am feeling stronger and my runs are getting easier, and I'm feeling ready to tackle this distance. Please feel free to remind me of this when I'm complaining about an 800m run in The Grind.
Favorite exercise at FGF is? Least favorite?
Favorite: Double Unders, Deadlifts, Power Cleans, Plate Pushes (feel the burn!)
Least favorite: Wall Balls. Most definitely Wall Balls.
My favorite thing about Farmgirlfit is:
Being surrounded by seriously strong ladies. I think women are beautiful and resilient and tough-as-nails. Seeing all of the other members working their way through a Grind makes me so thankful to be a part of this bad-ass lady gang. It inspires me to work hard and hustle both inside and outside of the gym!
How has the rest of your life been influenced/impacted by Farmgirlfit?
I feel stronger and more confident in my ability to do hard things. I sweat every day and try to fuel myself with nutritious food. I am able to participate when a friend suggests a spur-of-the-moment run or bike ride. Also, I can now carry in all my groceries in one load, so…things are looking pretty bright! 😎
Do you have a funny Farmgirlfit story, or favorite memory?
After a recent Grind, I got to snuggle a sweet baby that I delivered months prior. I also got to work out with this baby's tough mama—it was so special!
…
I was working as a school nurse when I came to FGF for the first time. I was so sore the next day, I seriously considered calling in sick—if there was an emergency, there was no way I was in any condition to run and attend to it. We've all experienced this in some form or another, haven't we?
When you're not pumping iron at FGF, what does the rest of your life look like?
I just completed a doctorate program and started my first job as a Nurse-Midwife. I'm loving it so far! I get to work with women in all stages of life, including pregnancy—and I get to deliver sweet babies at Sacred Heart. My husband and I spend much of our free time outside running, backpacking, and rock climbing with our pup Harvey. I spend the rest of my free time trying to convince my cat to tolerate me.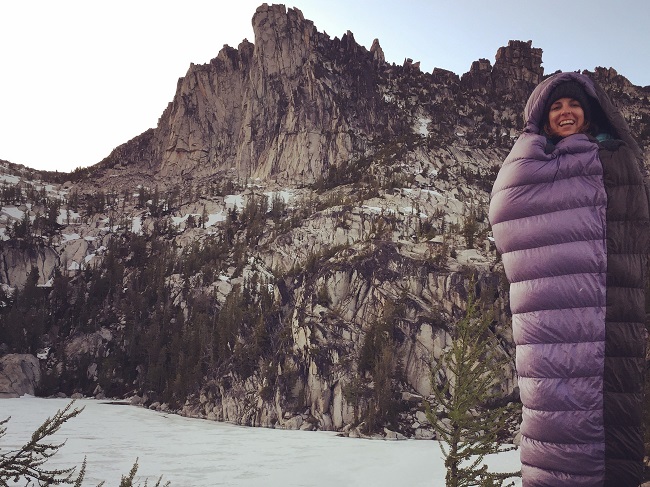 My happy place is:
Parked in my sleeping bag at an alpine lake with a hot cup of coffee and some fresh mountain huckleberries.
As a kid I dreamt I would grow up to be:
A garbage man. For real—I was so jealous that they got to ride on the back of the truck.
You might not know this about me:
I have a weird ability to memorize numbers. I can recite 150 digits of pi which is a completely useless skill and a completely boring party trick.
My healthy indulgence:
Red wine is heart healthy, right?
Words that inspire me?
"Nevertheless, she persisted!"
Any advice for new members or your fellow farmgirls?
Show up and work hard. Seriously, that's it—trust that it will get easier both mentally and physically. Walking in the door is the hardest part (unless we're doing Wall Balls, then those are the hardest part). Everyone is encouraging and nonjudgmental and will welcome you with open arms!