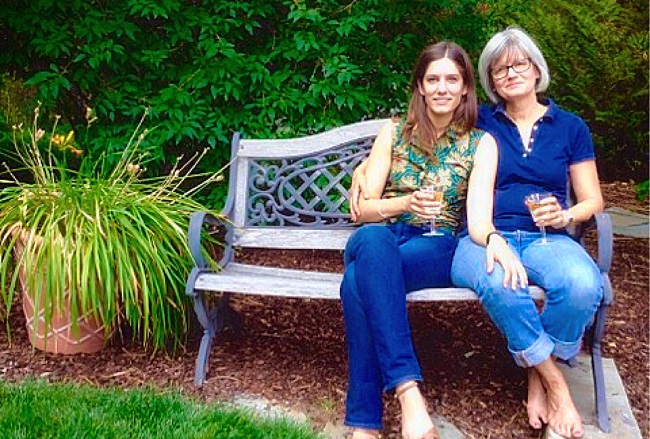 Member At:
Farmgirlfit Cd'A
Occupation:
I was the stay-at-home Mom, "Packer-in-Chief," and moving expert, but now my husband has retired and we are staying put!
Tell us about your fitness journey. How did you come to Farmgirlfit?
I was never athletic - I hated PE and sports, but I always wanted to be fit, so over the years I've done different things: aerobics, little pink weights, Pilates, yoga, etc. I tried weight training at another gym, but on my own and without proper supervision I wasn't having much fun! My daughter had started CrossFit in Boston and thought I might like it, but the idea of going to a gym where I would be working out with men my son's age or younger didn't sound fun either. So, my daughter started researching gyms online and found Farmgirlfit. She encouraged me to give it a try and suggested we could compare workouts. We talk or message most days and always about that!
If you could tell your Farmgirlfit story in 100 words or fewer, how would it read?
When I was younger, working out was about trying to have the bikini body, but as I get older it is about strength and flexibility. I am very happy that I can come to Farmgirlfit and do what I do at 61. Of course, I still feel 35, but unless you use it you will lose it and I don't want to get older and find myself limited in any way. I want to be active and healthy for as long as I can. I know it's possible if I take care of myself, exercise, eat right, maintain a positive attitude and laugh with friends. That is Farmgirlfit.
What has been your greatest fitness/performance accomplishment so far?
Every workout is an accomplishment for me. I am not competing against anyone but myself so I just try to do a little bit better each time. I was able to do a sitting box jump on the 12 inch box. That may not sound like much, but when you wear wonky progressive lens glasses, jumping up on or over things is dangerous!
What are your next health and fitness goals?
To keep improving my form and increasing that weight, and maybe to convince myself that I can be a runner?????
Who/what inspires you to be fit?
I have two little grandsons. I don't see them often, but when I do I want to keep up with them. Basically, I want to be the best I can be at any age.
Favorite exercise at FGF is? Least favorite?
I love them all! If I can do it, I am proud; if I can't I try to be amused!
Do you have a funny Farmgirlfit story?
Well, I did have a pair of those stupid work out pants that you can see through if you bend over. Since I do a lot of yoga I bend over and stretch a lot. Thank goodness for a kind word from the farmgirl behind me or I might have embarrassed myself somewhere!
When the Grind is kicking my butt, I'm thinking…
How many reps again????
My favorite thing about Farmgirlfit is:
The other women of course! Those bright, beautiful, strong encouraging women!!
How has the rest of your life been impacted by Farmgirlfit?
I try to stay active. I don't like to sit around during the day (unless I have a really good book). By working out at Farmgirlfit I have more energy, more flexibility and more strength for doing anything I want to. I had to take a few weeks off after carpal tunnel release surgery. I have just started back and am still working out how much weight I can handle with my hand, but it feels so good to be back doing it. I felt like a slug all the time I was off. I don't like that feeling.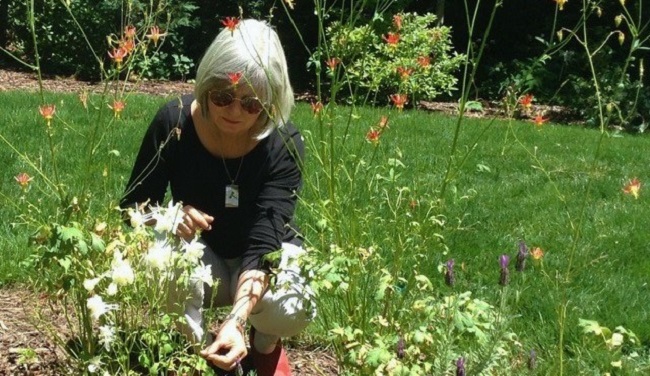 When you're not pumping iron at FGF, what does your life look like?
I love to be outdoors, in the garden, hiking Tubbs Hill or Mineral Ridge or just walking the dog. I also like to experiment with healthy, plant based recipes. Since my husband is retired, we are free to do whatever we want.
You might not know this about me:
I have never lived anywhere more than 3 years and have moved all my life - 15 countries, 8 states and countless houses.
My happy place is:
Meditating in my beautiful new steam shower after a Farmgirlfit workout!
As a kid I dreamt I would grow up to be:
HA HA! I wanted to be a PanAm stewardess, but by the time I started college that was no longer cool. However, I have still managed to travel the world.
Words that inspire me?
Every mistake is a learning experience. (Just learn not to make the same mistake twice).
Any advice for new members or your fellow farmgirls?
It only gets better. The coaches are there to help, you will never look stupid and you should be proud of yourself for being there. Laugh! And squat any chance you get.