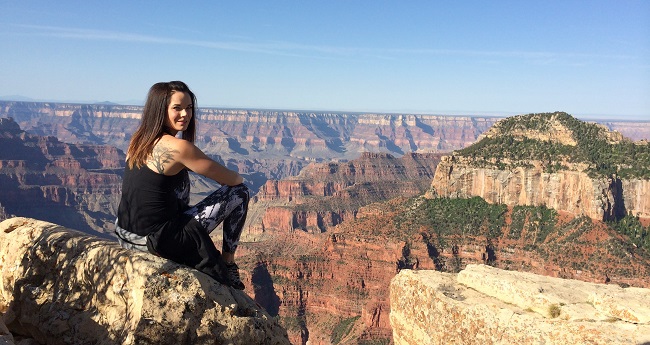 Name and age: Billie Jo Kortus, 33
Member at: Farmgirlfit Coeur d'Alene
Occupation: I have owned my coffee stand in Hayden for 9 years. I'm very passionate about coffee!
Tell us about how you came to join Farmgirlfit?
My journey to Farmgirlfit started with being a person who would get really motivated and work out really hard and get bored with everything I did — until I was introduced to CrossFit about a year and a half ago. I've been five days a week ever since. I was hooked. Due to leasing issues my beloved gym had to close and I was trying a different one that I just didn't feel was the right home for me. That's when I found FGF!
What has been your greatest fitness (performance) accomplishment so far?
I would have to say my personal greatest fitness accomplishment thus far is doing my first CrossFit competition and not doing horrible at it. I'm not the "competition type" and it was very scary for me. When it was over I had a great sense of accomplishment and an idea of where I was as an athlete.
What are your next health and fitness goals?
My next health and fitness goals are to really work on my form. That hasn't always been my main focus and in order to become a better athlete that is what I want to focus on for now.
Favorite exercise at FGF is: probably any sort of bar work that we do. Like I said I'm really trying to work on my form.
My least favorite: Plate Pushes! They are new to me and absolutely miserable but in the back of my mind I tell myself how good they are for my legs while I'm doing them otherwise — I don't think I would get through it!
When The Grind is kicking my butt…: I'm thinking, "How many reps do I have left? OK, that's not too many — you can finish!"
My favorite part of Farmgirlfit: is everyone is there for the same reason. To get fit! And everyone is so nice. I couldn't be happier with the coaches. Every one of those ladies brings something to the table and I feel like I'm constantly learning.
When you're not pumping iron at FGF, what does the rest of your life look like?
My life is a bit crazy, but whose isn't? I have a five-year-old little girl that keeps me very busy. I work at my coffee stand and run the many errands needed to run it. My husband works in Afghanistan so, like clockwork, every four months I slack at the gym and my diet for the month that he's home. But I'm working on that! In any downtime I have I just really enjoy spending time with my close friends.
I'm proud: That I have made being fit an important part of my life and that it's already reflecting on my daughter. She loves eating healthy and that could not make me more proud!
What advice do you have for new members?
Don't be intimidated. I LOVE the way FGF breaks down the levels. It makes it so much easier for someone new to this type of working out to get started and feel comfortable. And just go at your own pace. Don't worry about what the person next to you is doing just get yourself through it as fast as you can.