"I was and am now empowered to tackle adventures, challenges, and obstacles with a quiet and confident strength and growth mindset. FGF has been one of my greatest teachers of grit, which has impacted so many other areas of my life."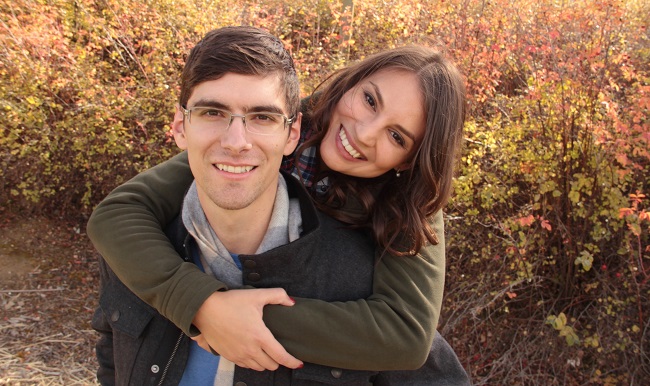 Member Of:
Farmgirlfit Spokane
Occupation:
7th/8th Grade English Teacher, Spokane International Academy
Tell us about your fitness journey. How did you come to Farmgirlfit?
In January 2014, I walked into FGF as a weakling who had never lifted anything heavier than my Literature Anthologies in University; I had never taken a fitness class before or played a sport in high school, so when they say FGF is for all levels, it's true! I barely finished a Level 1 Grind without vomiting. But finishing what was on that whiteboard felt so good! It was the high I felt afterwards that kept me coming back. One year prior to joining, I went through a traumatic divorce, and I was definitely seeking something that could reinforce the inner strength that grew out of that obstacle. Feeling strong on the outside matched how I was starting to feel on the inside. It was also my first year teaching, and it was a great stress reliever!
I was a member until July of 2015 when I moved to Colombia to teach at an international school. From afar, I adapted the Grinds posted online in the local gym by myself. Needless to say, I got a lot of weird looks as I ran from the pull-up bar back to the squat rack like a crazy person!
While in South America, I joined a running team, hiked hundreds of miles everywhere from the jungles to the mountains, and biked in a rainstorm around a volcano...I even went to a yoga retreat and took TRX classes in Spanish! I've always felt grateful for my time at FGF, because I don't think I would have had the courage and confidence to do those things if it hadn't been for their support, encouragement, and strong foundation.
I just moved back to Spokane a few months ago, and I am so happy to be back under the purple beams! 💜
If you could tell your Farmgirlfit story in 100 words or fewer, how would it read?
I stumbled upon Farmgirlfit by the sheer luck of a friend (Emily Thomas) inviting me and taking her up on it! Who knew it would completely change my life? I was and am now empowered to tackle adventures, challenges, and obstacles with a quiet and confident strength and growth mindset. FGF has been one of my greatest teachers of grit, which has impacted so many other areas of my life from traveling and language learning to teaching and writing!
Who/what inspires you to be fit?
My fiancé, Aaron! When I first met him, I was in awe of all of his adventures traveling, backpacking, and motorcycling; when we were in South America, he took a solo trip on his motorcycle down the PanAmerican highway. He has a fearlessness about him, a deep confidence, and a zest for life I deeply admire; I really enjoy trying to catch up with him...and occasionally beating him!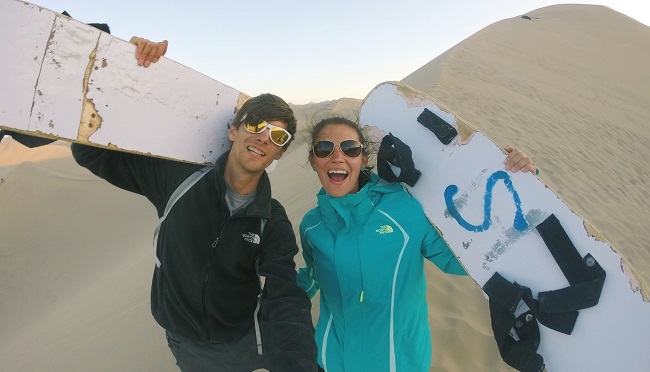 What has been your greatest fitness/performance accomplishment so far?
There have been a lot of milestones over the past few years that have all meant a lot to me - my first unassisted pull-up, climbing to the top of a rope, a Spartan race, deadlifting more than my own weight, seeing my mile time get faster and faster, and running a half-marathon, but the thing I'm most proud of was a 15k trail race in the mountains of Colombia at 13,000 feet altitude (and don't even get me started on the elevation gain); I'm most proud of this not only because it was easily the hardest thing I've ever done (I will never take breathing for granted again...and for a comparison, imagine a 4-hour long Grind!) but also because I completed the majority of the course alone. There was no voice pushing me forward except my own, and that felt powerful!
What are your next health and fitness goals?
I signed up to do the 25k Trail Run at Riverside State Park in September, and I trained for it all summer. Unfortunately the smoky season resulted in the race being cancelled, so I'm going back for that goal next summer with a vengeance. I'd like to get more involved in trail running and maybe do an Ultra...one day!
Favorite workout songs?
"Miracle Mile" by Cold War Kids and "My Body" by Young the Giant.
Favorite exercise at FGF is? Least favorite?
My favorite exercises are Deadlifts and anything with a Kettlebell. My least favorite are split jerks...I always feel nervous about them no matter how many times I do them...like I'm going to trip over my own feet.
When the Grind is kicking my butt, I'm thinking…
"Only 5 more reps." and/or "There is a pretty good chance I won't be able to move tomorrow." and/or "Why, oh why God did I choose this weight?" and/or "I must be a masochist." and/or "Wait, was I supposed to be counting?"
My thoughts can really get away from me (ha, ha), but I've never not finished a Grind, so I'm usually thinking that too!
My favorite thing about Farmgirlfit is:
How the focus is on goals about what your body can do and not what it looks like. And that it's the motto, "Fitness is a lifestyle not a destination" personified. ✌
Do you have a funny Farmgirlfit story, or favorite memory?
Once a female student in my 7th grade class told another student that girls couldn't do "real" push-ups. I asked her to stay after class for a minute, and then kindly proved her wrong - 25 times! I never would have been able to do that if I hadn't had a year of FGF under my belt!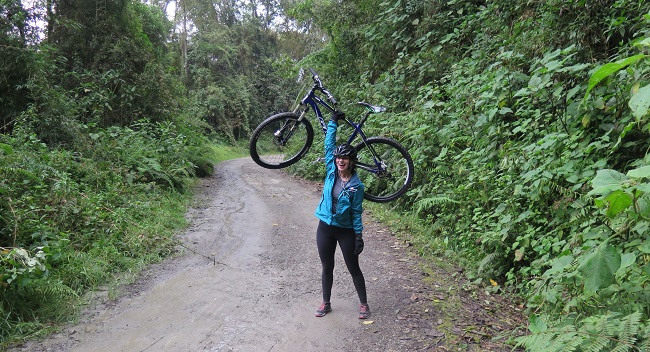 How has the rest of your life been influenced/impacted by Farmgirlfit?
I am more fearless and more confident; I backpack, hike, trail run, mountain bike, snowboard and lift with a lot less self-doubt. I am not intimidated by challenges but inspired by them, and it's made all the difference! I also relish in being able to keep up with my fiancé, Aaron! When we first met, I was always lagging behind on our backpacking excursions, and now I can keep up and carry all my own gear too.
When you're not pumping iron at FGF, what does the rest of your life look like?
I'm a passionate English teacher; I love talking about literacy and teaching and designing engaging lessons for my students that inspire them to make a difference. Last month, I took my students to World Relief for their eye-opening Refugee Simulation. I'm a voracious reader and writer as well; I chronicle my adventures on my blog Optimism Rampage and write for Colombia Eco Travel. I love outdoor adventures and traveling to new places; I've been all over North America, South America, Europe, and Africa in the last 5 years. I'm also a huge foodie - I love trying new foods, cooking, and baking. I love cooking TV shows, and I always try to visit amazing restaurants when I'm traveling!
My happy place is:
Hands down, the mountains. My favorite mountain destinations have been Patagonia, the Cordillera Blanca in Peru, and Banff! My fiancé and I are having a small wedding ceremony in Banff in June, and he proposed in the mountains of Mexico at a Monarch Butterfly Reserve.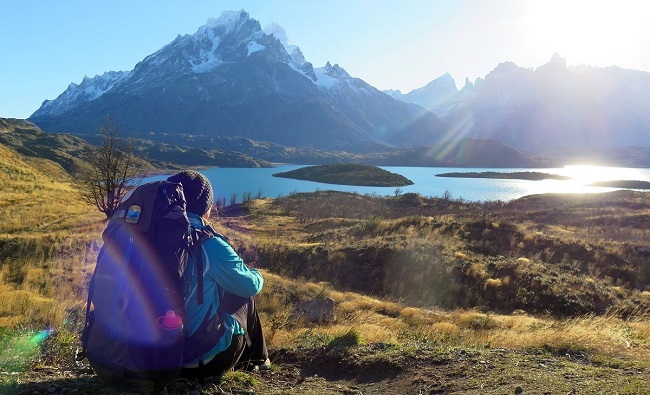 Words that inspire me?
"In the midst of winter, I found there was, within me, an invincible summer. And that makes me happy. For it says that no matter how hard the world pushes against me, within me, there's something stronger – something better, pushing right back." - Albert Camus
Guilty pleasure:
Pumpkin anything! Pumpkin is not at all popular in Colombia, so when I came back to the States for Christmas, I filled my suitcase with cans of pumpkin to bring back with me.
Team I'm always rooting for:
The Spokane International Middle School Cross Country team I coached this year! Go Phoenixes!
My hero is:
My mom. She's one of the strongest people I know (inside and out); she has always believed in me through all the crazy phases of my life, and she's taught me to value fitness and health!
My favorite post workout meal:
I love going to Method after the Saturday Grind and getting the Source smoothie with strawberries & almond butter!
Any advice for new members or your fellow farmgirls?
One of my favorite lines of poetry by Anis Mojgani: "I know sometimes, that all it takes to be invincible, is to know you are such."
Anything else to share?
Let's be friends on Instagram (@optimismrampage) and Strava (Ashley Peak)...I love following my fellow Farmgirls' adventures!