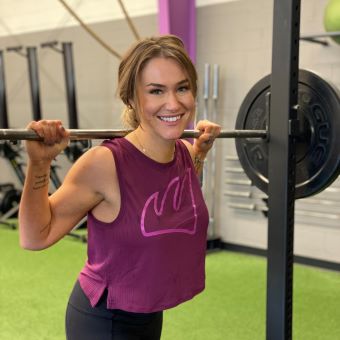 Welcome Raechel (aka Rae) to our coaching team! She has an infectious laugh and energy that motivates. Raechel has a gift for creating genuine connections and bringing out the best in others. She has a passion for people and it shows!
Let's get to know Rae through a little Q&A!
FGF: Can you share a little about your health and fitness journey? And why Farmgirlfit?
Rae: I've always enjoyed fitness and being physically active, both on a personal level, and for the way I'm able to connect with others through it. Overcoming a decades-long eating disorder and becoming a mother helped me realize the true beauty and resiliency of the human body, and especially the female body. Making health and fitness a priority is how I honor my body and all it's done for me. I am stoked to coach at FGF because the gym's vision and values truly align with my own. It's an awesome opportunity to not only be part of such a bad-ass community, but to also encourage and empower women to realize their strength, worth, and capabilities.
FGF: What are your applicable Coaching "credentials"?
Rae: I have a Bachelor's degree in Public Relations, and a Master of Business Administration degree. I am a NASM (National Academy of Sports Medicine) certified personal trainer and nutrition coach, a YogaFit certified Yoga teacher, and a prior US Navy command fitness leader. I am currently studying to be a certified wellness coach.
FGF: How would you describe your coaching style?
Rae: I have a passion for connecting with people and helping them to set and achieve their individual fitness goals. I bring an upbeat, high-energy, positive, and friendly attitude into each class I instruct. I am committed to creating an environment where people feel supported in their fitness journey, and to making it fun along the way.
FGF: Outside of coaching, who is Raechel?
I like to think of myself as a life-long student – I love to learn and explore new things. Because of this constant curiosity, I have done an array of things: worked in project management, corporate consulting, marketing, substitute teaching, retail, and military service. I am, at any time, reading at least 3 books and am always working on continuing education. I love to write, adore photography, am addicted to running and all things self-help/improvement. Being indoors for too long makes me restless and I feel most centered when outside, surrounded by nature.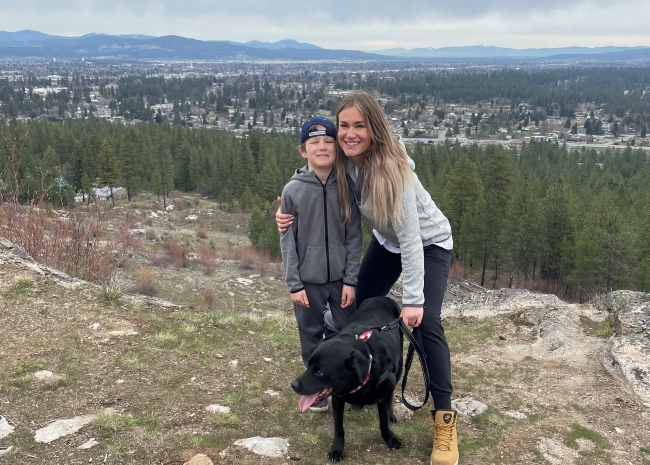 FGF: Where is your happy place?
Rae: Anywhere near the water, doesn't matter if it's the ocean, a lake, or a stream.
FGF: What are you proud of?
Rae: My 8 years of military service.
FGF: Fill it in: When I was a kid, I dreamt I'd grow up to be ______
Rae: An elementary school teacher.
FGF: Your next fitness goal?
Rae: To run my first ever marathon this May.
FGF: Your favorite book?
Rae: Untamed by Glennon Doyle. She inspires me to be a GD cheetah! 🐆
Welcome Raechel! We're so excited to have you joining the Farmgirlfit Fam, and our Coaching team!