With Thanksgiving past and Christmas right around the corner, it seems this year more than ever, there is a particular "hustle and bustle" air about. Perhaps because last year we didn't get to travel and gather and celebrate the way we ordinarily would—a feeling of needing to make up for lost time—or perhaps a newfound enthusiasm for taking advantage of the time we do have, knowing how fleeting it can be. Perhaps a combination of both or something else entirely. Regardless, we want to remind you, encourage you, to take time to slow down this holiday season, to not lose sight of YOU, to enjoy your time, and the season for what is truly important, and in a way that feels aligned to your values. No one can pour from an empty cup – make sure you take care of you too!
So, we give you our Holiday Season Focus, a Farmgirlfit "BINGO" board of sorts. There are few things we love more than a well-constructed to-do list, and few things we despise as much as the "New Year, New You" industry. This is our top 12 list to help you stay on track with your consistent wellness routine, and/or to get a jump start on aspects that could stand improvement. The goal is to get a "blackout," to complete all 12 tasks (in any order). No set deadline for completion, but most are directed towards December. When you complete a square, show a coach to get your holiday stamp of approval. This is your list, we're checking it twice!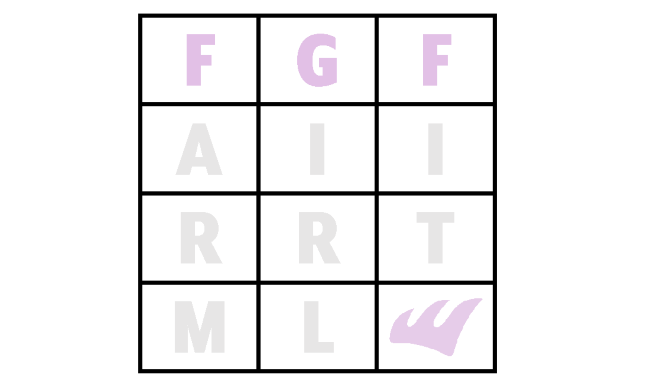 F = FRESH AIR
Take a breather and enjoy the Winter Wonderland! Head outside for at least 30-minutes of intentional activity at least once per week during December. This could be a walk to check out some holiday lights, building a snowman, sledding, skiing, snowshoeing, or any other outdoor activity. Post a pic and tag us @farmgirlfit #FGFSoFresh
A = AGUA
Drink up this holiday season…water that is and feel the benefits of being fully hydrated: improved sleep, reduced stress, glowing skin, faster recovery, and so much more. You'll be holly jollier than ol' Kris Kringle. To complete this square, drink at least 80 ounces of water for 5 consecutive days.
R = RESTORE
Save your sanity during the holiday rush, attend one Farmgirlfit yoga class in December. Yoga is offered every Thursday at 9:30am. Can't make it in-person, email our FGF@Home program for access to a recorded session – we'll give you 4 to choose from: fgfhome@farmgirlfit.com.
M = MOBILITY
This is a different kind of mobbing to keep you functioning better than the residents of the Island of Misfit Toys. Attend one Farmgirlfit Kinstretch class in December. Kinstretch is offered three times a week – check the schedule and sign-up on Mindbody.
G = [THE] GRIND
No, not Grinch…we're trying to keep you from turning into one. Keep those endorphins pumping by attending at least 10 The Grind classes in December. Don't let your consistent routine get derailed! Are you a 2x/week member? Our Holiday Coed Grind on Saturday 12/18 is free to attend, or attend another additional class for the reduced member-only drop-in of $10.
I = INTENTION
Now we do want to focus on the New Year. Spend some time thinking and reflecting on what you want in the year ahead—maybe even a little brainstorm session, writing down any words or thoughts that pop in your head around the questions: Who am I? Who do I want to be? Where do I want to be? With whom? What is important to me? Who is important to me? Leave your brainstorm for a couple days, then revisit, read what you wrote, how does it land? NOW, use it to set an intention for the upcoming year. It might be something small, or a goal that will take a little more effort, but that effort should NOT be overwhelming or disheartening. It might make you a little nervous, but more so excited…and you should be able to actually visualize yourself doing it. You'll write it down (we'll provide the whiteboard), take a pic in front of our fringe wall, and post it (if you feel comfortable), tagging us @farmgirlfit #NewYearStartsNOW
R = RELEASE THE SCREEN
Yes, even in this joyous season of Hallmark specials and holiday movies galore. We've all become far too attached to those electronic do-dads, big and small…and if you think you haven't, well, prove it! One full day without any screentime (phone, computer, TV, etc). You'll have to do a little advance planning – put your friends and family on notice, grab your dinner recipe the day before, and directions to that new destination, have a book, games, or other activity ready. No photo evidence on this one 😉 but we do want to hear how you occupied your time instead.
L = LOCAL
Sure fire way to make the Nice List (and ensure you have gifts in time) is to support local businesses! As you're holiday shopping or just out-and-about, shop or spend at a local establishment. Post a pic, tag the local biz and us @farmgirlfit #FGFShopsLocal
F = FULL NIGHTS' SLEEP*
Otherwise Santa won't come, you know the rules! In all seriousness, this one might be the most difficult for many of you…which also means that if you're able to do it, it might also be the most beneficial! And we know you already saw that asterisk, so keep reading. For 3 consecutive days, use a nighttime routine that allows you to get at least 7 hours of sleep per night (or day if you're a nightshift worker). It does NOT have to be 7 hours straight through (but total per night). Even so, we realize that for some, 7 hours isn't possible—new moms we're looking at you—still try implementing a habit that you know will lead to better sleep for three days. It could be not staying up quite so late after the kids go to bed, or shutting off the screens an hour before bed.
I = INCLUDE
Spread some holiday cheer by singing loud for all to hear: Farmgirlfit is the best place on Earth! Bring a non-member friend (or family member) for a class at FGF. First one is always free; just have them sign-up on Mindbody. It can be any class. Remember to tell the Coach to get your square stamped!
T = TREE OF GIVING
We have adopted 2 families through the YWCA and created a Farmgirlfit Tree of Giving. Items requested by the families have been placed on individual gift tags on the Christmas tree at FGF. Contribute at least $5 by purchasing items on one of the tags, or giving a cash donation that we can use for any non-purchased requests. All contributions are due at FGF by end of day next Wednesday 12/8.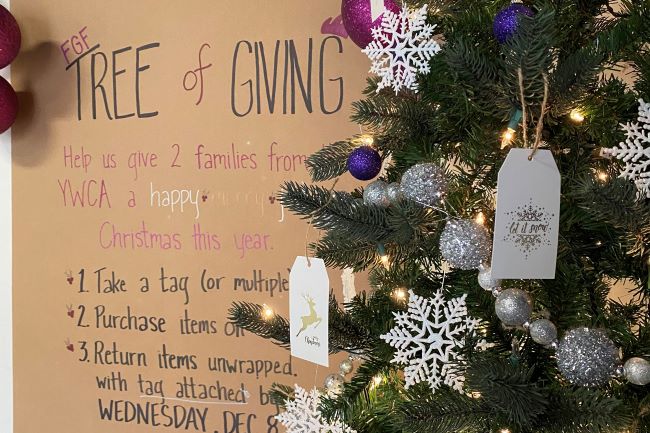 = WILD / YOUR CHOICE
Ultimately, YOU are always in charge of YOU – of your happiness, your wellness, your needs, of what serves you and what doesn't. What do you need to add or remove to enhance your overall wellness and enjoyment of the season?
We will have some of the "BINGO" boards for you at the gym, or print your own
HERE
. Remember to get your board stamped by a Coach when you complete a task, and thanks for playing along! 🎄📜