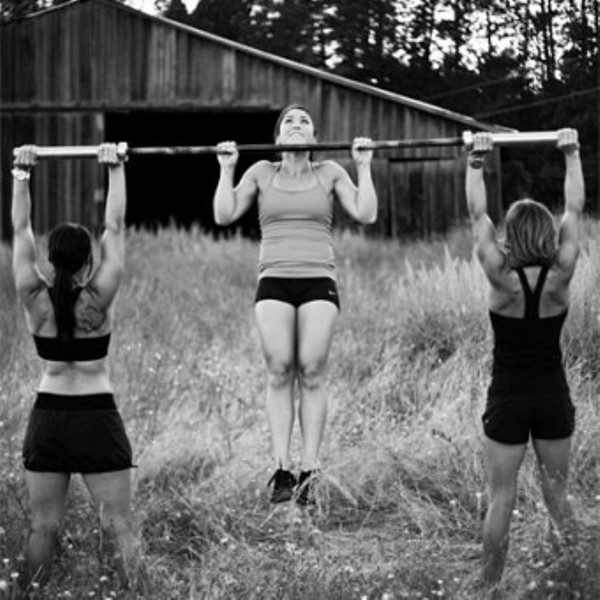 In October we kick off our annual Charity Fundraiser, "Pennies for Pull-ups". Here's all the information you need to know to get involved and begin your pull-up challenge at Farmgirlfit! This year, the money we raise will be given to Camp Goodtimes East, which provides outdoor experiences to children diagnosed with cancer so that they can temporarily forget about their illness, treatments, and hospital visits. To make a donation now, please select the PayPal "Donate" button, just below. When you donate, please be sure to specify the name of the Farmgirlfit member you are sponsoring.

How it Works- Beginning in October, members will complete the number of pull-ups that correspond with the date number. For instance, on October 1st everyone will do one pull-up, 2nd = 2 pull-ups, 3rd = 3 pull-ups, and so on. Participants will perform pull-ups every day until the 31st of October, giving them a total of 496 pull-ups throughout the entire month. There will be an option to complete 4 more pull-ups to be in the "500 club" and receive a nice, round $5.00 donation from your sponsors. October 31st is the last day to log pull-ups for this fundraiser!
What if I miss a day?
If you miss a day at the gym (or the weekend) your pull-ups are "banked," and you must catch up as soon as possible. You'll want to keep up or you could get overwhelmed! For example, if you were to miss October 14th and 15th and returned to the gym on the 16th, you would have to complete 45 pull-ups to catch up (14+15+16 = 45)
Getting the Work Done- What constitutes a Pull-up?

You will complete your pull-ups during your personal warm-up time at the beginning of class OR after the Grind is completed, during your cool down time (or both!) Any pull-ups that are completed in the daily Grind ARE counted towards your required pull-ups so make sure to look at the board before you jump right up there and start chipping away! It takes a little responsibility on your part to make sure you're keeping up with the correct number of pull-ups required.
Another option is to stop by the gym and log your pull-ups in the log book, even if you are NOT attending class that day. To do so, just come into FGF (without logging in), do the work, sign off in the log book, and be on your way! We only ask that you do NOT interrupt class, but instead stop by during the first OR last 10 minutes of a class.
Pull-up standards are the same as they are for regular Grind levels. Rings or a resistance band can be used if you normally use them to complete the Grinds. Remember: arms straight at the bottom & chin above the bar at the top (not forehead). If you're doing Ring Rows you should make sure that your heels are in line with the pole and the rings reach your chest for each rep. For pull-ups, challenge yourself to get to a smaller band as the month progresses (you may even get BETTER at pull-ups this month!) or do as many as you can without a band each day! Use this fundraiser to improve your pull-ups!
FARMGIRLFIT WILL DONATE 1¢ FOR EVERY PULL-UP COMPLETED BY CURRENT MEMBERS

How many pennies can you earn per pull-up? Ask family and friends to sponsor you for one penny for every pull-up you complete; limit of 500 pull-ups! Tell them you're willing to do the work if they sponsor you for at least 1 penny per pull-up! If all the pull-ups are completed and logged, they will owe you $4.96 (for the 496 pull-ups you complete in October). *There will be an option to complete 4 additional pull-ups to be part of the "500 Club" to round out a $5 donation
Sponsors are welcome to donate more pennies for each pull-up or even a set donation amount! For example, your Aunt Ethel might say "I'll give you $25 if you complete all 500 pull-ups in October" in which case, you would reply "Awesome Aunt Ethel! I will complete all my pull-ups and earn your $25!"
Get Creative!

Use social media (Facebook, Instagram, Twitter), email, posters, our pamphlets at the gym, or post to tell the world what you're up to and how they can support your pull-up and fundraiser goals! Feel free to share our link on Facebook or link this blog. Do what you can to get as many sponsors as you can- or just take the one penny you earn from FGF along the way.
We'd love for each of our members to keep their fellow farmgirls on task. Challenge other FGF members and become sponsors for one another to make it a team effort!
Our Local Charity- Camp Goodtimes East

Located at Ross Point in Post Falls, Idaho Camp Goodtimes has encouraged kids who have faced extraordinary circumstances to take the time to just be kids. The camp gives children diagnosed with cancer on or off therapy, the opportunity to temporarily forget about their illness, their treatments and hospital visits. Children are encouraged to enjoy a wonderful outdoor experience while making friends and memories that last a lifetime.
*ALL donations collected for Pennies for Pull-ups will go directly to Camp Goodtimes
Our Goal

Last year, "Pennies for Pull-ups" raised over $3,500 with the participation of about 40 of our members. This year our goal is to get EVERY Farmgirlfit member to participate and actively work to get outside sponsors. Although Farmgirlfit will donate 1 penny for every logged pull-up completed by our current members, the fundraiser is designed to be simple for friends and family to contribute. The button above links to a Paypal donation site that we set up so that your sponsors can easily click and donate online. You have the option of collecting cash and checks but these days it seems easier to click and donate. All the money should be collected by Monday, November 4th as we will be presenting our total Farmgirlfit donation. This fundraiser can be extremely successful if a few sponsors are secured by each member, not to mention the improvements seen by the members that are willing to do the work. Your friends, neighbors, and family have most likely heard you speak about your unique gym and they are willing to donate "a few pennies" to see you succeed at this particular physical challenge.
We started this annual event in 2012, in celebration of our 1st year anniversary. We know that giving back to the community that has been so supportive of our business is the best way we can celebrate and infuse positivity and joy into the environment around us. We look forward to continuing this tradition each October, making each year bigger and even more successful. We hope you accept our challenge and complete every pull-up in October! Thank you for participating in our fundraiser and for being one the amazing women of Farmgirlfit!