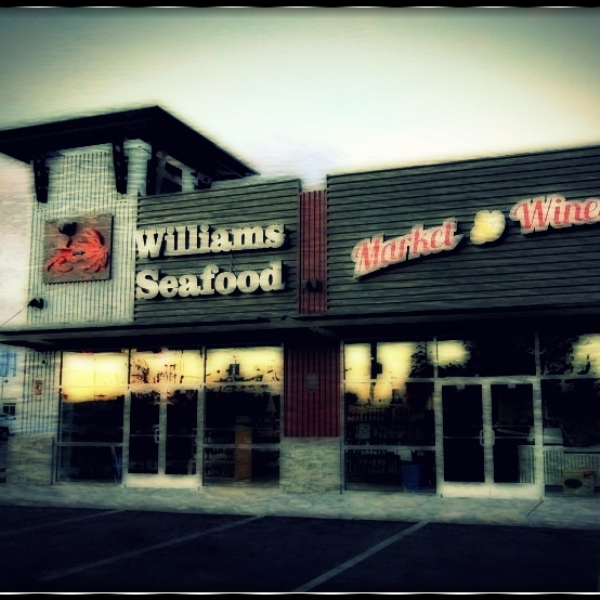 By Leah Sottile Preston
UPDATE: Farmgirlfit Members receive a regular 10% discount on food at Williams by presenting their key tag during checkout.
Are you eating fish? Doctors say that if you're not, you should be.
In a study done by the Mayo Clinic, doctors found that consumption of fish — which can be loaded with omega-3 fatty acids — could lower risk of heart disease, boost your immunity, and lower your cholesterol, blood pressure, and arthritis symptoms.
Far from a coastline, some Inland Northwesterners tend to avoid eating fish — but Mike Offield, owner of Williams Seafood Market and Wines, says that it's a myth that good seafood can't be found here.
In fact, at Williams Seafood — which has been located in the Spokane area since 1948 — he can get some fresh fish faster than the fish mongers at Seattle's Pike Place Market, he says.
That's because at his market, he buys whole fish — which are then broken down into portion sizes by his staff.
"Our biggest thing is we bring in as many whole fishes as we can and break them down ourselves. That gives us a little better control of what we bring in and saves time from when it gets to the boat to when it gets to our store," Offield says.
Where many seafood markets have to wait for fish to be caught, sent to a cutting room to be prepared and then to a distribution center, Offield is able to cut out that middle step.
"We save a day or two of freshness by doing it ourselves," he says. "We're really picky about what we get. This is all we do so I want the best that there is."
You'll find a massive variety of heart-healthy fishes at his market: halibut, fresh salmon, sashimi-grade ahi tuna, rockfish, sole and trout — among other choices like scallops, shrimp and several varieties of shellfish. Offield also takes special orders with advance notice.
Offield says that fresh fish should have a nice ocean-y smell to it, and that you should never be afraid to ask to smell the fish you're thinking of purchasing before shelling out the cash for it. A fish that's not top quality will smell bad or overly fishy. "You can smell the difference between a piece of fresh fish or a piece of bad fish," he says.
The staff at Williams Seafood are also more than willing to provide recipes to customers who might be new to cooking fish — and often post these on their website and Facebook page.
Offield says the thing with good, fresh fish is that it doesn't need a lot of doctoring up to be delicious.
"Less is more with seafood," he says. "If you buy it fresh usually you can put a little lemon pepper on it and some butter and be done. You don't even have to use butter — just a little fresh lemon on it. You don't have to use a lot of extras to make it healthy for you."
At Williams, Offield is committed to making sure that his customers continue to be able to reap the benefits of fresh, nutrient-packed fish.
"I'd rather put a quality product out there than something that's not good," he says.
Here are some suggestions from Offield on how to enjoy fresh halibut and key west shrimp, which are available at Williams this weekend!
Grilled Halibut - Serves 4
4 (6oz) portions of fresh Halibut
Lemon Pepper (I prefer Mrs. Dash Lemon Pepper)
Olive or Avocado oil
Brush the halibut with a little olive or avocado oil to prevent the fish from sticking to the grill. Sprinkle a little lemon pepper on the fish. Place a piece of foil on your grill grate. This will prevent the fish from sticking to the grate and falling through. Place fish on foil and cook for 7-8 minutes a side. When the Halibut is done, it will be white and flaky in the middle.
Fresh Key West Shrimp - Serves 4
8 fresh Key West Shrimp, tails on and deveined
Melted butter or olive oil
Brush shrimp with butter or oil on each side to prevent sticking. Place on grill for 3 minutes a side.
Williams Seafood Market and Wines is located at 2118 W. Ruby. Open Tuesday through Friday from 9:30 am – 6:30 pm, and on Saturdays from 9:30 am – 6 pm. Visit williamsseafoodmarket.net, like them on Facebook, or call 321-0747.