It has been a long two years…ahem, winter…and with the warming temps and longer days, we have a major case of Spring Fever. We're ready for a shake-up, new life, to turn over a new leaf! If you're ready to have some fun, while supporting your fellow members and challenging yourself, get ready!
Million Meter March is just around the corner and this year we're bringing back the team-style competition. We've got lots of motivation planned, starting with a Rowing Clinic on February 26th to dial in that form, a special workout to benefit MS on March 26th, and of course what Farmgirlfit challenge would be complete without prizes!?!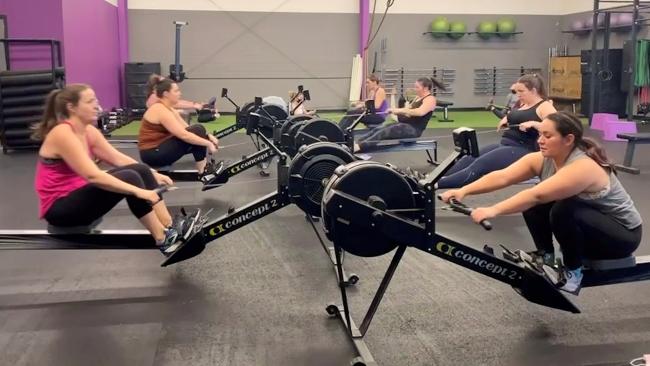 The Challenge
The Challenge runs from March 1st - 31st.
For every 1000 meters = 1k you row (run/walk/jog), you will color in a box.
First team to One Million Meters is the winner!
Teams are organized by class time(s) for a fun twist this year!

5:30am – Seas the Day
6:30am & 7:30am – Unsinkable
8:30am & 9:30am – Rowin' Dirty
12:00pm & 3:30pm – Tidal Waves
4:30pm & 5:30pm – Row Hard or Row Home

Saturday = Wildcard – You choose where you fill in your meters, keep them in your normal class time or spread the love.
Any meters programmed during The Grind or any additional meters you complete AT Farmgirlfit count.
Additional meters are limited to 10 minutes before or after class.
Walk/Jog/Run meters (at FGF) count as well.
The Reward
We know you're motivated by the obvious reward of improving your rowing technique, efficiency and perhaps even 1k row time, but it just wouldn't be a Farmgirlfit challenge without some great prizes. This year, anyone who has attended the winning class time(s) at least once during the month wins! You get to decide whether to put all your visits into one class time for possibly a bigger payoff or to try out a couple different class times to spread out your odds of winning something:
Attend Winning Class Time 1 time = $10 FGF Credit
Attend Winning Class Time 5x/month = $30 FGF Credit
Attend Winning Class Time 9x/month = $50 FGF Credit + Package of other goodies
PLUS: Bonus Days & Prizes throughout the month so stayed tuned!