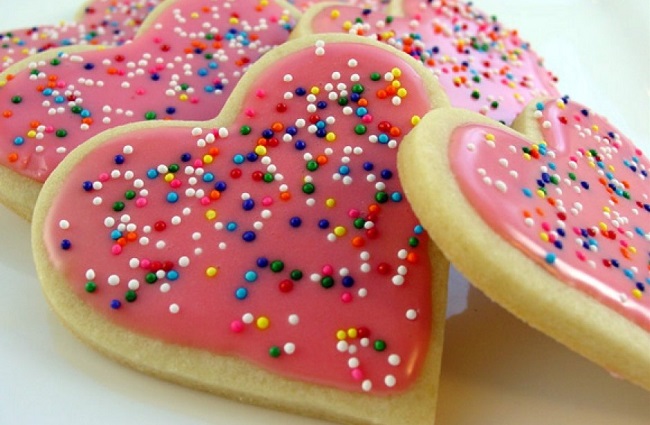 This week we are focusing on getting rid of the most "obvious" sugar culprit; baked goods, candies, and other treats. Although baked goods seem to always be within arm's reach at home, work, at practically every festive event you attend, we're going to be omitting these things first and foremost. Depending on the type of treat, some seem to be more innocent than others; a banana muffin with nuts on top seems to illicit some health benefits while a frosting covered Valentine cookie looks more like an evil sugar bomb that's going to make you feel like you want to crawl out of your own skin about 20 minutes after eating it. Regardless, all baked goods and treats are a no-go for the duration of this challenge. #FGFsweetenough #FGFsugarshakedown
Sugar is a necessary component of all baked goods. As we know, the type sugar used in baking can vary in color, flavor, sweetness, crystal size, or liquid. Regardless of the type of sugar used in baking, its unique chemical nature has many essential functions in baked goods. Sugar adds stability to a meringue batter by protecting the egg white from being overbeaten and collapsing, and affects texture by interacting with water in the batter or dough which allows the starches and proteins to create the structure of the treat. Sugar crystals create thousands of air bubbles that lighten a batter and during baking, lift the batter and cause it to rise. Caramelization of sugar is essentially a chemical reaction where it's heated, deepening the flavor and color of a baked good. In the oven, moisture evaporates and allows sugars to dissolve and recrystallize, adding the crust to the brownie, cake or cookie. Essentially, sugar is in EVERY baked product, not only to add the most recognized function of sugar—adding sweetness—but to aid in all the chemical reactions needed to make the baked good actually form.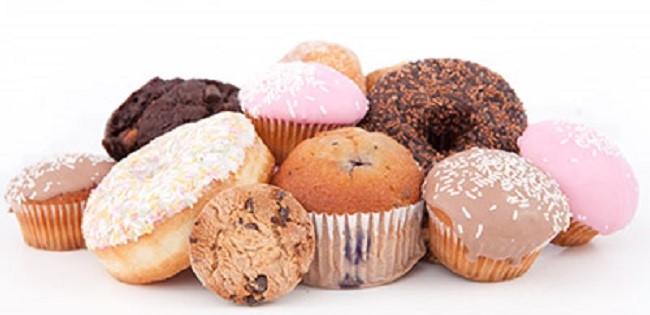 You might be asking yourself, how do I know if I should eat something or not? Here are a few questions you might consider in determining if it's worthy of consuming or not.
1. Would this be considered a treat by a child?
The preference for sweetness is thought to be innate, appearing shortly after birth however, a child's palette is pretty sensitive to sweets in the beginning. Red bell peppers & tomatoes come off as a sweet treat, then as they're introduced to breads and baked items, their palette changes. "Healthy" muffins or "breakfast cookies" can be recognized as a treat to a little one although an adult might disregard them and think a cupcake is more of a culprit. #sugarissugar
2. Was the original form of this object a batter or dough? Has it risen?
If it has risen or started as a dough, it most likely requires sugar to rise and crust and become what it is. Avoid it! #youarewhatyoueat
3. Does this item have frosting or some kind of topping on it?
Visible pink frosting is a no. Carmel topping, whipped topping, or other decorative and equally nonsensical sugar is simply out of the question for the time being. #sweetenough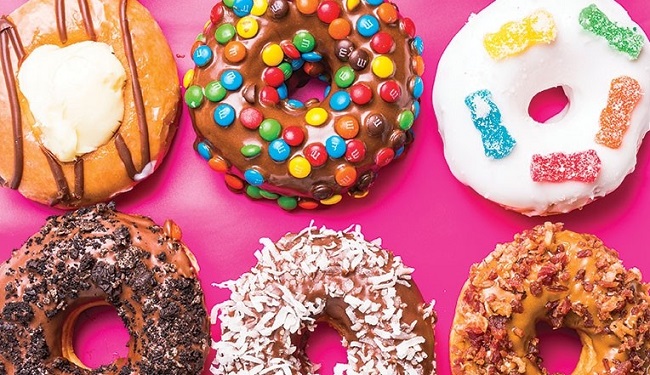 4. How did I come to have this item? Did you buy it or was it offered to you by someone else?
Most of the time, if you're a health-minded individual, you're not buying tons of baked treats to have conveniently placed around your home. Many times, baked goods and treats are presented in various social settings such as birthday parties, donuts after church, breakroom scones, and of course the beloved Hallmark holiday we know as Valentine's Day. If it was presented to you in some way, most likely it's a no. #justsaynotobakesales
5. How can I avoid or dispose of this item?
Finally, the real question. If something is offered to you, especially as a gift of sorts or a "necessary" part of a celebration, how can you not consume it? Option #1 – Blame Farmgirlfit. You're doing a no-sugar gym challenge! Tell your friends and family what you're up to and even ask them to join you. You're not changing your entire lifestyle (yet?) to avoid all sugar at all costs nor are you taking names of your friends and family that do consume baked goods to write them off as no longer relevant company to you. You're simply doing a nutrition challenge that requires some responsibility and dedication to not consuming sugar. Nothing to be ashamed of or boasting about necessarily. People do crazier things!
Other options: (A) Politely walk over toward the trashcan, act like you tripped and your entire box of Valentines candy fell in the garbage. (B) Tell people you have the flu at work in order to avoid sharing the all-baked-goods-all-day-long-break room. Remember to cough and blow your nose periodically to make sure it's believable, and eat your lunch elsewhere.
This week and this week only, challenge your kids to trade their candy or baked goods that they may have received for Valentine's Day, to swap for some other non-sugar reward. This may go over more successfully than it would at Halloween, so it's worth a shot! This way, when you're snooping in your kid's room or delivering laundry, you won't have the temptation of treats anywhere in the house. [Also, check out 10 Valentine's gift ideas for your child's classroom below]
To Conclude
This should be the easiest week for you, at least in terms of recognizing what NOT to have. Baked goods, candies and other treats are the Captain Obvious of all sugar intake. There's nothing sneaky happening here – you know the sugar is there and it looks like pink frosting or comes in a 9x13 sheet pan. Don't buy baked treats for your household; don't buy or bake them to gift others. Don't eat them at social events, school or work, and know that you're not alone. Restriction of something sometimes makes you want to have that item more than you ever did before, RECOGNIZE THIS AND MOVE ON. Reach for your water bottle, stay hydrated, and confident that you can do this! Many Farmgirlfit members are doing the same thing, right along with you, if not your own friends and family. You got this! #yourenotalone
10 Valentine Gift Ideas
Get your kids involved with the "Sweet Enough Sugar Shakedown" for Valentine's Day!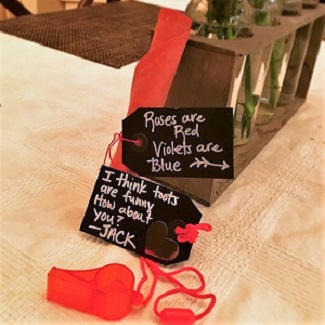 1. Gift/Craft: Whoopie Cushion or Whistle; Note: Roses are red, Violets are blue, I think toots are funny, how about you? [Jack Niemann favorite]
2. Gift/Craft: Glow sticks; Note: You make my heart GLOW. Or, Star Wars Theme = May the Force be with you!
3. Gift/Craft: Hand Sanitizer (small bottles); Note: I heard there's a LOVE BUG going around. (Maybe for teachers?)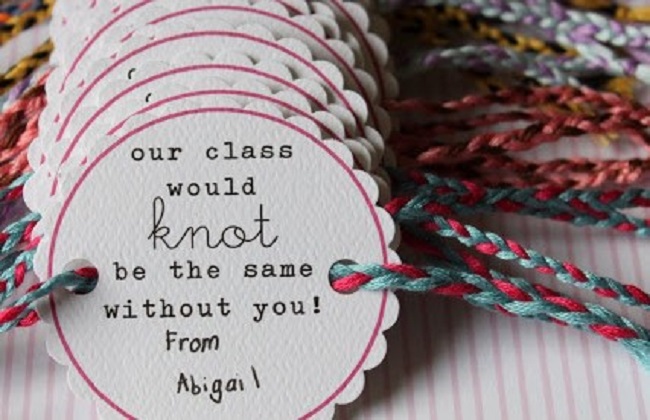 4. Gift/Craft: Braid Yarn Bracelets; Note: Our class would KNOT be the same without you. Handmade with Love from ____
5. Gift/Craft: Apples; Note: You're the apple of my eye!
6. Gift/Craft: Microwave popcorn or small bags of premade popcorn; Note: So happy you POPPED into my life!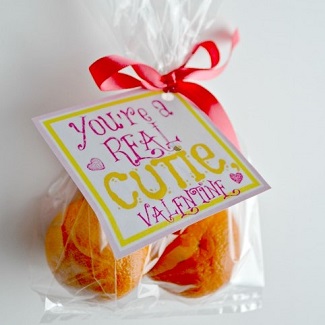 7. Gift/Craft: Clementine "Cutie" Oranges; Note: Orange you glad we're friends? Or, You're a real cutie!
8. Gift/Craft: Bouncy Balls; Note: Being your buddy makes me want to jump & bounce!
9. Gift/Craft: GI Joe figure; Note: I'm so glad we are in the same TROOP!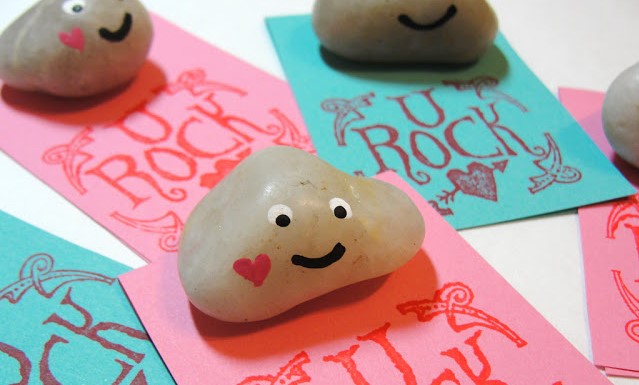 10. Gift/Craft: Find some "Pet Rocks" outside – paint and decorate them with faces (stickers, glue poms on, little plastic eyeballs); Note: You ROCK! Handmade with Love from ______