Tanisha is an Active Duty Air Force Pediatrician, who once thought that the life balance of career, motherhood, self-care, etc. was impossible. Nearly a year after joining FGF, she says, "I'm now happier, healthier and stronger than ever!"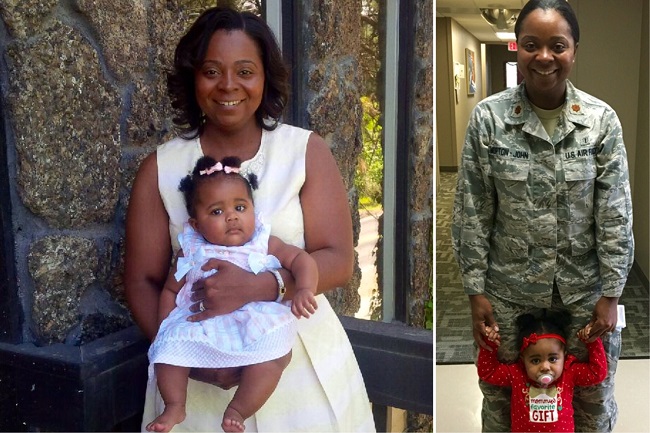 Member At:
Farmgirlfit Spokane
Occupation:
Active Duty Air Force Physician
Tell us about your fitness journey. How did you come to Farmgirlfit?
Nobody talks about post-baby fitness after 30yo. I'll admit, I wasn't quite fit pre-pregnancy either! 6 months after, I carried an extra 30-35lbs. As women, we are expected to balance EVERYTHING!! I joined the military and became a board-certified pediatrician within 11 years, but this "balance" thing was impossible…or so I thought. Enter Farmgirlfit.
I've always hated "gym people" and their "high on life" mentality about fitness. I tried other local gyms but never found my niche. During my first Grind, I ran around the block, determined not to puke on those pristine yachts leaving the boat shop behind FGF. All I heard was, "You can do this…almost there…good job!" Since then, I'm 50lbs down and can't get enough!
What has been your greatest fitness/performance accomplishment so far?
Box Jumps – Mind over matter!
What are your next health and fitness goals?
Running and not hating it! I'm determined. My current goal is to run 2-3x/week.
Who/what inspires you to be fit?
Who: Savhanna – LOVE her energy! What: Remain an active, healthy momma for my little one…and her future siblings.
Favorite exercise at FGF is? Least favorite?
Favorite: Wall Balls – they keep everything tight! ;) Least Favorite: T-Push-Ups – WHY???
My favorite thing about Farmgirlfit is:
It's been said before, but is oh so true – Comradery and support from both coaches and FGF members.
Favorite workout song?
Drop That Kitty by Ty Dolla $ign
When the Grind is kicking my butt, I'm thinking…
I wanna look good in Daisy Duke shorts! :)
How have you integrated the Farmgirlfit mission outside of the gym?
I started FGF in June 2015, and I was a hot mess! I had no idea how to lift weights and I could barely run a mile without wanting to barf…but I kept coming back for more…something about it was actually fun, and it helped me find an inner strength. That has come in handy in 2016. This year has been a challenge! A year of change both personally and professionally. I've had to "find my strength" as I've navigated obstacles and surpassed even my own expectations. I'm now happier, healthier and stronger than ever!
When you're not pumping iron at FGF, what does the rest of your life look like?
Full-time Mom. Full-time Pediatrician. Full-time Active Duty Air Force…enough said.
My happy place is:
Virgin Islands Carnival: family…fun…lots of rum!
Words that inspire me?
"Whatever you do, do it well, do it you!" – Dr. Seuss
Any advice for new members or your fellow farmgirls?
Don't quit…the best is yet to come.