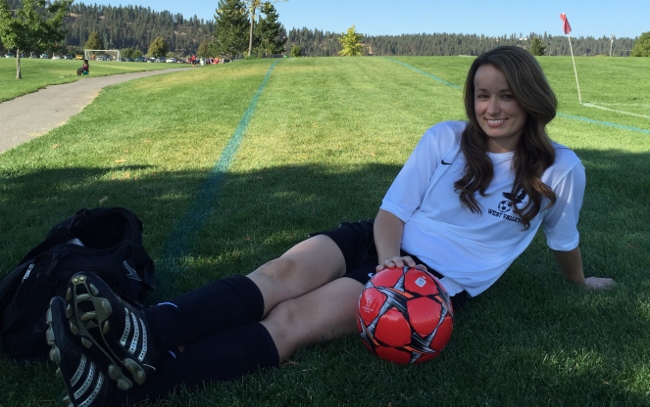 SAVANNAH WU
Name and age: Savannah Wu, 28
Occupation: R.N. Resident Care Manager at Touchmark South Hill
Member At: Farmgirlfit Spokane
Tell us about your fitness journey.
I was always running and playing sports growing up including club soccer and was a three-sport athlete in high school playing soccer, basketball, and running track. After high school was over I was pretty lost. I tried to stay active in college by playing intramural sports, working out at the gym, and dancing. Then I started having babies and was going through nursing school. Fitness fell off my map for a few years with the exception of running until Farmgirlfit came along….
If you could tell your Farmgirlfit story in 100 words or less, how would it read?
Big shout out to Allison Kackman here! She encouraged me to come to Farmgirl and it was just what I needed. I needed a challenge, goals, and someone to push me. I about died my first few times I went but I wouldn't quit. I was frequently the very LAST person to finish the Grinds, but my goal was to finish every single time. A few weeks in, things started to change and I was getting stronger! I continued to push my body to run faster, lift heavier, and eat more healthfully!
What has been your greatest fitness (performance) accomplishment so far? Do you have a performance goal?
Competing in the Fittest in the Park competition has been my biggest accomplishment since starting Farmgirlfit and the most challenging. I was NOT the strongest or the fastest, but I worked hard and gave it everything I had. I LOVE setting goals and am using that experience to improve for next year!
How has FGF helped you become more healthy / When it comes to your health, what goals do you have?
After having four babies in five years my body felt defeated and I was not happy with my body image. Farmgirlfit has helped me learn how to fuel my body, made me stronger, leaner, and much more confident in myself. All of the monthly side challenges have been great for me to further encourage health outside of the gym. I want to continue on this journey to help promote a stronger body image for women and to be a good example to my daughter.
My favorite exercise at FGF is:
I love doing box jumps! I also love when we do bears and other heavy lifting because I feel so accomplished afterwards. I was so excited when I was finally able to do pull-ups! I need to master the kip next…
My least favorite exercise at FGF is:
Overhead squats are my least favorite and this is because they are SO HARD. I swear I will like them eventually… maybe.
My favorite thing about Farmgirlfit:
The support of the coaches and other members at the gym. When everyone wants each other to succeed it makes for a pretty awesome environment to grow and have fun.
How have you integrated the Farmgirlfit mission outside of the gym?
If you work hard in everything you do you will have results… in the gym, at home, at work, and in your relationships. Every day is a new opportunity to make your life better!
When you're not pumping iron at FGF, what does the rest of your life look like?
I work full-time as a nurse caring for my sweet and loving geriatric patients! Three days a week I go straight to the gym before coming home to a full house! I spend all my extra time with my husband and our four kiddos, two dogs, and four chickens. We love Spokane summers and stay pretty active. Truly a full and busy life!
Any advice for new members, or your fellow Farmgirls?
There will be days when you don't feel like doing anything… but go to the gym anyway! I swear you will feel better afterwards! It is important to make time to take care of YOU.
---
To stay in the loop, subscribe to FGF Stories & Info.