"One of the things I love about FGF is that it is fitness for real life. It is not something unsustainable. It is conscientious choices with health in mind."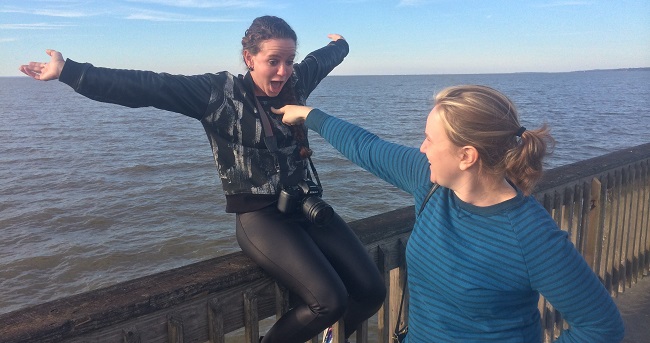 Member At:
Farmgirlfit Cd'A
Occupation:
Student and real-life farmgirl. I finished my BS in Animal and Veterinary Science from U of I in May 2015. This August, I start the DVM program at WSU. Windsong Dairy is our family goat farm, and I'm the primary caretaker/manager of the herd
Tell us about your fitness journey. How did you come to Farmgirlfit?
I have always struggled with fitness. After high school and starting college, I started trying to focus more on my health by eating right and doing some exercise. But, jogging on a treadmill or rotating through various fitness machines never held much appeal to me. Plus, I could never quite talk myself into a gym membership. So, I did what I could on my own, running the gamut of fitness DVDs and exercise websites. And it worked, for a while, but it was tough to fit exercise – something I never found enjoyable – into a life that was busy with work, school, family, and animals.
The year before I graduated from University of Idaho, I saw the banner for Farmgirlfit at the Coeur d'Alene location. The first thing that caught my attention was the name. Farmgirlfit. I was like, well I'm a farmgirl and I'd like to be fit, so this might be perfect for me. Plus, I had always had a secret fascination with lifting/weight-based workouts, but I had never been brave enough to pursue it. I looked up the gym online, started reading about it, who the coaches were, what the gym was about, and I told myself that, once I graduated, I was going to get a membership.
Last May, I took a leap of faith and signed up for the Free Trial class. Over the course of that single, hour-long class, I realized three things:
I had been doing fitness all wrong. I had been looking at it like a chore, something that I needed to do in order to feel better about myself or to look better.
I loved how the workout was broken into parts with every day being something different.
I loved the camaraderie of the ladies at the gym. I had always worked out solo, never realizing that a workout with other people could be anything more than people sweating in the same room.
It's been a year – almost exactly – since the first time I walked through the FGF doors and I can honestly say I've never looked back. I love everyday there, even when I complain about the Grinds. I have done things I never believed I could and the confidence that has come from that is staggering. Heck, I did my first fitness competition this spring! That wouldn't have been possible without Farmgirlfit or the fantastic coaches and members.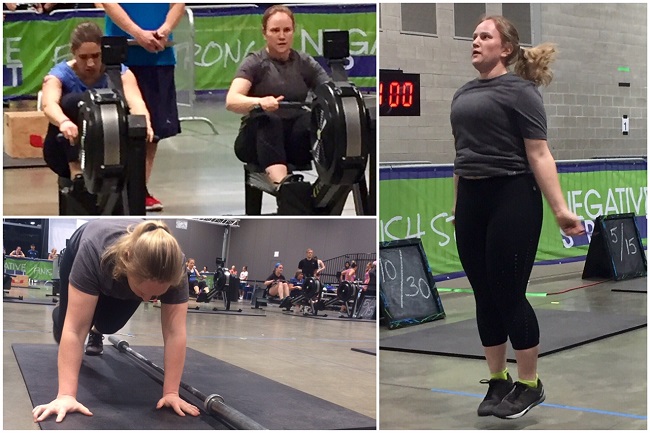 What has been your greatest fitness/performance accomplishment so far?
Competing in the Negative Split fitness competition this spring in Spokane. I'm still amazed at how far I've come in the last year to be able to do a fitness competition, but to also be okay doing so in front of a crowd of people.
What are your next health and fitness goals?
Improving on what I've accomplished so far. I'd like to partake in 5K race at some point in the next couple years. Maybe try out a couple more fitness/lifting competitions.
Who/what inspires you to be fit?
Wanting to be healthy later in my life. I see making these health choices as an investment in my future.
Favorite exercise at FGF is? Least favorite?
Most: back squats. I love sitting there with a weighted bar across my back and standing up. Talk about empowering!! Least: jump-rope (singles or DU's). I am pretty sure I failed this lesson as a child; now it is just haunting me.
Favorite workout song?
Gosh, I swear this varies by the week. Probably, Hey Mama by David Guetta or After Midnight by DOROTHY.
My favorite thing about Farmgirlfit is:
I love the community atmosphere. FGF is so much more than just a gym – it's an incredible network of support. At every Grind, there are women from all different backgrounds and we're all supporting one another, because we're all on the same journey. During the Grind, when I'm standing there, thinking there's no way I can do another rep, the other farmgirls and coaches are there to encourage and support me.
How have you integrated the Farmgirlfit mission outside of the gym?
One of the things I love about FGF is that it is fitness for real life. It is not something unsustainable. It is conscientious choices with health in mind. I am so much stronger than I was thanks to The Grinds. Growing up on a farm, nearly every task is physical; building fences, moving hay, working with animals, etc. The strength and endurance I train for at FGF makes those daily tasks so much easier.
When you're not pumping iron at FGF, what does the rest of your life look like?
Fairly busy! I manage a herd of dairy goats, plus I run my own goat milk soap business in addition to working another part-time job.
You might not know this about me:
In my spare time, I write novels. I'm hoping to get a couple published in the next two years.
As a kid I dreamt I would grow up to be:
An action hero!
Guilty pleasure:
I feel bad admitting this, but German Chocolate Cake. I limit myself to once a year – on my birthday. I don't know what they put in the coconut filling, but it is addictive.
My healthy indulgence:
Homemade Greek salad. I take a tomato and ½-1 cucumber and dice them up and sprinkle feta on top. For the dressing, I do a ½ tablespoon of olive oil and 1 tablespoon of balsamic vinegar, some rosemary and salt and pepper. Really easy and delicious salad.
Any advice for new members or your fellow farmgirls?
It may sound corny, but don't let fear define you or hold you back. This is YOUR life and you are strong enough to accomplish whatever you set your mind to. Live it to the fullest, because when you're looking back on your life, you don't want to say, "I wish I had done this" or "If only I had done that." My favorite quote is by Erin Hanson: "What if I Fall? Oh, but my darling what if you fly?"