"My inspiration definitely stems from wanting to inspire my daughter as she grows up and teach her the importance of being strong, trying new things, and not giving up when things get hard."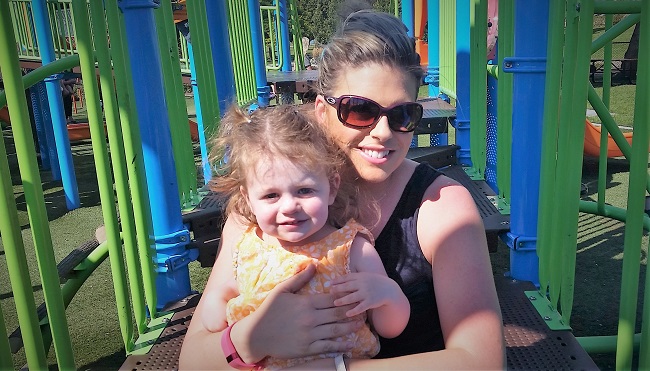 Member Of:
Farmgirlfit Spokane
Occupation:
Management, Organizational Health and Human Performance Consulting
If you could tell your Farmgirlfit story in 100 words or fewer, how would it read?
How Nicole got her groove back!
Now, the slightly longer version:
I have been an athlete essentially my entire life, playing group sports through college. After college I took to individual sports to get my endorphin fix. It started with running and progressed into other physical challenges. To date I've done a variety of things, marathons, triathlons (including Ironman Coeur d'Alene), dragon boat racing, long distance relays and even a fitness/bodybuilding competition!
However, my life completely changed one week after I did Ironman in 2011. I was in a terrible bicycle accident that left me hospitalized, barely able to walk, and told I was lucky to even be alive. I suffered a broken back, punctured and collapsed lungs, 5 broken ribs (including breaking both my first ribs off my spine), separated shoulder and many other injuries. Needless to say I went from feeling 'on top of the world' after completing Ironman to feeling completely debilitated. My recovery from that accident took nearly two years (physical and mental recovery), and changed me completely as a person.
The years post-accident left me on a journey of reframing my identity (I had always been an athlete and now I was dealing with chronic pain). That and several years of fertility struggles left me depressed and "not myself". I came to FGF in July 2015 almost exactly four years post-accident and about 9 months after having my daughter, Harper. I took a leap of faith trying to get back to feeling like "me."
What has been your greatest fitness/performance accomplishment so far?
I've had many accomplishments people may say are "great" but the thing I'd categorize as the greatest is recognizing that fitness or health is not about a size or the scale, but rather about the person it allows you to be and how it makes you feel.
What are your next health and fitness goals?
Growing another human and staying consistent with my FGF workouts through the entire thing…I'm currently pregnant with my second child. :)
Who/what inspires you to be fit?
My inspiration definitely stems from wanting to inspire my daughter as she grows up and teach her the importance of being strong, trying new things, and not giving up when things get hard.
Favorite exercise at FGF is? Least favorite?
I like pretty much all of the exercises. I particularly like the variety and how every workout is so different! I don't really have a least favorite but let's just say "dips and I aren't friends" HA!
When the Grind is kicking my butt, I'm thinking…
"It's very unlikely I will die right now" and then I try to break the rest of the workout down into smaller chunks.
My favorite thing about Farmgirlfit is:
The coaches and the community. They really "get it"; they get what is really critical to help people live a holistically healthier life. It's about supportive relationships and a community of strong women, who are mothers, daughters, wives, friends, etc. Nothing about FGF is about being uber competitive; everyone is recognized for their accomplishments and supported on their individual journey.
I'd also say that the expansion to focus on all aspects of health, through Live Farmgirlfit is something I love, and believe whole heartedly is the key to living in optimal health and wellbeing.
How have you integrated the Farmgirlfit mission outside of the gym?
I try to live the FGF mission outside of the gym by being an excellent female role model for other women, especially younger women. I think it's important for women to see other women prioritize their health, feel strong and make time for themselves in the midst of juggling careers, family, etc. I feel honored to wear the FGF brand in that way.
That and I stalk other women to get them involved, LOL!
Do you have a funny Farmgirlfit story?
On one of my first visits, I wore a pair of shorts that were a little tight. We did squats that day and whelp! The shorts tore apart at the seam on the outside of my leg (#quadproblems). I left with some nice '80s fabric fringe hanging off the side of my shorts…and I still don't wear shorts very often to FGF!
When you're not pumping iron at FGF, what does the rest of your life look like?
Real answer: Frickin' NUTS. I often joke that my second car is an airplane. I travel more than the average person and my husband is an engineer for the railroad, so he travels A LOT and it's all unpredictable travel. On top of that, having a toddler and a dog and all kinds of other "life stuff" it's just a controlled cluster of chaos.
My happy place is:
Does sleeping for long uninterrupted periods of time in my bed count? Ha!
Outside of that, I love to be on a warm sandy beach, warming my body, smelling tropical air, enjoying adult beverages, eating delicious and unique things.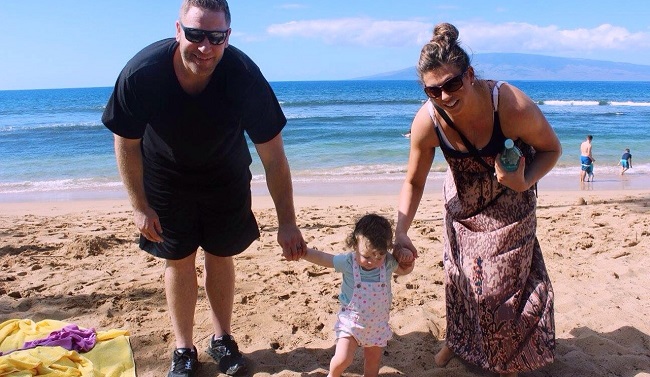 As a kid I dreamt I would grow up to be:
A cardiothoracic surgeon. Weird, I know. I was actually on my way to med school and detoured to grad school (that's a long story, feel free to ask me sometime).
I'm proud…
Of anyone who keeps fighting the good fight and is positive towards others in the process.
Team I'm always rooting for:
Oregon State University – Go Beavs!
My trademark dance move:
It depends on what and how much I've been drinking…
My spirit animal and why:
Unicorn. Needs no explaining, who wouldn't want a unicorn to be their spirit animal?
Guilty pleasure:
Gummies and taffies. My husband teases me that I have the candy palate of a 10 yr old.
My favorite post workout meal:
I recently found out I have an egg allergy, so that pretty well screwed my regular post workout meal options. Without eggs, I love something savory and warm. Like hash browns (I dream about the hash browns at WholeFoods which I get when I travel sometimes) and bacon.
My healthy indulgence:
I'm a total foodie and I love a challenge, so my healthy indulgence is turning anything unique and comfort food-ish into a healthier version.
Words that inspire me?
"Faith is taking the first step even when you can't see the whole staircase." - Martin Luther King Jr.
Any advice for new members or your fellow farmgirls?
Invest in yourself by joining this community of strong empowered women. They will support you and help you become a better version of yourself…and you'll make great friends on the journey. :)