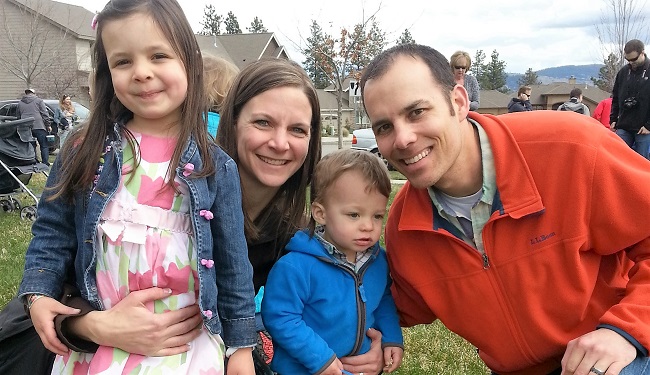 Member At:
Farmgirlfit Spokane
Occupation:
I am currently a Domestic Engineer (Mom J) and prior to that I was a Police Officer.
Tell us about your fitness journey. How did you come to Farmgirlfit?
I have always enjoyed working out and challenging myself, so it was just a matter of time before I found Farmgirlfit. It started back in 7th grade when I started doing athletics. I played volleyball, basketball, and track and then played volleyball in college down in Texas. I have lived in ND, CO and now Spokane and every place has had an awesome volleyball community that has kept me playing! Therefore, I have to find a great gym to keep me fit and motivated so I can continue to play. The YMCA was not cutting it for me. The parking was stressful and the free weight area was too tiny. I was also very good at convincing myself that I had done enough, which was never the case.
I found myself at FGF after winning a free one month Unlimited membership (thank you FGF for supporting our community, and fellow member Kallie for getting the donation) and could not let that go to waste! I was nervous. I even sat in the car for like 10 minutes before walking in the door. But I did. I was hooked after one day! FGF has definitely motivated me to better myself, and to make getting to the gym a priority. I schedule my workouts as if they are doctor appointments, show up and get my butt kicked for one hour without having to think about it. And I absolutely love every minute of it!!
What has been your greatest fitness/performance accomplishment so far?
Uh, does completing a workout at FGF and coming back the next day count? LOL or maybe the rope climb! Never thought I could do that! or maybe that I can still play competitive volleyball at my age and still do very well. No marathons or triathlons for this girl! But I LOVE that there are women here who do, and that everyone supports one another whether during the Grind or in outside endeavors!
What are your next health and fitness goals?
I need to trim the fluff! So I need to cut out more sugar and continue to push myself at the workouts. I would also love to be able to do pull-ups one day!
Favorite exercise at FGF is? Least favorite?
Favorite: I love any exercise that is going to help my glutes look nice. J Least favorite: Probably Double Unders. I have not mastered those yet but will soon!
When the Grind is kicking my butt, I'm thinking…
about "butts!" There are so many nice ones at FGF. I keep pushing hard so that one day mine will be too!
My favorite thing about Farmgirlfit is:
I love the easy parking and the childcare. I love that I don't have to think about what I am going to do that day or wait for equipment at an overcrowded gym. I love the awesome Coaches and their fun, motivating personalities. I love the members that I know and don't know. They are fun, sweet, encouraging, and fit. I love that there are other planned events and challenges outside the gym. So in a nutshell, my favorite thing about Farmgirlfit is…that it exists!!
When you're not pumping iron at FGF, what does the rest of your life look like?
I stay busy with my 5 yr old girl (Kyleigh) and 2 yr old boy (Kason.) I am a single mom most of the time due to my husband's (David) new job. We do school, ballet, swimming, parks, playdates and etc. I also hire babysitters A LOT! I play in volleyball leagues and tournaments all year long and love date night or ladies night! We also try to make it home to Texas to visit family and possibly a real vacation in between all the other craziness. Skiing and biking are also favorites in our household!
My trademark dance move:
The Running Man, of course!
My healthy indulgence:
Frozen Cotton Candy Grapes (I am glad you didn't ask about my unhealthy one!) J
My hero is:
My brother, Neal. He passed away from Muscular Dystrophy when he was 20 yrs old. He was in a wheel chair starting in 4th grade. He was smart, sweet and funny. He tried his best at everything he did and he never once complained about his condition or his failing body. Such a positive, remarkable person and I am so blessed and honored to have had such an inspiring brother!