"I showed up on August 6, 2012, with the goals of improving my riding, gaining upper body strength, and improving my overall cardiovascular fitness. And here I am 5 years later resetting those same goals at HIGHER levels."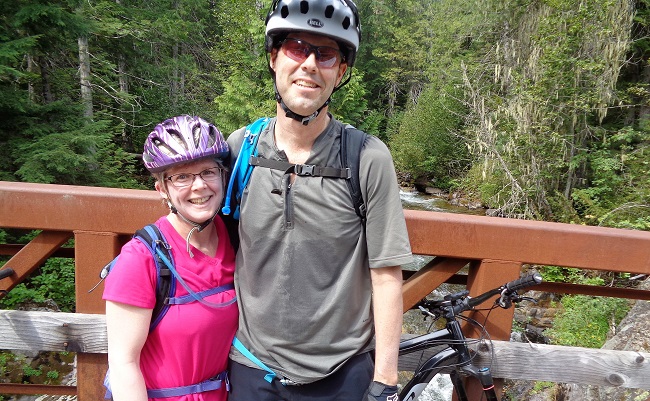 Member Of:
Farmgirlfit Spokane…for 5 years!
Occupation:
Formerly a graphic designer, now I do not work for a paycheck.
Tell us about your fitness journey. How did you come to Farmgirlfit?
My one activity for many, many years: I was devoted to women's summer (and sometimes fall) softball from 4th grade through my early 30's. In college I did step aerobics for a while after gaining some weight my freshman year. I also fell for the low-fat craze in the late 80s/early 90s and now regret not eating peanut butter for so many years. WHAT was I thinking?! But I read lots about nutrition back then and my knowledge base was building.
When I worked full time, I started walking three miles a day for stress control. Through the years, I did aerobics tapes at home—sometimes often, sometimes not. We moved to Spokane, and I gained weight again. After catching a glimpse of my chins in the passenger car mirror one day, I decided to start doing some hiking with the goal of getting to the top of Tower Mountain, which I achieved. Those aerobics tapes came back out at some point.
Then I was tired of sitting around while my husband went on mountain bike rides, so in August 2000, I went out for my first ride and it literally changed my life. Everything I've done since was initiated by my desire to be a better rider. For two years, I followed a basic home weightlifting program created by Miriam Nelson after reading her book, Strong Women, Strong Bones. I took a couple of weightlifting classes at Spokane Community College. I started to cross-country ski in the winter so I wouldn't be so far behind the riding curve come spring. Yoga entered my life in 2007, and I've practiced ever since.
Knowing what the weightlifting had done for me in previous years, I finally decided to try Farmgirlfit several months after a friend told me about it. So, I showed up on August 6, 2012, with the goals of improving my riding, gaining upper body strength, and improving my overall cardiovascular fitness. And here I am 5 years later resetting those same goals at HIGHER levels.
If you could tell your Farmgirlfit story in 100 words or fewer, how would it read?
Watched a class. SO LOUD! I'll have to wear goofy earplugs but really want to try this. First class: Mad Ladder with box jumps and Burpees. SO HARD! Butterflies in my tummy every time, but I persist. Whoa, my legs are getting stronger. I'm riding at a new level. SO COOL! I feel taller. BETTER POSTURE! I feel a bit sassier. CONFIDENCE ROCKS! Injury. MODIFY! Always some ache. THIS IS STILL HARD, I'M OLD! I want to be strong and independent when I'm really old. Show up; give what I've got. JUST KEEP MOVING!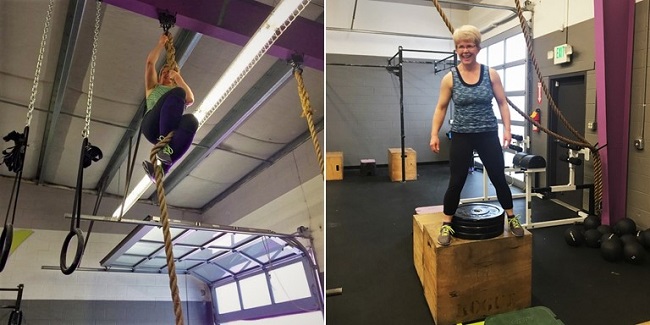 What has been your greatest fitness/performance accomplishment so far?
I think my consistency tops anything else. Consistently moving in some manner, at a level that is appropriate for myself on any given day, and consistently listening to my body when it says to take a day off.
What are your next health and fitness goals?
Long term: To maintain that consistency. And to continue refining my nutrition. It's a constant challenge to find balance between my passion for baking and my desire to eat well. Short term: To do as many of the challenging rides on my season bucket list as possible.
Favorite workout song?
Just one? I like songs that make my hips wiggle.
Favorite exercise at FGF is? Least favorite?
Favorite: Back squats Least: Plate pushes
When the Grind is kicking my butt, I'm thinking…
"Just. Keep. Moving." So much of it is mental, and I get a lot of practice with that by climbing hills on my bike: "Just. Keep. Pedaling."
My favorite post workout meal:
It's not a meal, but a favorite snack is peanut butter on banana.
My favorite thing about Farmgirlfit is:
The diverse community of woman supporting one another in our individual goals. I also like the variety in The Grinds. Oh, and the purple. 💜
How has the rest of your life been influenced/impacted by Farmgirlfit?
It's easier to reach, move, and carry things in everyday life. I have more stamina and can walk my dog before or after a ride or a workout. I'm more confident and much more at peace in my body. And I'm not afraid to wear sleeveless tops anymore. I credit FGF for helping me manage my health, both mental and physical, during the challenges of being a middle aged woman. One of the best things: building friendships with women I would never have met outside of the gym.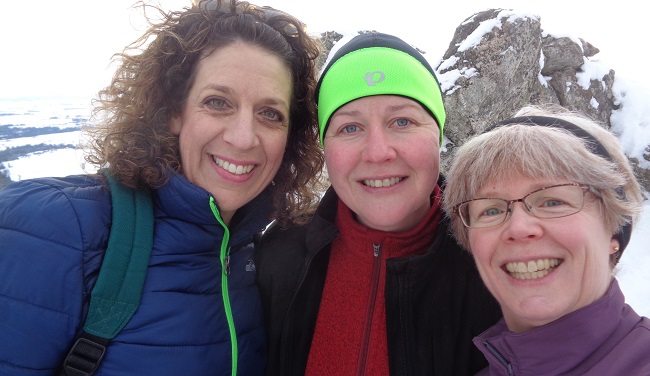 Who/what inspires you to be fit?
I'm inspired by older women who don't buy into the "I'm old, I can't do that" mentality. My hope is to be like them, striving to wear out, not rust out. I'm inspired by people with limitations who focus on what they CAN do instead of what they can't do.
Do you have a funny Farmgirlfit story, or favorite memory?
I had a dream about climbing the rope for my first time ever. I touched the top with my hand and cried over to the coach that I'd done it! She told me it didn't count unless I touch the top of my head to the ceiling. 🙄 Those coaches, always wanting more. 😉 So I went back up and hit the ceiling with my head. ONLY IN MY DREAMS!
When you're not pumping iron at FGF, what does the rest of your life look like?
I'm spending time with my husband, Joe, and our cocker spaniel, Coco. I might be riding my mountain bike, going to yoga class, or taking pictures of The Little Brown Dog and other things I love. I spend A LOT of time in the kitchen—otherwise known as "my office"— cooking and baking.
Depending on the time of year, I also do a little hiking and cross-country skiing. I like to read and do crafty-type projects. It makes me happy to make pretty things. My current list includes some scrapbooking and sewing. I enjoy time with friends and belong to a movie group. We gather once a month to see a movie then eat dinner and have been doing this since 1999! I help with food sorts at the Spokane Valley Partners food bank one morning each week—it's kind of a mini grind with all of the lifting and movement! I'm not an avid gardener, but I do enjoy my flowers, berries and veggies.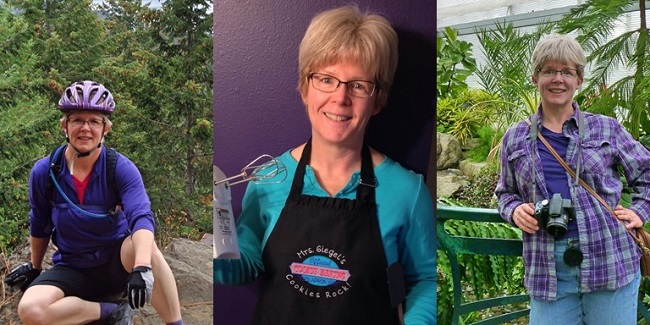 Words that inspire me?
"Be who you are and say what you feel, because those who matter don't mind and those who mind don't matter." ~ Dr. Seuss
Guilty pleasure:
Baking and the requisite quality control. And dark, DARK chocolate!
I'm proud…
When I set my mind to do something, put in the work to make it happen, and actually achieve the goal.
My trademark dance move:
Ha! Ask a local grocery for a copy of their security tapes. My husband swears there is a "Best Of" compilation of me dancing in the aisles.
My favorite holiday and why:
Thanksgiving because it's in the fall, not so commercialized, and reminds me to be grateful every day for the many blessings in my life.
You might not know this about me:
I have a bachelor's degree in theatre. I played the cello for over a decade. I'm a natural redhead, and my current color is my natural gray. I was born and raised in Cincinnati. I LOVE AUTUMN!
Any advice for new members or your fellow farmgirls?
To the new members: Be consistent. Give what you've got to give that day, be it 50% or 100%, just consistently show up and give what you've got. You will see and feel change. Let the gal next to you be an inspiration, but remember to do what's right for you and your body. Also, you never know when YOU are the one being an inspiration to someone else in some way, shape or form. We're all in this together.
To the younger gals: Do the mobility work. Years from now, your body will thank you. I promise.
Anything else to share?
Thank you to the coaches and members who make up this strong community. I've met some pretty fabulous people through this connection, and my life is all the better for it.
And, pssst, if you wanna try Mrs. Giegel's cookies, meet me in the alley after class someday. 😉