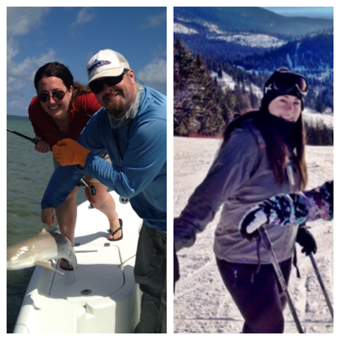 Name and age: Kirsten Carlile, 37
Occupation: Director, Children's Miracle Network Hospitals
My favorite exercise at FGF: Slam Balls, it may seem silly but I thought they were impossible I could not catch the medicine ball on the bounce, it was the first move I was able to overcome. Next its pull ups!
My least favorite exercise at FGF is: Dips, Plate Pushes & Turkish Get Ups
Tell us about your fitness journey.
After ACL surgery in 2012 and another knee surgery in November of 2013 for a Cyclops Lesion, I just wanted to start trusting my knee again. The atrophy that happened with two knee surgeries and no exercise was difficult to experience. I played sports all through high school and I was strong but as you get older some of that can fade if you don't take care of yourself and commit to strength training. I have lost and gained the same 40 pounds I don't know how many times. I am ready to be under 200 lbs again and feel good when I put a pair of jeans on (although I think a new pair of lulu pants are more appealing at this stage of the game).
If you could tell your Farmgirlfit story in 100 words or less, how would it read?
It's about complete fitness. Farmgirl kicks your ass physically, the ladies you work out with support you emotionally and the trainers push you mentally because they know you have it in you – each class is a challenge, but remember: It doesn't get easier, you just get better.
What has been your greatest fitness (performance) accomplishment so far? Do you have a performance goal?
I am brace free (I no longer work out with my ACL brace) and I am trusting my knee again. My greatest accomplishment was running outside this month and completing a mile in under 10 minutes. I have never been fast, but for me under 10 is fast!
How has FGF helped you become more healthy / When it comes to your health, what goals do you have?
I have lost 2 inches on my waist in just 3 months (I'm going 4-5 times a week to Farmgirl). The biggest change for me has been eating cleaner, when you work as hard as we do at Farmgirl I'm not going to self-sabotage with food — its not worth it! Taking just one hour a day for myself is really only 4 percent of my day – we all deserve that..
My favorite thing about Farmgirlfit is:
The sense of accomplishment I feel each time I leave the gym, even if I am feeling so-so before I get there I feel unstoppable after! Each woman at the gym has their own personal fitness journey, goals and accomplishments and everyone is there to support you in that – that is what I love the most – we celebrate each other!
How have you integrated the Farmgirlfit mission outside of the gym?
I now look at chores around the house and find myself doing an air squat to pick something up and I start laughing, or I roll out in the evening while watching our favorite TV shows. I tell my husband and my daughter about each and every workout. My hope is my daughter will see the improvements I am making and find fitness goals of her own and understand you have to take care of your body at any age.
When you're not pumping iron at FGF, what does the rest of your life look like?
Our family is active, fly fishing, snow skiing…we love to be outdoors and our Irish Setters need to be on the go! With our daughter graduating from High School this year I am soaking up the time we get to spend with her now before she goes off to college and we are empty nesters.
Any advice for new members, or your fellow Farmgirls?
Remember it is about your journey, there is new lingo to learn, new moves to master and four levels you can choose from. Don't be afraid to ask for help or have someone demonstrate moves for you. Don't be afraid to do part of level 1 and a higher level if you can – push yourself. Celebrate your accomplishments and share your success it makes it more fun!