"When I became a single parent, I had to find a way to continue to be fit, yet not leave my daughter at daycare for long periods of time…the FGF@Home program keeps my heart healthy and gives me big leg muscles to conquer hills on Sunday Runday!"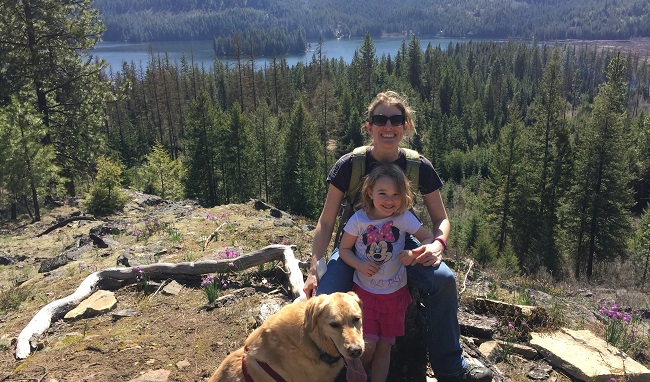 Member Of:
Occupation:
4th grade teacher
Tell us about your fitness journey, and how it lead to FGF@Home.
For the first 32 years of my life, I was satisfied with "good enough" fitness, remaining relatively active and eating healthy enough to maintain my weight. After watching my dad's health deteriorate, I knew I needed to be more heart healthy for me and my family. I started a couch to 5k app and discovered I loved running, though prior to this, I'm fairly certain I was allergic to sweat. I also became a vegetarian. Then I decided to challenge myself and signed up for an obstacle course race. I found friends who were crazy enough to join me, and now fitness is a large part of my life. When I became a single parent, I had to find a way to continue to be fit, yet not leave my daughter at daycare for long periods of time. Though I miss running as much as I could before, the FGF@Home program keeps my heart healthy and gives me big leg muscles to conquer hills on Sunday Runday!
What has been your greatest fitness/performance accomplishment so far?
I have a few I'm pretty proud of: I placed 99th on Doomsday Hill time in 2015 at the Bloomsday race, got my Spartan Trifecta in 2016 with my team, and have now finally figured out Squat Clean Thrusters.
What are your next health and fitness goals?
I have a bunch of these: I'd like to beat my coworker who got 98th on Doomsday Hill even though we didn't even know we were both there. I'd like to run an official half-marathon trail race since I've only ever done this distance for fun. I'd like to run a 5k with my daughter. I'd like to master a headstand on a paddleboard, and I'd love to up my weight on the FGF Grinds. I'm also signed up with my friends to climb up Grand Teton this summer which I'm simultaneously terrified and excited about.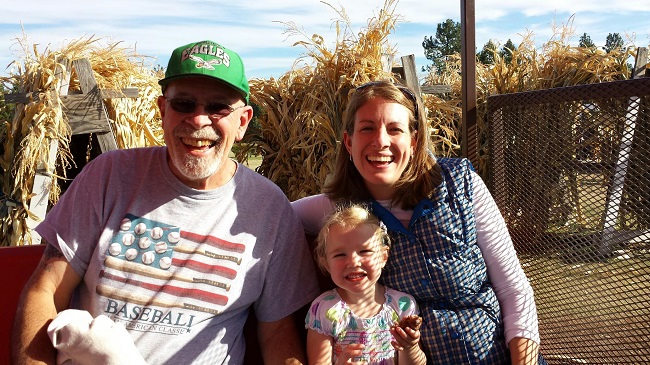 Who/what inspires you to be fit?
My dad was born with a heart deformity that limited his choices in life. This peaked in 2014, and I watched him fight for his life connected to a million tubes, wires, and machines. I knew then that I never wanted to be controlled by my health; I wanted to control my health as much as possible. And I was lucky enough to be born with a healthy heart so I should keep it that way. My dad survived another year, but his health and activities deteriorated until he passed away. I have a picture I have saved of him in the hospital. I refer to it whenever I'm feeling lazy. It inspires me to make him proud and to stay healthy and strong for my family.
Favorite workout song?
Jackie by Ciara (Caution: explicit lyrics)
Do you have a favorite and/or least favorite exercise from the @Home program?
My favorite are burpees, and my least favorite are weighted lunges. If you asked the one I look goofiest at? Seal Jacks, hands-down.
When the Grind is kicking my butt, I'm thinking…
Do the best you can; it'll be over soon. Or I have to remind myself it's called a workout for a reason. Work!
What has been your favorite aspect of the @Home program?
My favorite aspect is that it works for my life. It allows me to still be the best mom I can be and achieve balance in the rest of my life.
What are you most looking forward to in the remaining TIME?
I'd like to see if I can improve my weights, and I really like to see when other people are successful and decide to be fit for life.
How has the rest of your life been influenced/impacted by Farmgirlfit?
FGF lets me maintain the lifestyle I enjoy, and I definitely think it's one of the reasons I have avoided sickness this winter. Also, I model exercise for my daughter. She gets upset sometimes if she sleeps in and misses watching me do my workout in the morning. Sometimes she joins in, but more often then not, I catch her practicing some of the moves when she's playing. She knows the importance of exercise.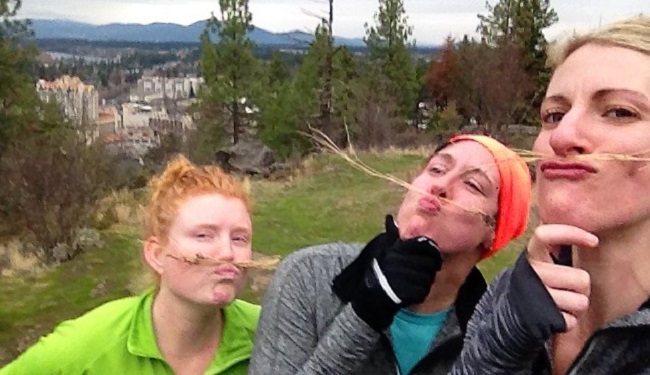 Besides the FGF@Home Program, what does the rest of your life look like?
Being a single parent and teacher really keeps me on my toes, but I always make sure I save time to run, paddleboard, or climb with my girlfriends on Sunday Runday, read for leisure to relax, spend quality time with my boyfriend, and give my dog his daily walk or hike. Balance gives me happiness. I do what I can, when I can. This makes me a better teacher, mom, girlfriend, and daughter.
My happy place is:
Snuggled up with a good book or in the forest.
You might not know this about me:
My spirit animal is a donkey. They're determined, stubborn, and hardworking. Plus they kick *ss! I even have an extra tooth which definitely makes me more donkey-like.
Words that inspire me?
In the immediate time, I'm inspired by the Spartan quote: Keep going unless you puke, faint, or die.
When I'm overwhelmed, I find inspiration in the words of Saint Francis Assisi: "Start by doing what is necessary; then do what's possible; and suddenly you're doing the impossible."
I'm proud…
Of my daughter, Quinn. She stays true to her spitfire self. Plus she can climb a robe and do monkey bars like a boss!
Team I'm always rooting for:
Team Hot Potatoes (our Spartan team)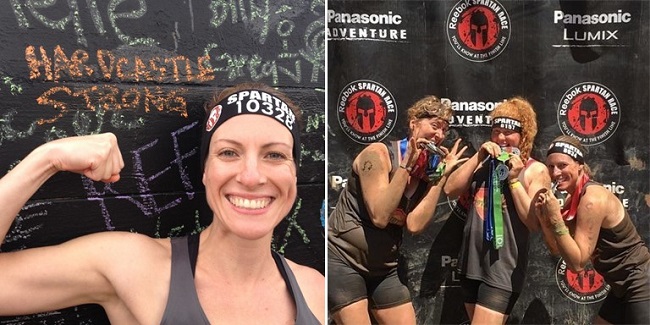 My heroes are:
The women in my life. They are family, friends, and coworkers. They are strong, supportive, and resilient. Not only do they move mountains, they are mountains!
My trademark dance move:
Has not happened yet, but I'd like to learn how to do a flipping burpee and bust that out on the dance floor someday!
My favorite holiday and why:
St. Patrick's Day – luck of the Irish!
My favorite post workout meal:
Doughnuts (sprinkled chocolate doughnuts are my love language), or Laughing Cow cheese spread on flatbread crackers, if I'm trying to be a better human.
Any advice for potential members or fellow farmgirls?
It's not about having time, it's about making time.