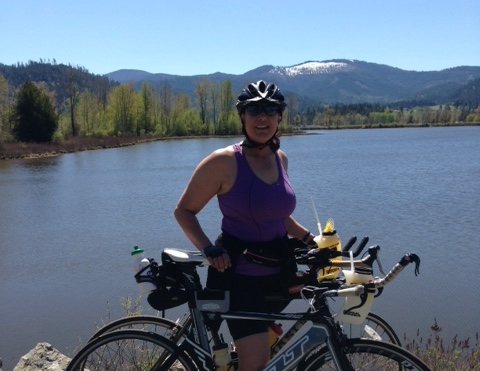 Name and age: Kathleen Lankford and I'm turning 57 years young at the end of October
Occupation: Retired in 2008, but got bored quickly and went back to work at the Kootenai County Sheriff's Office as an Administrative Assistant.
Member at: Farmgirlfit Coeur d'Alene
Tell us about your fitness journey.
I have always been interested in exercising and keeping in shape not only for my job, but diabetes runs in my immediate family and my mission in life is to keep this awful disease at bay! Three years ago I entered my first Triathlon; Wonder Woman in Medical Lake. I was immediately hooked and signed up for 3 more the following year. I loved the energy and the camaraderie that happens at these events. That same year, I did two ½ marathons … just because I could. The day after the second ½ marathon, I could barely walk. A subsequent visit to the ER via an ambulance revealed I had ruptured my L3/L4 discs and they were pressing against my sciatic nerve. For almost a full year, my triathlon career came to a halt, as well as my running. Since I've never been a couch potato, not exercising was torture for me. I endured several spinal shots and thankfully avoided back surgery. I turned to Yoga which saved my back (literally) and eventually allowed me to return back to exercising with modifications. The only residual problem I have is numbness from the knee down in my right leg. I was told it will be permanent if it does not go away after 2 years.
If you could tell your Farmgirlfit story in 100 words or less, how would it read?
I was totally thrilled to see on Facebook that FGF was coming to Coeur d'Alene and knew I had to become a founding member. I love the upbeat energy all the coaches give, and with their encouragement, I know I can get to Level 4 by the end of next year. I convinced a co-worker/friend to join FGF with me. Having a workout partner really helps me to be accountable and show up every day to give it my all! I knew it was vital for me to get back into high intensity workouts to keep my core and back strong.
What has been your greatest fitness (performance) accomplishment so far? Do you have a performance goal?
I just started FGF so the biggest accomplishment for me is finishing my first class without passing out! However, my performance goal is to perform double unders by the end of this year.
How has FGF helped you become more healthy / When it comes to your health, what goals do you have?
Because I've had to slow down my physical activity recovering from my back injury, I gained weight and felt sluggish and didn't like what I saw in the mirror. I have a renewed sense of motivation and feel confident that I can strengthen my core and keep me from ever having back surgery.
My favorite exercise at FGF is (feel free to expand):
I have a love/hate relationship with the row machine. I love the way it makes me sweat and gets my heart rate up in a short amount of time but hate that the numbers don't move fast enough….especially when rowing for calories!
My least favorite exercise at FGF is:
BURPEES….need I say more???
My favorite thing about Farmgirlfit:
The support and camaraderie of the coaches and members.
How have you integrated the Farmgirlfit mission outside of the gym?
I love to browse the internet looking for new Paleo recipes that help me stay focused on my journey to eat clean and abstain from processed foods.
When you're not pumping iron at FGF, what does the rest of your life look like?
On weekends, I try to do some form of exercise, whether it's hiking or biking. We live in such a beautiful scenic city that has a lot to offer any athlete. My long distancing running days are over but that doesn't mean I have to sit in a rocking chair knitting scarves.
What's one thing we might not know about you?
For the past 21 consecutive years, my sisters and I have a "sister reunion" somewhere in the country.
Any advice for new members, or your fellow Farmgirls?
Stick with it!! The soreness and stiffness goes away and your self-esteem will shine through.
---
To stay in the loop, subscribe to FGF Stories & Info.