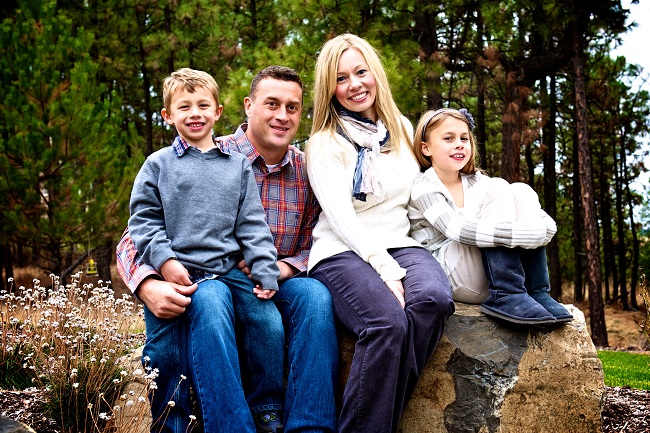 Name and age: Jayme Merritt, 36
Member at: Farmgirlfit Spokane
Occupation: Behavior Interventionist (Special Education, Spokane Public Schools)
Tell us about how your journey led you to Farmgirlfit?
I have never been a skinny girl or athlete, but have always tried to maintain a healthy lifestyle and to workout. Exercising helps me feel comfortable in my own skin, and it helps me fit into my jeans! Growing up in the '90s I have used my fair share of Stairmasters and could grape-vine my way through a step aerobics class. In college I overheard a guy say that "runners had the nicest legs" so, I tried that too! I saw a few personal trainers at local gyms after I had my kids and soon became a groupie to my friend who taught "Cycle" classes. I spent a few years following her around from class to class until three Januarys ago a lady I worked with told me about a new gym called Farmgirlfit. I decided to check it out and the rest, as they say, is history!
What has been your greatest fitness (performance) accomplishment so far?
This question is tough to answer because I feel like everything at Farmgirlfit has been an accomplishment. Starting at a Level 1 and moving towards a (mostly) Level 4 has been an accomplishment.
What are your next health and fitness goals?
I always want to be healthy and fit and be able to exercise for the rest of my life. I want to age gracefully and be able to continue all the activities I enjoy when I am well into retirement! And let's be honest, I want to look good doing it!
Favorite exercise at FGF is: There are actually quite a few exercises that I enjoy, but if I have to pick a favorite, I guess I would say it's the pull-up. I know…I know even with the bleeding hands and tears. Pull-ups just seem super impressive.
Least favorite exercise at FGF: Rowing, it's so hard for us shorter gals! I feel so stressed when I see 1000 meters for time! I also don't enjoy the Turkish Get-up – I am seriously afraid of knocking myself out!
When the Grind is kicking my butt, I'm thinking… I mostly swear, but I also remind myself: "I can do this"
My favorite thing about Farmgirlfit is:
I love all the ladies that I have become friends with since joining Farmgirlfit! Everyone is so nice and supportive of each other. I never really played a team sport, but feel like all the ladies are on my team when I am at Farmgirl. Plus, I love the coaches and how I feel after a Grind.
My funny Farmgirlfit story? I backed into the wire support of the telephone pole in the alley and made a huge scratch in my car!
When I am not pumping iron at FGF, what does the rest of your life look like?
When I am not at FGF, I am a taxi-driver… Um, I mean, I drive my kids around from activity to activity. I have two kids who play multiple sports and it seems as though the seasons never end! This fall was particularly busy with soccer, flag football, cross country and basketball. As much as I complain, I love watching my kids engage in healthy activities that they enjoy and I would not change it even if I could. And thank goodness my husband and I are friends with many of the other parents, so the busy sports schedules also support my social life on the sidelines and after the games!
My happy place is: on the couch watching a movie with my family
What advice do you have for new members?
Stick with it and continue to challenge yourself. We have all been there. You will be amazed at how strong you become and what your body can do!