"Farmgirlfit has taken my anxiety and replaced it with the knowledge that everything can be accomplished one step at a time. It's all in how you break it down…"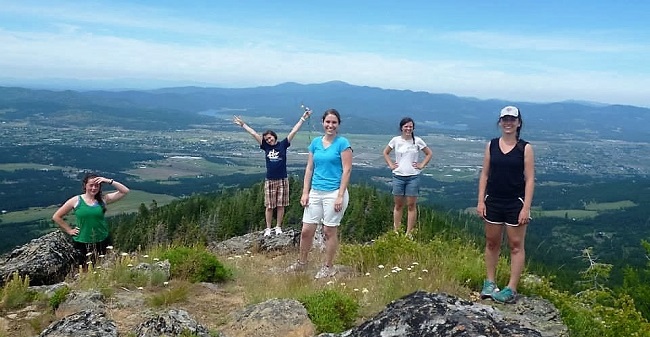 Member Of:
Farmgirlfit Cd'A
Occupation:
Teacher – Coeur d'Alene Charter Academy. Writer & Editor
Tell us about your fitness journey. How did you come to Farmgirlfit?
The purple sign. It was all about the sign. I started running and working out in college after years of struggling with my body image and chronic pain. After a job change, I thought a challenge was in order and signed up for a marathon. The half marathon distance found me limping towards home with a stress fracture. When my roommate scraped me up off the pavement that September morning, I knew my body needed a break from running. My drive to work takes me past Farmgirlfit. The same magical force that grabs my steering wheel after school these days turned me towards the banner. I can't remember my first class, but I think it involved rowing and a 15-pound barbell. I was hooked.
If you could tell your Farmgirlfit story in 100 words or fewer, how would it read?
Farmgirlfit has taken my anxiety and replaced it with the knowledge that everything can be accomplished one step at a time. It's all in how you break it down…
What has been your greatest fitness/performance accomplishment so far?
Competing in the Negative Split Fitness Games this past spring, with my awesome partner Sara. Also, double- unders. I even had Jeanne video tape them as proof for my family.
What are your next health and fitness goals?
I want to rerun that half marathon and get some serious trail running under my belt. And because they're always staring me in the face, I want to figure out how to do just one chin up before December.
Who/what inspires you to be fit?
My four sisters and my mom. :) I remember watching her on a stationary bike when I was little. She was sweating and saying: "Honey, I'm almost done; just give me a couple more minutes," and I would think: I do NOT want to grow up! Working out looks like the worst. Of course it turned out to be the best.
Favorite exercise at FGF is? Least favorite?
My favorite exercise is the split jerk: I'm always shocked that I can do it! :) I hate mountain climbers. Even back in my P90X days, I hated them.
My favorite thing about Farmgirlfit is:
I keep telling my friends that the only reason I manage to make it through a workout is because everyone is cheering for me every 5 minutes. Self professed approval junky. So FGF either supports or enables that, which keeps me coming back.
Do you have a funny Farmgirlfit story?
Rowing so hard I bounced off the seat…yup. It's possible.
How has the rest of your life been influenced by Farmgirlfit?
I think that the biggest way Farmgirlfit has snuck into my life is in the ways that I find myself taking more risks and committing. The coaches ask us to commit for just one hour or even just 15 minutes at a time and that mindset of focus and commitment over the short term has led to long-term benefits in my writing and teaching career. I began editing professionally this summer, got myself knee deep into writing a young adult novel, signed on to be a teacher leader for the state of Idaho, and began collaborating on a poetry-photography project to be published this fall. All of this happens in hour-long segments of focused, FGF-style commitment.
My dad also likes that I can help with yard work without wimping out. He likes to call me up and ask if I'm ready for some real Farmgirlfit.
When you're not pumping iron at FGF, what does the rest of your life look like?
Teaching is one of those professions that takes over my life when I'm not watching. My summers are full of travel and late morning coffee and writing. The rest of the year I hang out with 12 to 15 year olds about 8 hours a day and read 90 versions of the same essay every month…I coach cross country, sing 16th century music with my family, and spend a lot of time cooking.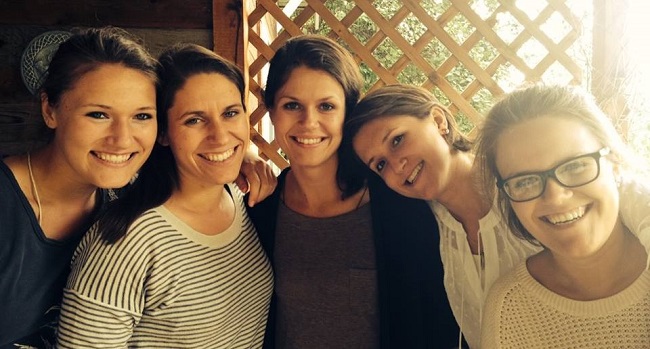 My happy place is:
Priest Lake Beaver Creek Campground at the beach.
As a kid I dreamt I would grow up to be:
A writer and a gymnast. Well, I'm writing a novel and, it's a different kind of gym, but I'll take it!
You might not know this about me:
I failed PE in high school, and in elementary school it was too cold to play outside (-40, Winnipeg, Manitoba). I learned to jump rope in a basement that looked like a Cold War bunker.
Guilty pleasure:
Americano with whipped cream on top.
I'm proud…
Of getting my Masters in English Lit.
My hero is:
My brother Kristoff. Two-time cancer survivor. Cool guy.
My spirit animal and why:
Blue Whale –Life is more than what meets the eye. Earth's record keeper.
My favorite post workout meal:
Bacon and eggs.
My healthy indulgence:
Curry Carrot Soup. I can't wait for fall.
Words that inspire me?
"Who shall find a valiant woman? Far and from the uttermost coasts is the price of her…Strength and beauty are her clothing, and she shall laugh in the latter day" (Proverbs 31: 10, 25).
Any advice for new members or your fellow farmgirls?
Write down your accomplishments in the binder!! It is so rewarding to come back months and years later and see the progress.