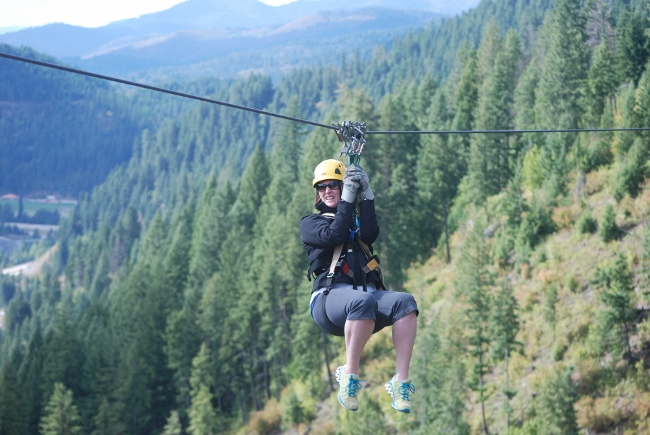 Name and age: Darci Haug, 32
Occupation: Adult Misdemeanor Probation Officer
Member at: Farmgirlfit CDA
Tell us about how your journey led you to Farmgirlfit?
I've never been a stranger to working out, but I hate working out by myself. I get bored easily and quite simply just don't want to have to figure out what workout to do after a 10-hour workday. I love group fitness and always appreciate the friendships I make and encouragement I receive from others in that setting. I had been considering other gyms but could not find one with classes that fit with my work/commute schedule. As luck would have it, I happened to see a friend "like" Farmgirlfit on Facebook. I checked it out and was excited to see Farmgirlfit offered 6:30 pm classes. I attended my first class on 10/6/14 and I just love the atmosphere, and the coaches are very supportive and encouraging. Have to admit, I'M HOOKED!
Do you have a funny Farmgirlfit story?
My first time trying pull ups with the bands, I got my foot in the bands and went to step off the bench. In all my infinite grace, the bands came off my foot and I found myself straddling the bands instead. Not the most elegant position for a girl to be in. LOL!
What has been your greatest fitness (performance) accomplishment so far?
I think far above any actual performance accomplishment, my real accomplishment has been my attendance (5 days/week) and completing every workout. But if I have to choose a fitness accomplishment, it's been box jumps and being able to jump up with both feet rather than alternating legs. I didn't know I was even capable of doing that!
What are your next health and fitness goals?
My health/fitness goals are just to stay motivated and eat healthier. My ultimate goal though is to do at least 1 pull up by myself, no rubber bands.
When the Grind is kicking my butt, I'm thinking…
"All this to be able to do just 1 pull up on my own." :)
What inspires you to be fit?
I want to feel comfortable in my own skin and wear a bikini…especially when boating with friends on Lake Coeur d'Alene. Yep…never been able to even wear a 1 piece swim suit comfortably so why not shoot for a 2 piecer! :)
Favorite exercise at FGF is:
I'd have to say slam balls. For some reason this is just a great way to let out frustrations from the day and it's one exercise I've noticed quick results.
Favorite workout song?
Crazy Train by Ozzy Osbourne
Least favorite exercise at FGF is:
Burpees. They are AWFUL! :)
My favorite thing about Farmgirlfit is:
The coaches. They have been nothing but encouraging and supportive. They provide great instructions and corrections on form. I love that Farmgirlfit is a gym designed for women by women. Love it!
When you're not pumping iron at FGF, what does the rest of your life look like?
I work 4 days per week in Sandpoint and when I'm not commuting, working, or pumping iron, I'm spending time with my boyfriend, Aaron, and two German Shepherd dogs, Kobe and Maysie. I try and spend as much time with friends and also sew for a local alterations company.
My happy place is:
Watching my dogs running after their ball.
As a kid I dreamt I would grow up to be:
An FBI agent
You might not know this about me:
I make quilts
Guilty pleasure:
Jitterz caramel white mocha granitas. YUM!
What advice do you have for new members?
Do this for yourself - don't compare yourself to others, set goals, push yourself a little more every workout, say "I can," and don't give up!
---
To stay in the loop, subscribe to FGF Stories & Info.